Hospitality Career Scope, Eligibility and Job Prospects
Hospitality Career Scope, Eligibility and Job Prospects- The opportunities are nearly limitless in the hospitality sector. It keeps on opening new and innovative ventures to ensure they have a long way in the market. The Indian Hospitality and Tourism Industry has been able to prove itself as the most emerging one of all the key industries that are driving the growth in the service sectors of the Nation. With the continuous growth of this sector, the demand for hospitality employees is also on the surge. The hospitality field covers the entire service industry that includes lodging, food and drink service, event planning, theme parks, and transportation. It includes hotels, restaurants and bars. After completing relevant hotel management education from a reputed top hotel management institute and undergoing the rigorous training, the job aspects for hospitality students get wide open. Let us check here the hospitality career scope, eligibility and job prospects.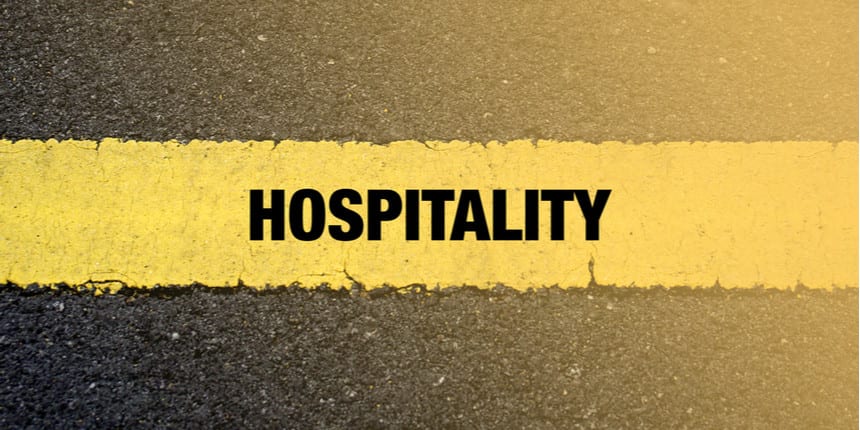 Hospitality and Hotel Management: Eligibility Criteria
The basic eligibility criteria to pursue various hospitality management courses is as follows:
Candidates must have completed their Class XII or equivalent from a recognised board with passing marks.

For admission into many colleges it is necessary that the candidate must have studied and cleared English as a core subject of study at their Class 12 level.

Candidates must have secured minimum 55% aggregate marks in class XII to be eligible to pursue a hospitality course

Many of the top reputed institutes like IHM's, etc grant admission to students on the basis of a national entrance exam, NCHM JEE. Hence it becomes necessary for a candidate to appear in this entrance examination.
Apart from these, the other top hotel management entrance examinations in India are:
NCHM JEE 2020

WBJEE HM 2020

IPU CET 2020
Hotel and Hospitality Specialisations:
| | |
| --- | --- |
| Hotel/ Hospitality Management | Housekeeping |
| | |
| Front Office Management | |
| Culinary Arts | |
| Tour Operations | Fares and Ticketing |
Career Scope in Hospitality
The career scope in the hospitality industry is quite larger than one can imagine and the graph shows upward movement, ensuring to deploy a large number of candidates in near future. One might think that it is one of the most glamorous industries a sthe conception is by watching various TV shows like MasterChef India, Hell's Kitchen, etc. But the truth is that a person has to be on his/her toes anticipating the needs of one's guests. He/she keeps on trying to sail smoothly even through the most difficult of situations. The scope of the hospitality industry comprises a range of businesses that provide services and facilities such as accommodation, food and beverage, entertainment, gaming and related products. The term "hospitality" has become accepted over the years as a generic word, which describes the well being of services and facilities related to tourists and travellers. The hospitality industry is a several billion dollar industry that mostly depends on the availability of leisure time and disposable income. A hospitality unit such as a restaurant, hotel, or even an amusement park consists of multiple groups such as facility maintenance, direct operations (servers, housekeepers, porters, kitchen workers, bartenders, etc.), management, marketing, and human resources. With so many options and fields available in this industry, candidates can make a career in leisure and tourism, bartending, aviation, etc.
Employment areas
Whether its a degree, diploma or certificate courses, all these ensure jobs in different fields.The various areas of employment for hotel management graduates include:
Airline Catering (flight kitchen) and Cabin Services

Cruise Ship Hotel Management

Club management

Kitchen Management (in hotels or running canteens in college, schools, in factories, company guest houses etc.)

Guest Houses, resorts

Catering departments of railways, banks, armed forces, shipping companies etc.

Forest Lodges

Hospital administration and catering

Hospitality services in the Indian Navy

Hotel and Tourism Associations (for example: state tourism development corporations)

Hospitality services in various MNCs

Kitchen Management (in hotels or running canteens in college, schools, in factories, company guest houses etc.)

Hotel and catering institutes (as a management trainee/ marketing or sales executive)

Self Employment( Entrepreneur)
Job Prospects in Hospitality
If a student is a pass out from renowned hotel management college and has also availed an opportunity of hotel management internship from top hotels, his/her success is predefined. The trained hotel management professionals have privilege over untrained graduates when it comes to job level in the hotel and hospitality industry. The reason is obvious as many hotels are not willing to invest in recruits rather having trained ones. The starting salary for any person who opts for a job straight out of graduation is expected to be between Rs. 15,000- 20,000 during the training period. After the training period, the salary is bound to increase as per your performance. The various job prospects in hospitality for candidates are:
Job Designations-
| | |
| --- | --- |
| Hotel Manager | Food and Beverage Manager |
| Front Office Operations Manager | Housekeeping Officer |
| Restaurant and Food Service Manager | Chef |
| Steward/Stewardess | Floor Supervisors |
| Cabin Crew | Travel Agent/ Consultant |
| Travel Coordinator | - |
Furthermore, hospitality is a leading global industry and various renowned colleges provide fetching recruitment. The top hospitality/hotel management recruiters are:
Oberoi Group of Hotels

Westin Hotels and Resorts

The Taj Group of Hotels

Hyatt Regency

The Leela

Crowne Plaza Hotels and Resorts

Le Meridien

Holiday Inn Hotels and Resorts

The Lemon Tree

Rosewood Hotels and Resorts

Sheraton

Hilton Worldwide

Marriott International
Hence, an aspirant who wants to move forward and step into the world of hospitality is sure to climb the ladder at each step in his life. This is so as this industry involves multiple job roles for a person at any position. So the person becomes an all rounder with hands in every related field. Therefore, with years of experience, a good job position with a bright future is for sure pre-built.
Frequently Asked Question (FAQs) - Hospitality Career Scope, Eligibility and Job Prospects
Question: What are some of the service sectors covered in the hospitality industry?
Answer:
The hospitality field covers the entire service industry that includes lodging, food and drink service, event planning, theme parks, and transportation. It includes hotels, restaurants and bars.
Question: What is Hospitality Management?
Answer:
Hospitality management is a detailed study of the hospitality and hotel industry. A hospitality manager looks after the administrative tasks of a resort, hotel and casino chain. He or she may ensure that a hotel is adhering to state regulations.
Question: Which is the national level entrance examination for hospitality courses?
Answer:
NCHM JEE, is a national level entrance examination conducted by NTA. This entrance ensures one's entry into the top IHM's.
Question: What are the courses provided by IHM's?
Answer:
There are a number of diploma, certification and degree courses provided by IHM's. However, NCHM JEE is mostly conducted for pursuing a three year degree course Bsc. HHA from IHM's.
Question: What is the starting salary for a hospitality management graduate?
Answer:
The starting salary is not much for hospitality graduates. It mostly ranges from Rs. 10,000 to Rs. 20,000. However with years of experience the salary is bound to increase.
Questions related to NCHM JEE
Showing 692 out of 692 Questions