10 Best NCHMCT JEE 2020 Preparation Tips and Strategy
10 Best NCHMCT JEE 2020 Preparation Tips & Strategy: Aspirants preparing for hotel management must know the 10 best NCHMCT JEE preparation tips and strategy 2020 to ace this national level entrance examination. National Testing Agency(NTA) will conduct the National Council for Hotel Management Joint Entrance Examination (NCHM JEE-2020) in CBT mode for admission to the B.Sc. Course in Hospitality and Hotel Administration (B.Sc.HHA). It is an established premier, autonomous and self-sustained testing organization which conducts entrance examinations for admission/fellowship in higher educational institutions. If you are planning a career in hotel management, the foremost requirement is for you to have a proper strategy both before the exam and while attempting the paper. Getting a laudable score in the NCHM JEE can land you up in the top IHM's but preparing for it can be an onerous task. More than 90% of students of these IHMs get in campus selection in the hospitality industry both in India and globally. To help you with your career for the same, this article presents you some of the 10 best NCHMCT JEE 2020 preparation tips and strategy. But first of all it is imperative for the candidates to know the pattern of the entrance exam of NCHMCT JEE 2020.
Latest: NCHM JEE 2020 postponed until further notice by NTA. NCHMCT JEE admit card 2020 to be released 15 days prior to the exam.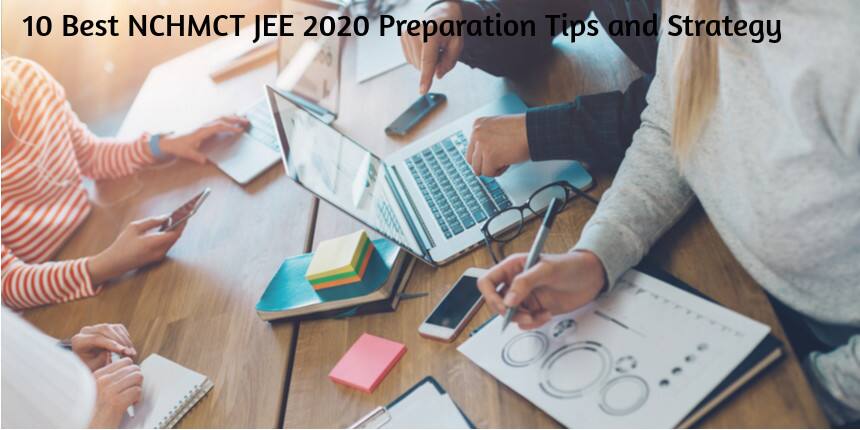 NCHM JEE Exam Pattern 2020
As part of 10 best NCHMCT JEE 2020 preparation tips and strategy, it is essential for the candidates to know the NCHM JEE 2020 exam pattern beforehand rather than jumping directly to the preparation tips and strategy for NCHMCT JEE 2020. The insight into the exam pattern will give you an idea about the variety of questions asked, marking scheme of the entire paper and the weightage that each section carries. The table given provides the details about the pattern of the exam.
NCHMCT JEE 2020 Exam Pattern
| | |
| --- | --- |
| Sections | Number of questions |
| Numerical Ability and Analytical aptitude | 30 |
| Reasoning and Logical Deduction | 30 |
| English language | 60 |
| General knowledge and Current affairs | 30 |
| Aptitude for Service Sector | 50 |
| TOTAL | 200 |
10 Best NCHMCT JEE Preparation Tips and Strategy 2020
Smart work is more beneficial than hard work
You should be more alert and attentive while studying rather than keeping a count on the number of hours you have spent in front of the book. Among the important preparation Tips and strategy for NCHMCT JEE which hold importance are:-
Minimise your indulgence in TV,running errands in between your study time.Also you can study more in silent hours like late at night or early in the morning to avoid distractions.

Opt your weaker subjects when your mind is fully alert.
Keep relevant notes handy
Another important point which forms part of 10 best NCHMCT JEE 2020 preparation tips and strategy is that while preparing for the exam, it is important to make relevant notes as the syllabus you cover is vast. This will help in saving your time and avoiding pre-exam jitters. You can quickly go through these notes as you prepare for NCHMCT JEE 2020 and make your study sessions more productive.
Authentic and adequate study Material
NCHM comprises five sections contributing to a total of 200 marks for the examination. So having a reliable set of study material is the basic requirement and an important aspect of 10 best NCHMCT JEE 2020 preparation tips and strategy. Students must also refer to the internet and join Facebook groups to enhance their preparation.
Mock Tests and Sample Papers are your Saviour
Solving NCHMCT JEE mock tests and sample papers help in subsidising the amount of pressure one feels before the actual exam and inculcate some confidence and self analytical capability in the students. Mock tests help you in revising the syllabus of NCHMCT JEE and gives the much needed boost to your preparation.
Analyse your Mistakes
After solving previous year's sample paper of NCHMCT JEE 2020 and mock test, keep a track of your performance. Analyse your weak and strong areas and work on them. Try not to make the same mistakes while attempting the tests another time.
Master the Art of Time Management
Time is the ticking devil in all the entrance exams, be it NCHMCT JEE or any other exams. To answer the maximum number of questions within the stipulated time, the only subduing factor is thorough practice and regularly taking tests so that you do not lag behind.
Enhance your analytical skills on a Daily Basis
There are a variety of tactics to improve your analytical skills at a different level. A significant feature of 10 best NCHMCT JEE 2020 preparation tips and strategy. If you want to develop analytical power, you need to ask questions like why things are the way they are. Engage in brain games like crossword puzzles, sudoku which can polish your thinking skills.
Be well Aware of Recent Happenings
Current affairs play a crucial role in NCHM JEE, hence you can refer to the 'Manorama yearbook', 'Pratiyogita Darpan', subscribe to the online alerts and most importantly read the newspaper daily.
Revise on Regular Basis
Revision is the key to remembering what all you have studied. Along with covering the entire syllabus do not forget to revise all the important concepts and have a good grasp on them. Never underestimate the toughness of the questions, so mock tests are the best way to revise in one go.
Be Confident and Stay Calm
The level of NCHMCT is comparatively easier than other entrance exams so have a positive approach and be optimistic. De-stress yourself by engaging in some leisure activity.
Thus regular practice and a strict study routine with a positive approach that you can clear the exam will definitely help you come out as an achiever and some of these 10 best NCHMCT JEE 2020 preparation tips and strategy will surely help you ace the exam.
Questions related to NCHM JEE
Showing 692 out of 692 Questions