MAH HM CET 2020 Exam Preparation Strategy
MAH HM CET 2020 Exam Preparation Strategy- Candidates aspiring to appear in MAH BHMCT CET 2020 must be familiar with the preparation strategy of MAH HM CET 2020 exam. Before giving a kick start to MAH HM CET preparation, let us dive into what is MAH HM CET all about. The entrance exam is conducted by State Common Entrance to offer admission to candidates to Hotel Management and catering technology (HMCT) programmes at an undergraduate level. This year MAH HM CET is supposed to be conducted on July 19, 2020. A well-scheduled plan and preparation strategy can help the candidates who wish to excel in the MAH HM 2020 exam. As every student has his/her own strong and weak sections, they can focus on the weak ones first. Read here MAH BHMCT CET 2020 exam preparation strategy in detail.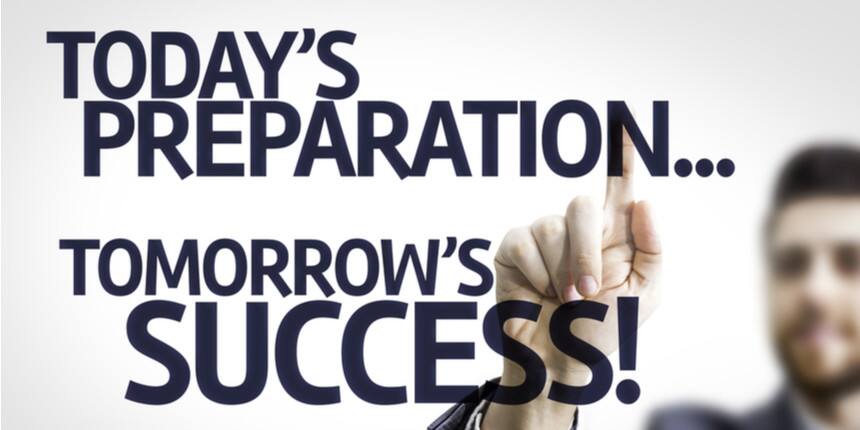 How to Prepare for MAH HM CET 2020?
MAH HM CET 2020 will carry 100 multiple choice based questions which need to be solved in a span of 90 minutes. The exam will be conducted in an online mode. There will be three sections namely- General Knowledge and Current affairs, English language and verbal and arithmetic reasoning. With one month left, the unique way of revising these topics is by setting up a one month study plan with timetable. We have provided some key tips as a part of MAH HM CET 2020 exam preparation strategy.
Prepare a time table so that you can manage your preparation well

Check the marking scheme and exam pattern of the MAH HM CET in order to know the topics that have a higher priority in comparison to the other

The marking scheme will help the candidates to get an idea about all the important sections

The preparation plan will surely help the candidates divide the time according to the difficulty level of each section

Solve the previous year papers and mock tests while preparing the preparation plan for the MAH HM CET entrance exam

Check various books for better understanding and practice
MAH HM CET Exam Preparation Strategy 2020: Study Plan
Check here the detailed study plan that can help you well in planning the preparation accordingly:
Study Plan: Time-table
Time

Particulars/ Details

Total Number of Hours to be Spent for Exam Preparation in a Day

Minimum 5-6 Hours

Total Number of Sub-topics/ Topics to be covered in a Day

Minimum 3

Morning Session

Read the newspaper to get in touch will the happening around the world

Check out the important highlight of the news

Go through the Current affairs

Make a list of all the topics which you are going to cover in the day

After Noon Session

Start preparing any topic from reasoning or English language

Practice more and more questions for each of the topic

Check out the shortcuts and tricks from the internet

Try to solve the questions from previous year papers

Evening Session

Solve the mock test for all the topics you have covered in the day

Try to test your skills and hold on the topic

Revise all the things you have learned

At last, go through 5/ 6 new words to improve your vocabulary
MAH BHMCT CET 2020 Preparation: Additional Tips
Despite having enough knowledge many students fail to clear the exam. This is because of an impractical approach. So here are some additional tips for MAH HM CET 2020 exam preparation:
Know your strength/weakness
Every student has some strong areas/subjects.Candidates can solve questions from the subject they are good at, first. This will help build confidence level and also ensure that the candidate scores well in the exam.
Solve the questions you know first
While attempting MAH HM CET question paper, candidates are advised to leave any question for which they are not sure about the answer. This is helpful as candidates can then concentrate on the questions that they are certain about and minimize negative marking.
Avoid using Calculator
It is highly recommended to practice questions with a timer and avoiding usage of calculators would increase your efficiency with time constraints in your mind as well.
Work Smart
The last few days of the MAH BHMCT CET 2020 exam are really crucial. You must revise the formulae and important concepts thoroughly. The entrance exam doesn't emphasize too much on the difficulty of the problem but rather on the questions that are straightforward, which require attention to the recollect formulae.
Stay Healthy
Regular practice and revision is a must to succeed but you must also maintain a healthy lifestyle in the last month and get at least 8 hours of sleep every day. Taking care of your health and staying calm and positive will help increase your concentration.
Frequently Asked Question (FAQs) - MAH HM CET 2020 Exam Preparation Strategy
Question: What is the mode in which MAH HM CET 2020 will be conducted?
Question: What are the sections from which questions are asked?
Answer:
The questions will be asked from English language, General Knowledge and current affairs and Verbal and arithmetic reasoning. Check the detailed MAH HM CET exam pattern.
Question: When is MAH BHMCT CET 2020 supposed to be conducted?
Answer:
The exam is supposed to be conducted on July 19, 2020.
Question: How many questions are there overall in the entrance test?
Answer:
There are a total of 100 questions in the exam paper.
Question: Is there a negative marking in MAH HM CET 2020?
Answer:
No, there is no negative marking in the entrance test.
Questions related to MAH BHMCT CET
Showing 3 out of 3 Questions
8 Views
teel the simple interest formula
Hii Raunak!
The simple interest formula is as follows-
A= P( 1+ rt ).
A=final amount
P= intial principle balance ( money to be invested )
r= nnual interest rate ( P invested at this rate )
t= time (in years) ( number of time period )
Simple interest is used when the interest on a loan or amount is calculated only on the amount initially invested.
Hope this helps.
Good luck!