AIHMCT WAT 2023 - The Army Institute of Hotel Management and Catering Technology will announce the AIHMCT WAT result 2023 on May 19 in online mode. The AIHMCT OAT 2023 was successfully conducted on April 30, 2023. The official website of AIHMCT OAT is aihmctbangalore.edu.in.
The test is conducted for admission to the Bachelor of Hotel Management offered by the college and is now changed to an Online Admission Test (OAT). AIHMCT conducts the WAT for a duration of three hours. The authorities will conduct the AIHMCT OAT exam in online mode. Read the article below to know further about AIHMCT WAT 2023, exam dates, exam pattern and syllabus and more.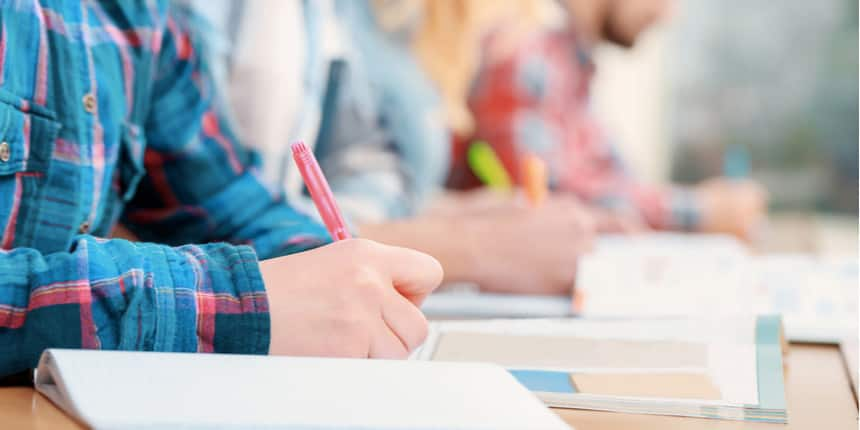 AIHMCT WAT Exam 2023 - Result (19 May), Cutoff, Selection Procedure, Admit Card Link, Registration
AIHMCT WAT 2023: Exam Overview
| | |
| --- | --- |
| Particulars | Details |
| Name of the Exam | Army Institute of Hotel Management and Catering Technology (AIHMCT) for Online Admission Test (OAT) |
| Common name of the exam | AIHMCT OAT |
| Conducting body | Army Institute of Hotel Management and Catering Technology |
| Mode of the exam | Online |
| Mode of application form | Offline/ Online |
| Level of the exam | University Level |
| Course offered | Bachelor's Degree in Hotel Management (BHM) |
Popular Online Hospitality Courses and Certifications
AIHMCT WAT Exam Dates 2023
The table given below mentions all the important events and exam dates of AIHMCT WAT 2023. Candidates can go through the AIHMCT WAT 2023 exam dates below in order not to miss any important events.
AIHMCT WAT 2023 Exam Dates
Events

Dates

Availability of AIHMCT WAT 2023 application form

Available now

Last date to fill AIHMCT WAT application form

April 15, 2023
April 20, 2023

Date of downloading admit card of AIHMCT WAT

April 25, 2023

AIHMCT WAT 2023 exam date

April 30, 2023

Announcement of AIHMCT WAT result

May 19, 2023




Counselling and admission session

June 21, 2023




Session begins

June 22, 2023
AIHMCT WAT Eligibility Criteria 2023
Candidates must have passed 10+2 or equivalent examination from any academic stream with English as a compulsory subject to meet the eligibility criteria of the AIHMCT WAT exam. Check here the detailed eligibility criteria with respect to each category.
Eligibility Criteria
Academic Criteria

Age Criteria

Physical Fitness

Candidates who have passed their Class XII or any equivalent exam, are eligible to apply for AIHMCT WAT 2023. Those students must have studied English in Class XII.

For candidates who are pursuing their studies from National Open School, it is necessary for them to get a Class XI certificate from the school.

Candidates must not be more than 22 years old as of July 1, 2023.

Candidates should not have any abnormality in the heart or the lungs. There should be no history of epileptic seizures or mental disease.

Candidates must meet the visual parameters such as they must have a vision of 6/9 in both the eyes or 6/6 whichever is better.

The admission is subject to the candidate being medically fit.
Candidates could fill out the AIHMCT WAT application form till April 20, 2023 in offline or online mode. The application form fee of AIHMCT 2023 will be Rs 1000 and candidates can make payment through NEFT in favour of "Institute Fund, AIHM & CT" A/c No 64020010441, payable at State Bank of India, Hennur Road, Bangalore – 560 043, IFSC Code No SBIN0014933.
Details to Fill in AIHMCT WAT Application Form:
Candidate's name

Rank and Name of the Father/Mother

Eligibility certificate

Nationality

Date of birth

Gender

Educational qualification

Postal address

Mobile number

Telephone number

Email ID of Father/ Mother

Candidate's signature

Details of Gallantry Awards/Distinguished Services/Mention-in-Despatches/ War Widows
Documents to be uploaded along with AIHMCT WAT application form:
The list of certificates and documents that candidates needed to upload along with their AIHMCT WAT 2023 application form are mentioned below:
Proof of age as mentioned in Class 10th/12th or equivalent exam marksheet/TC

Statement of marks of a qualifying exam with aggregate marks

Caste certificate

Proof of gallantry award for grant of weightage

Willingness certificate

Copies of passing certificate of a qualifying exam
How to fill AIHMCT 2023 Application Form?
Step 1 - Click on the official website (aihmctbangalore.edu.in)
Step 2 - AIHMCT WAT 2023 application form will display on the screen
Step 3 - Fill all the personal and academic details in the application form
Step 4 - Select the AIHMCT WAT exam centre as per your preference
Step 5 - Check all the documents that have to be uploaded with the form
Step 6 - Make a payment of Rs. 1000 via NEFT and click on the 'Submit' tab
Candidates could download the admit card for AIHMCT OAT 2023 in online mode after the completion of the registration process on April 25. Candidates could also provide their email id and mobile number for quick communication.
The details that candidates will receive in the admit card of AIHMCT WAT 2023 are :
Examination Centre

Name of the candidate

Roll number of the candidate

Address of the candidate

Signature of the candidate

Date of birth
Candidates have to paste their photograph on the right side of the AIHMCT WAT 2023 admit card and get it attested by a gazetted officer there a second part of the admit they will have to write their names and affix passport-size photographs after getting attested by a gazetted officer. On the exam day, candidates and the presiding officer will have to sign.
Note: If a candidate fails to receive the admit card by email, contact the following number - 9036046807/ 8123543207/8904343206 or email the institute email - admission@aihmctbangalore.com.
AIHMCT WAT is conducted online by the Army Institute of Hotel Management & Catering Technology. Given below are the declared test cities or the AIHMCT WAT exam centres for the online admission test.
Exam Centres of AIHMCT WAT
| | |
| --- | --- |
| Name of Exam Centre | Exam Code |
| Pathankot | 01 |
| Jammu | 02 |
| Chandigarh | 03 |
| Ambala | 04 |
| Delhi | 05 |
| Jaipur | 06 |
| Dehradun | 07 |
| Lucknow | 08 |
| Bhopal | 09 |
| Pune | 10 |
| Kota | 11 |
| Secunderabad | 12 |
| Bangalore | 13 |
| Chennai | 14 |
| Trivandrum | 15 |
| Kolkata | 16 |
| Guwahati | 17 |
| Srinagar (J&K) | 18 |
Candidates who are planning to appear for the entrance test should know the AIHMCT WAT 2023 exam pattern to get an idea about the types of questions asked in the entrance test, and the duration of the exam.
Exam Pattern of AIHMCT WAT 2023
| | |
| --- | --- |
| Features | Details |
| Exam mode | Computer-based test |
| Exam timings | 9:00 am to 12:00 pm |
| Test medium | English only |
| Type of questions | Objective-type of questions |
| Total questions | 100 |
| Total marks | 100 marks |
AIHMCT OAT 2023 Sectional Weightage
| | | |
| --- | --- | --- |
| Sections | Number of questions | Marks allotted |
| English Language | 20 | 20 |
| General Knowledge | 20 | 20 |
| Hospitality and Tourism | 20 | 20 |
| Reasoning and Logical Deduction | 20 | 20 |
| Scientific Aptitude and Numerical Ability | 20 | 20 |
| Total | 100 | 100 |
AIHMCT WAT Marking Scheme 2023
The evaluation scheme of AIHMCT WAT 2023 will be as under:
For each correct attempt, candidates will be awarded one mark.

There is no negative marking in case of wrong attempts.

The final scores will be a total of all the correct attempts made by the candidates.
The syllabus of AIHMCT 2023 comprises the topics from which the questions are asked in the entrance exam. Knowing the syllabus of AIHMCT WAT will help candidates know the topics from which the questions are asked in advance. Some of the important topics from which the questions are asked:
AIHMCT WAT Syllabus: Reasoning and logical deduction
Analytical Reasoning

Statements assumptions

Statements arguments

Statements conclusions

Statements action

Series

Blood relations-related questions

Symbols and notations

Alphabet Test

Data interpretation

Direction and Distance related questions

Linear Arrangement

Complex Arrangement

Coding and Decoding

Syllogism

Problems based on Symmetry

Problems based on Visual Ability
Numerical Ability and Scientific Aptitude
Elementary Mathematics

Arithmetic (Number Theory)

Variation

Chain Rule

Percentage calculation

Profit and Loss

Calculate areas and volumes

Unitary Method Questions

Age Questions

Clocks & Calendar related questions

Speed (of cars, trains etc.) related questions

Ratio and Proportion

Average

Logarithms

Number Systems

Square Roots

Cube Roots

Fractions and Decimals

H.C.F. and L.C.M.

Simplification

Simple Interest

Compound Interest

Time and Distance related questions

Work and Wage related questions
English Language
Vocabulary

English proficiency

Synonyms

Antonyms

Spelling mistakes

Rearrangement of words in sentence

Rearrangement of sentence in paragraph

Analogies

Idioms and phrases

One word substitution

Sentence formation

Sentence completion

Sentence improvement

Sentence Reconstruction

Paragraph formation

Paragraph completion

Fill in the blanks
General Knowledge
Candidates should have knowledge of recent happening in the world as well as have awareness about:
AIHMCT WAT Sample Papers 2023
Candidates should solve AIHMCT WAT 2023 mock test and sample papers as it will help them know the types of questions that are asked in the exam. Also, they can plan the strategy of how to go about answering the question and divide the time for each section. Candidates will get familiar with the detailed exam pattern of AIHMCT WAT through practising sample papers and mock tests.
Student Also Liked
Army Institute of Hotel Management & Catering Technology (AIHMCT) will declare the AIHMCT WAT result on its official website. Shortlisted candidates will have to go through the counselling round in order to confirm their admission.
Steps to Check AIHMCT WAT 2023 Result
Step 1: Visit the official website of the Army Institute of Hotel Management & Catering Technology
Step 2: Click on the 'Result' tab/link
Step 3: View AIHMCT WAT merit list
Step 4: Download & save the AIHMCT WAT result page
What after the AIHMCT WAT result?
Once the results for AIHMCT admissions are announced, the selected candidates for the AIHMCT WAT exam need to go to the college's campus and submit a Demand Draft of Rs 15,000 payable at Bangalore on or before 30 June 2023. Based on the confirmation received from candidates, they will be called for counselling to AIHMCT Bengaluru in chronological order as per the merit list. Non-receipt of confirmation of acceptance by mail and scanned copy of draft needs to be sent to principal@aihmctbangalore.com. Further representation will not be entertained from the candidates who have not confirmed by the due date for admission for the academic session. Admission is restricted to the first 90 students only as per the merit list.
AIHMCT WAT Cutoff 2023
The AIHMCT WAT 2023 cutoff will include the minimum marks that candidates must score to be eligible to apply for admission to different participating institutes. Some of the parameters that are taken into account while determining the cutoff of AIHMCT OAT/WAT 2023 are given below:
The difficulty level of the question paper

Past years cutoff trends

Total number of seats available

Total number of candidates who applied for the entrance test
AIHMCT WAT Counselling 2023
Candidates whose names are displayed as part of the AIHMCT WAT merit list need to appear for counselling in order to clear the admission procedure. While appearing for AIHMCT counselling, candidates need to carry all their certificates in originals along with four "Certified True Copies" such that the certificates are photocopied and duly attested. AIHMCT WAT 2023 counselling date is June 21, 2023.
Documents to carry for AIHMCT WAT Counselling
Certificate informing that the aspirant has cleared 10+2 level/qualifying examination

Document in support of reservation claim

Class 10/ date of birth certificate

AIHMCT WAT admit card

AIHMCT WAT result/scorecard

AIHMCT WAT application form

Medical Certificate
AIHMCT WAT Admission Criteria and Selection Procedure 2023
Students will be offered admission based on merit in the AIHMCT admission test. Candidates must note that admission to the course shall be provisional. Final admission will be offered only after confirmation of the candidate's eligibility criteria from Bangalore University.