NCHMCT JEE 2020 Section-wise Preparation Tips
NCHMCT JEE 2020 Section-wise Preparation Tips: Aspirants who are seeking to clear the NCHM JEE entrance exam must know the NCHMCT JEE section wise preparation tips for 2020. Global growth in the hospitality industry has opened up innumerable career opportunities as a result of which more students are found interested in hospitality and other related service sectors. NCHMCT centrally runs and regulates programmes for Bsc. (HHA) and ten other more structured courses of study that are imparted at the affiliated 25 State government, 21 Central Institutes, 01 Public sector undertaking and 24 Private institutes of hotel management. The entrance exam of NCHM JEE will be conducted on April 25, 2020. It is very important to have a right set of preparation tips and tactics for each section to crack the exam. Getting an exceptional score in NCHM JEE can ensure your place in the top IHM's and various other top level colleges but preparing for them can be a knackering task. So in order to help with your preparation, here are some of the NCHMCT JEE 2020 section-wise preparation tips.
Latest: NCHM JEE 2020 to be conducted on June 22 between 3:00 p.m to 6:00 p.m. NCHMCT JEE admit card 2020 to be released tentatively on June 7, 2020.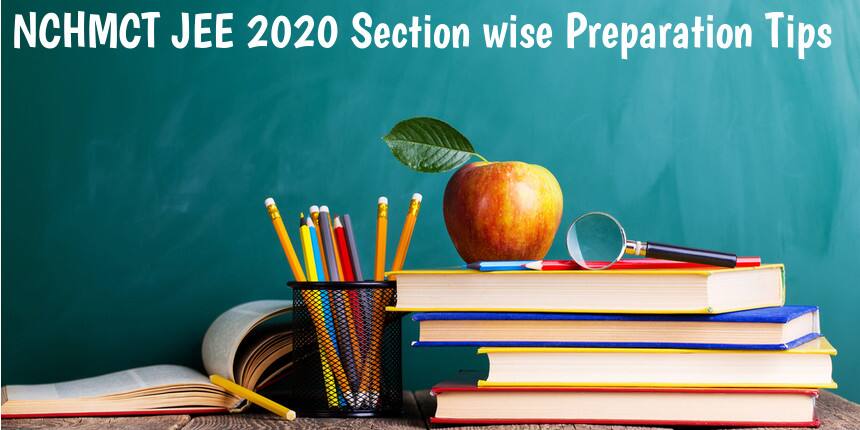 NCHMCT JEE Exam Pattern 2020
Having an insight into the exam pattern of NCHMCT JEE 2020 is necessary for the candidates before preparing for the entrance examination. This will give an idea about the type of question asked, weightage of each section and the marking scheme. The paper will be conducted in a computer based mode(CBT). The table below provides the details regarding the exam pattern:
NCHMCT JEE 2020 Exam Pattern
| | |
| --- | --- |
| Sections | Number of questions |
| Numerical Ability and Analytical aptitude | 30 |
| Reasoning and Logical Deduction | 30 |
| English language | 60 |
| General knowledge and Current affairs | 30 |
| Aptitude for Service Sector | 50 |
| TOTAL | 200 |
NCHMCT JEE Section wise Preparation Tips for 2020
In order to clear the NCHM JEE 2020 entrance exam, candidates must know the NCHM JEE 2020 syllabus beforehand to draw a clear cut strategy for preparation of the exam. Besides knowing the error-free syllabus, candidates must also solve the previous year's sample papers to identify their weak areas and work on them.
NCHMCT JEE Preparation Tips for Numerical Ability & Analytical Aptitude:
This section carries 30 marks. To prepare for this section ,study basic concepts from NCERT Class 10 books. Work on simple mathematical solutions and approximation techniques. Some of the important topics to focus are number theory, Number Systems, Cube roots, Square roots, Fractions and Decimals, HCF and LCM, Simplification, Variation,Percentages, Ratio and Proportion, Average, Logarithms, Simple Interest, Compound Interest, Profit and Loss, Mensuration and Geometry, Time and work, wages, Age Questions, Clocks & Calendar, Speed, Time and Distance, Pipes and Cistern.
Preparation Books for Numerical Ability & Analytics Aptitude -
Quantitative Aptitude by RS Aggarwal

Quantitative Aptitude by NK Singh

30 Days Wonder Maths by S Chand
NCHMCT JEE Preparation Tips for Reasoning and Logical Deductions:
This section also carries 30 marks. It is advisable to solve this section at last because of the predicted difficulty level of this section according to the previous year question papers. The only way to ace this section is practice and practice more focusing more on topics like puzzles, directions and distance, syllogisms, statement conclusions, seating arrangements and analytical reasoning.
Preparation Books for Reasoning and Logical Deduction-
A modern approach to Verbal and Non-verbal reasoning by RS Aggarwal

501 Challenging Logical Reasoning Practice Book
NCHMCT JEE Preparation Tips for English Language:
This section carries maximum marks out of all the sections i.e. 60 marks. In order to polish your vocabulary and grammar skills, read newspaper daily.Pay attention to spellings and note down the new words for better grasp in order to enhance your vocabulary. Some of the important topics are Idioms and phrases, Synonyms and antonyms, sentence correction, parajumbles, cloze test,one word substitution.
Preparation Books for English Language-
Tata Mcgraw Hill

Wren and Martin

Arihant General English for all Competitive exams
NCHMCT JEE Preparation Tips for General knowledge and Current Affairs:
Questions for 30 marks are asked from this section in the entrance examination. Don't limit your general knowledge to just the last 6 months. You can refer to the Manorama yearbook, Pratiyogita Darpan also for having a better hold of general knowledge. Apart from this the mandatory requirement while preparation is, for you to read the newspaper daily, as it will help you in keeping informed about the latest events.
Preparation Books for General Knowledge and Current Affairs-
Lucent's GK

Manorama Yearbook 2020

Pratiyogita Darpan

Subscribe to online alerts
NCHMCT JEE Preparation Tips for Service Sector Aptitude Section:
After the English language section, this is the section which carries higher marks. The section is of 50 marks. In this section you are tested more on your personal judgements. You will be given a situation and the options which you have to mark accordingly. Questions will be based on the hospitality sector so you must have a sound knowledge of the domain. Reading hospitality magazines like Outlook Traveller, Destination India can come to your rescue.
Preparation Books for Service Sector Aptitude Section-
Hotel Management Entrance exam Guide by Gladvin Rego

R Gupta's book for Hotel Management

Hotel Management Entrance exam guide by Dr. RP Datason
Thus the final stage of NCHMCT JEE preparation tips includes solving the mock tests and previous years sample papers. Doing so will give you the even idea of time management strategy for attempting the question paper.
Questions related to NCHM JEE
Showing 692 out of 692 Questions