How to Prepare for NCHM JEE 2022 in 3 months: Study Plan and Preparation Strategy
How to Prepare for NCHM JEE 2022 in 3 months: Do you want to have a preparation strategy for NCHM JEE 2022 in 3 months? Then, you should read the whole article to know the tricks for NCHM JEE exam preparation. National Testing Agency conducts the National Council of Hotel Management Joint Entrance Examination( NCHM JEE) in a computer-based mode every year for hotel management aspirants.
Latest Updates for NCHM JEE
Stay up-to date with NCHM JEE News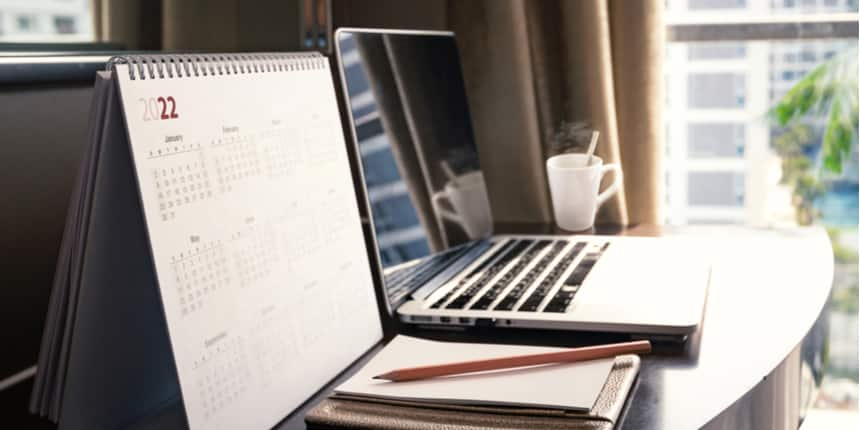 NCHM JEE is conducted for admission to BSc. HHA course in top hotel management colleges like IHM's. Experts suggest that to score a good rank in the exam, committed preparation of three months would be ample enough. Preparing for NCHMCT JEE 2022 requires consistent study with strong determination starting from a few months before the exam commencement.
How to prepare for NCHMCT JEE 2022 in 3 months: Exam pattern
Hotel Management aspirants going to appear in NCHM JEE 2022 wondering how to prepare for NCHM must be aware of the exam pattern of NCHM JEE. For the convenience of candidates this has been provided in the table given below:
NCHMCT JEE Exam Pattern 2022
Particulars

Details

Exam Mode

Online

Duration of exam

Three hours

Linguistic medium of the exam

English and Hindi




Type of questions

Multiple Choice Questions

Total number of questions

200

Marking scheme

-1 deduction for wrong answer

+4 for correct answer

Official website

https://nchmjee.nta.nic.in/
Topic-wise Distribution of Questions in NCHM JEE 2022
| | |
| --- | --- |
| Subjects | Number of questions |
| English Language | 60 |
| Aptitude for Service Sector | 50 |
| General Knowledge & Current Affairs | 30 |
| Reasoning & Logical Deduction | 30 |
| Numerical Ability & Scientific Aptitude | 30 |
| Total | 200 |
NCHMCT JEE 2022 Preparation in 3 months
To crack NCHMCT JEE 2022, candidates need to follow a standardized approach. Candidates need to have an elementary knowledge of the NCHM JEE 2022 syllabus. Once the candidates hold a grip on the basic paper pattern and syllabus, half of the work is done. If you cannot answer any question despite the best preparation do not be disheartened and lose motivation because some questions are meant to be skipped. Candidates are requested to follow the below-mentioned key points:
Sectional division of overall preparation

Go through your notes

Give mock tests

Know your strengths and weaknesses

Solve previous years question papers

Get your doubts cleared

Maintain mental and physical health
Read More:
Top Hotel Management Colleges in India 2022
Top Hotel Management Entrance Exams in India
Sectional division of overall preparation
As per the exam pattern of NCHM JEE 2022, the question paper will be divided into five major sections namely quantitative ability, verbal ability & reading comprehension, logical reasoning and service sector aptitude and general knowledge and current affairs. Thus, all candidates are advised to first break their preparation on the basis of each section individually as they have to hit NCHMCT JEE 2022 in 3 months left itself.
For Numerical Aptitude Section
Candidates should take at least two hours daily for this section as it requires clearing basic mathematics

Major focus while preparing for the QA section should be upon building up mathematics from the core level

The common topics which are asked in this section are geometry, profit and loss, number system etc.,
For Verbal Ability & Reading Comprehension Section
Read more newspapers be it physical copies or virtual ones

Read blogs, articles to enhance grammatical skills

Buy books that contain basic comprehension and inferences

Try to comprehend in English with your family and friends
R Sharma's aptitude book for the service sector can be referred for preparation. English newspapers and monthly magazines and books like Manorama Yearbook are known for General Knowledge and Current Affairs preparation.
Go through your notes
In the preparation that candidates have undergone in the past months, they must have prepared notes for themselves. Now is the right time to study from these notes as the more you revise the more you are able to retain.
Give mock tests
Every year for preparing candidates in a well-informed manner, NTA provides the facility of mock tests. Complete exam day simulated ambience is created through the mock test of NCHM JEE. Candidates also get their hands on the stressful experience through the mock test.
Time management is another skill that hotel management aspirants will learn by giving mock tests in a 3 months study plan. There will always be a difference between preparing for an exam at home and actually giving the exam at the examination centre. Bridging this gap is the role of the mock tests which help candidates learn to manage their time well.
Know your strengths and weaknesses
With NCHMCT JEE being almost three months away, candidates who will start their preparation must target on finding out their strengths rather than focusing on what they can not do. Learn new methods of solving the questions which you already know. Take leadership and start with the major topics of the syllabus which you think you are good at. On the other hand, it is always advisable for NCHM JEE takers to know their weaknesses as well. Once you know which areas you need to work on, a better preparation strategy can be devised to aid those areas as well.
Solve previous year's question paper
Before facing NCHMCT JEE 2022, candidates should check out past year NCHM JEE question papers and also NCHM JEE 2022 sample papers. After completing the process of knowing the pros and cons, candidates must make a schedule in which they should start solving at least one question paper a day to know the exact exam pattern. Solving previous year question papers will help to improve their question-solving pace as well as accuracy. The biggest advantage of solving previous papers is that after solving a few questions papers candidates will not notice any new questions.
Get your doubts cleared
When candidates are looking for an answer for 'How to prepare for NCHMCT JEE in 3 months?', they must make sure that they have no doubts left on any topic. From this time onwards candidates must be on the path to strengthening their revision, any doubts would lead to a wastage of time. Thus, at any time they feel they are not able to understand any topic, they must get in contact with their tutors, seniors, any expert. Mind it, not every person can give correct information, thus, it is essential that the person you reach out to knows the a-z of the concerned topic.
Maintain mental and physical health
Doing all that you can, incorporating every beneficial thing in your 3 months study plan for NCHMCT JEE 2022 and not paying heed to your mental and physical health can have serious repercussions. Thus, it is advised that candidates take complete care of themselves, have a balanced diet, do things that relax them in between studies.
Frequently Asked Question (FAQs) - How to Prepare for NCHM JEE 2022 in 3 months: Study Plan and Preparation Strategy
Question: When will NCHM JEE 2022 be conducted?
Answer:
The exam will be conducted on May 28, 2022.
Question: How many sections are there in NCHM JEE 2022?
Answer:
There are 5 sections in the exam.
Question: What is the mode in which the exam will be conducted?
Answer:
The entrance exam will be conducted in an online mode.
Question: What is the duration of the NCHM JEE?
Answer:
The duration of the exam is three hours.
Question: Can we crack NCHMCT JEE in 3 months?
Answer:
NCHM JEE is not considered to be very tough so it is easy to crack the examination in three months.
Questions related to NCHM JEE
Showing 834 out of 834 Questions