NCHMCT JEE Exam Pattern 2020 :Marking Scheme and Section-wise Pattern
NCHMCT JEE Exam Pattern 2020 - Candidates who wish to sit for the entrance exam should go through NCHMCT JEE 2020 exam pattern to know about the types of questions asked in the exam, weightage, and marking scheme. National Testing Agency (NTA) provided the exam pattern of NCHM JEE 2020. Having insight into the exam pattern is important for candidates so that they do not miss anything important when preparing for the exam. NCHMCT JEE is a national level examination held for admission in hotel management course across the participating institutes. Candidates can read NCHMCT JEE exam pattern 2020 to know the same in details.
Latest: NCHM JEE 2020 postponed until further notice by NTA. NCHMCT JEE admit card 2020 to be released 15 days prior to the exam.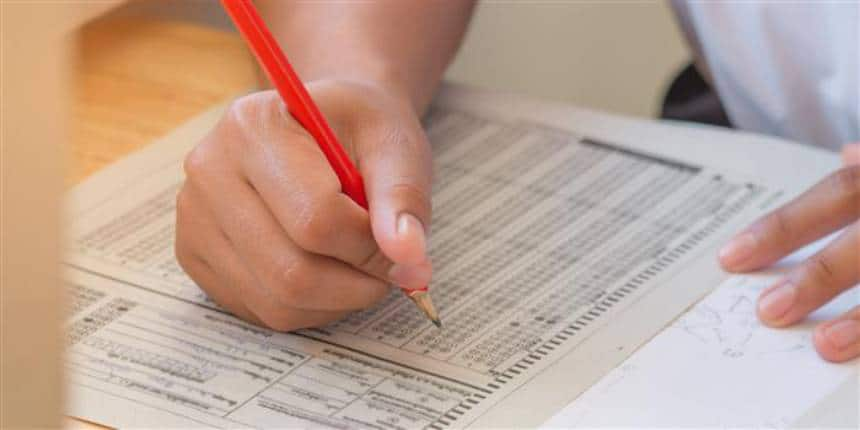 NCHMCT JEE 2020 Important Dates
Candidates can go through the table to know the important events and dates related to NCHMCT JEE 2020.
NCHMCT JEE Important Dates
Events

Dates

Release date of NCHMCT JEE 2020 admit card

April 7, 2020

June 07, 2020

(tentative)

NCHMCT JEE 2020

April 25, 2020

June 22, 2020

Postponed

Declaration of NCHMCT JEE Result

By May 15, 2020

To be notified
NCHMCT JEE 2020 Exam Pattern
NCHMCT JEE 2020 will be conducted in computer-based mode. The table consists of all the details related to NCHMCT JEE exam pattern.
NCHMCT JEE Exam Pattern 2020
| | |
| --- | --- |
| Particulars | Details |
| NCHMCT JEE exam mode | Computer-Based Mode |
| Duration of the exam | Three hours |
| Type of questions asked in the exam | Objective |
| Medium of Exam | English and Hindi |
Exam pattern of NCHMCT JEE 2020
In this table, candidates can check the total number of questions asked in each section.
| | |
| --- | --- |
| Subjects | Number of questions |
| English Language | 60 |
| Aptitude for Service Sector | 50 |
| General Knowledge & Current Affairs | 30 |
| Reasoning & Logical Deduction | 30 |
| Numerical Ability & Scientific Aptitude | 30 |
| Total | 200 |
NCHMCT JEE Exam Pattern 2020- Marking Scheme
1 mark will be deducted for every wrong answer

Four marks will be awarded for every correct answer
NCHMCT JEE Syllabus 2020
The syllabus of NCHM JEE 2020 consists of all the subjects and topics from which the questions are asked. By knowing the NCHM JEE 2020 syllabus in advance, candidates can draw a clear cut preparation strategy. Besides following the correct syllabus, candidates should also solve previous years' question papers to gain confidence, identify the weak areas and work accordingly on them.
Subject Name


Book Name
Authors
General Knowledge and Scientific Aptitude section
Manorama Year Book 2020
K.M Mathew and M. Mathew
Pratiyogita Darpan
Upkar Prakashan
Pearson India Yearbook
Thrope
Lucent's GK
Vinay Karana
Competition Review Yearbook 2020
Disha Experts
Arihant General Knowledge 2020
Manohar Pandey
Numerical Ability and Analytical Aptitude
30 day's wonder Math's
S CHAND
Quantitative Aptitude
RS Aggarwal
Reasoning and Logical Deduction
Quantitative Aptitude question papers for banks and other government entrance exams
-
Verbal and Non-Verbal reasoning
RS Aggarwal
Quantitative Aptitude E-book
RS Aggarwal
MK PANDEY
MK Pandey
Verbal Reasoning Book
RS Agarwal
501 Challenging Logical Reasoning Practice Book
-
English Language
Wren and Martin
P.C Wren
Pearson's English
Thrope
Arihant General English for all Competitive Exams
S.C Gupta
TATA McGraw-Hill
Rajiv Mehrishi
Aptitude for Service Sector
R Gupta's Book for Hotel Management
RPH Editorial Board
Arihant study package for Hotel Management and Hospitality Administration
Arihant Experts
Hotel Management Entrance exam Guide
Gladvin Rego
How to prepare for hotel Management entrance Examination
Thrope
Hotel Management Entrance Exam Guide
Dr. R P Datson
Ramesh hotel management entrance exam guide
RPH Editorial
10 mock test for hotel management entrances
Dharmendra Mittal
Hotel Management Entrance Exam guide
Jawahar Book center
Hotel Management Catering Technology
VVK Subburaj
NCHMCT JEE 2020 Preparation Tips
Improve your English Skill: This section consists of 60 marks, so one should prepare effectively to score high marks. Candidates can go refer to good English grammar books, English newspapers, and magazines to enhance their knowledge.
Stay updated on General Knowledge: Make a habit of reading newspapers from different publishers every day. Prepare notes related to various events and also their dates. Candidates should also watch the news on TV and the internet.
Take Care of Your Health: While preparing for exam candidates, your health should not take a backseat. Do not compromise on your sleep and food. Candidates can also opt for meditation mind relaxation and to stay focus.
Practice Regularly: Candidates should follow a strict study routine for NCHMCT JEE preparation. They should regularly revise and practice the topics they have already covered. You should keep in mind that reasoning and numerical ability require a lot of practice.
For more details click here for NCHMCT JEE 2020 Preparation tips
Frequently Asked Question (FAQs) - NCHMCT JEE Exam Pattern 2020 :Marking Scheme and Section-wise Pattern
Question: I have not completed my 12th exam yet, I will be completing next year 2020. Can I apply?
Answer:
Yes, you can apply.
Question: Is there an online calculator available for NCHMCT JEE 2020 or can we carry our own?
Answer:
No candidates are allowed to carry calculator. They have to do the calculation on the rough sheet.
Question: What all I should not carry to the test center?
Answer:
You should not carry any personal items to the test center, such as wrist-watch, cell phones, calculators, etc.
Questions related to NCHM JEE
Showing 692 out of 692 Questions