Bartending : The Truth about This Profession
Bartending:The Truth about This Profession- One of the most eclectic and engrossing careers in the hospitality industry is 'Bartending'. However in Indian society because of the earlier prevailing mindset, bartending is mostly considered as a B-grade profession. But when it comes to today's generation, they have their own definition of bartending revealing the real truth about this profession. Even the top hotel management colleges in India include bartending under the food and beverage heading in their course curriculum. And these days there is an increased surge observed in hotel management graduates opting for a career in bartending. Let us say, out of several number of career choices in hospitality, if wine and beer raises up your spirit and so do the night life, why don't you make a career out of it? With the growth in the F&B industry, new restaurants, pubs and bars are mushrooming all over in different parts of the country. So there is never a dearth of options in this profession. Here is all you need to know about the life of a bartender, working hours, salary prospects, job opportunities and more.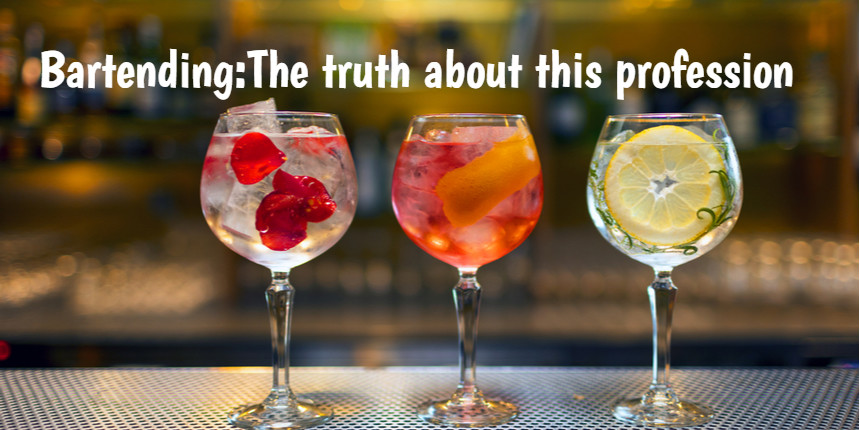 What is a Bartender?
A bartender is a professional who formulates and serves mocktails, cocktails and hard drinks in a bar. Whenever you step into a pub/bar for drinks, the first conversation you have is with the bartender. He engages you in a good conversation and tells you about the types of cocktails or drinks you must try or may even show you up with the jugglery. They are extroverts with charming nature and pleasing personalities. In this new age of urban nightlife, bartending as a profession has come into a limelight.
Top Colleges for Bartending in India
In India aspiring bartenders can opt for courses in bartending from various institutes across India. Some of them are:
1. Indian Professional Bartending Academy, Pune
2. IIBT (Indian Institute of Bartending), Chandigarh
3. Flair Mania Bartending Academy, Chennai
4. Fair-o-Logy Bar School and Events, Mumbai
There are courses like Mixology & Flair Bartending, Professional Bartending Course, Advance Bartending Course, Craftsmanship Course in Bartending, Certification Course in Wines & Spirits, Molecular Mixology Course, Basic Flair Bartending, Certification Course in Blair Flair, Exclusive Bartending Course, etc
Bartending as a Profession
Bartending as a profession can be very challenging. Apart from the fun and glamour, anything to everything that goes round in the bar is on the shoulders of a bartender. The responsibilities include cleanliness, managing the inventory, billing, being updated with the latest offers, new arrivals and many more. Bartenders are also responsible for confirming that customers meet the legal drinking age requirements before serving them alcoholic beverages. One needs to be a clever manager in dealing with people. There are both the best and worst parts of this profession. While working you will get innovative in creating various cocktails of your own for which you can earn a fame to be known. You will deal with depressed and angry people. Either you will have to face their outbursts or you can also cheer them up by listening to them. This can turn out even to be a personality changing experience for you. The worst part is there is no family life of a bartender. There are sleep deprived nights, long working hours, dealing with drunk and angry customers. Thus in the end it is the personality and skills of a bartender that play a crucial role in achieving the greater heights in this profession.
Bartending as a Profession for Girls
The subject of women bartenders broadly combines the two biggest insecurities of contemporary Indian society – the pertinent questions regarding women liberation and empowerment along with the contentious issue of alcohol sale and consumption. In 2007, came the landmark judgement of the Supreme Court of India, which not only overturned an archaic 1914 law that prohibited women from tending bars in the National Capital Region but it also stressed upon the fact that it was the duty of the State to ensure safety of women who choose to work at bars.
Shatbhi Basu, is considered to be the pioneer of bartending in India with experience which spans over three decades. She has in the past hosted a television show on mixology, authored a column in a mainstream daily as well as a book. Plus, she runs her own professional bartending academy called STIR (Mumbai). Debunking the myth of unsafety in context to women bartenders, Shatbhi argues, "The whole safety factor in case of women bartenders is blown out of proportion. Why isn't it considered in the case of women in housekeeping in hotels or those working late nights in restaurants and coffee shops? These days more and more educated women are entering this field just like they are in any other profession which they were previously discouraged to take up." Thus hotels & restaurants should encourage lady bartenders as they add more flair to the bar.
Job Opportunities in Bartending
There are numerous career options in bartending from the food and beverage services to other hospitality sectors. Bartenders get jobs in clubs, hotels, restaurants, bars, cruise ships and more. They are also hired by private businessmen to tend the bar at their parties and events. There are also freelance bartenders who pursue their higher studies besides bartending. They go on pursuing courses like diploma in beverage services , tea management courses and other hotel management courses. Then after a few years in bartending they shift to other hospitality areas. Some of the job opportunities for bartenders are:
Cocktail Caterers

Liquor Sales Representative

General Manager of a bar/Restaurants

Beverage Consultant

Mixologist
Salary Prospects
On an average trainee bartender, receives around Rs. 2 lakh to Rs. 4 lakh per annum. An experienced bartender gets around Rs. 5 lakh to Rs. 7 lakh per annum, whereas a head bartender is paid around Rs. 9 lakh to Rs.10 lakh. The salaries vary according to the level of organisation a person is working in.
Thus, success in this field depends on motivation, training and required skills. Now due to increasing demand in this field, those students who are in the hotel management and hospitality field are taking short term courses in bartending as an add-on to their skills.