Best Aviation Courses- Aviation as a course and career profile is only for those who are passionate about this field. There are a number of courses one can study in aviation. Aviation course is referred to any instructor-led training where the candidate learns about the basics of flying, instrument reading, aviation safety and related aspects. It also includes safety and management. Apart from acquiring in-depth knowledge of machines, aviation requires people in its work force to have considerable knowledge of the work profile of individuals working in other departments of the industry as well. In aviation industry aspirants have a plethora of job opportunities available to them ranging from ground staff, engineers, cabin crew to becoming a pilot. The aviation sector has been providing numerous job opportunities to graduates in India. Learn in detail about how to make a career in this high-tech industry.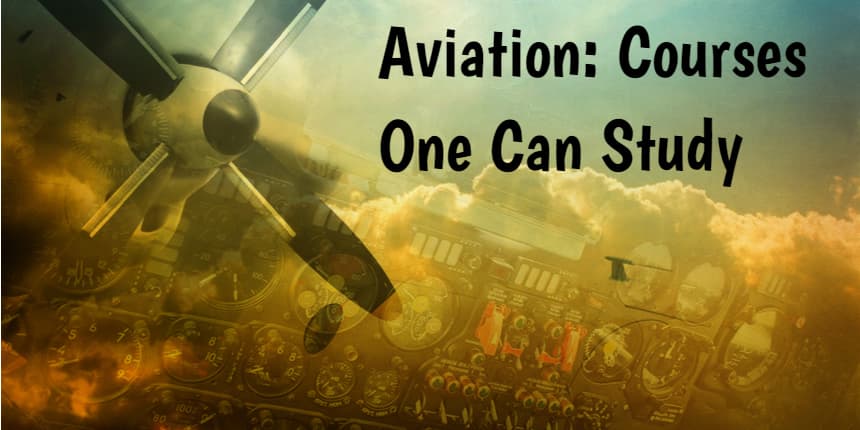 Also read- What is Hospitality and Travel?
Aviation: Eligibility Criteria
In order to pursue a job as a cabin crew or ground staff in the aviation industry aspirants can be from any stream (arts/commerce/science). But people aspiring to become an engineer or a pilot should have pursued Science at the school as well as graduation level.
Graduate Degree Courses:
For the BBA course in aviation candidates must have passed class 12th with at least 50% aggregate

Admission for the course is done on the basis of merit/cut off list prepared on the basis of 12th examination results. Also, some universities may conduct personal interviews and counselling sessions for the same.
Certificate and UG Diploma Courses:
In order to apply for certificate and diploma courses one must be class 12th pass and must have scored at least 50% marks in the same.

However, the final selection criteria for cabin crew and ground staff is only after a personal interview.
Skills Required for Aviation Courses
Reliable

Team worker

Presence of mind

Determination

Language skills

Good health & physical fitness

Agility & good sense of balance

Technical skills & understanding

Pleasant & friendly personality

Confidence

Patience

Punctuality and politeness
Also read- Top 10 Qualities of a Great Hospitality Employee
Aviation Courses
The curriculum of a course offered in the Aviation industry sphere varies as per the degree that is offered to candidates on completion of the course. Apart from this, it is worth knowing that course curriculum may also vary from college to college.
1. B.B.A. in Airport Management
It is a three years long undergraduate management program. It allows students to specialize in certain areas/disciplines. This program focuses on the running and management of an airport. B.B.A. in Airport Management trains students to take on Managerial and Administrative posts in an Airport. The course material covers subjects like introduction to airport management, accounting, human resource management, financial management, marketing, safety management, etc.
2. B.Sc. Aviation
B.Sc. in Aviation is a three years long undergraduate degree program. This course covers topics such as Air Regulations, Navigation, Meteorology, Aircraft and Engine, Air Traffic Control, Aviation Security, Flight Safety and Crew Management. After pursuing this course, successful candidates may take up jobs such as Air Traffic Controller, Ground operations staff, Cargo management staff, Ticketing staff etc. One can also pursue PG courses related to the Aviation sector, such as MBA (relevant), M.Sc. Aviation Safety, PG Diploma courses (relevant) etc. If interested, successful candidates may also go for CPL training.
3. Commercial Pilot Training
Among the many jobs that the aviation sector provides, this is the most glamorous as well as rewarding one. But Commercial Pilot training is very costly. On the other hand, once finished, this course will ensure that you land a well rewarding job. The course involves practical training as well as theoretical subjects. At the end of the program, successful candidates will be awarded CPL.
4. Diploma in Aviation Management
This is a diploma course of one year duration and focuses solely on the area of Airport Management. While it does a better job in dealing with the technical details, when compared to B.B.A. program, it doesn't possess as much value as the B.B.A. program does. So you can go for a Post Graduate Diploma in Airport Management after finishing any Graduation course. Important subjects covered in Diploma in Airport Management course are-
Airport Strategy and Functioning

Cargo Management and Handling

Staff Management

Safety and Security Management
5. Diploma in Ground Staff and Cabin Crew Training
This diploma course is aimed at training students to take on roles of Air Hostess, Steward on Flights. The course duration varies, but is generally between six months to one year. Some important subjects taught in this course are-
Communication Skills

In Flight training

Customer Services

Food and Beverage production and serving

Safety and First Aid procedures
6. Diploma in Aviation Hospitality
There are a number of career options in hospitality. It has become an indispensable element, no matter what industry we are dealing with. Aviation sector is no different, it too requires qualified and skilled professionals, who are capable of taking care of hospitality needs of the aviation sector. The course duration is one year. Important subjects covered in this course are-
Introduction to Aviation Hospitality

Communications Skills

Management

Food and Beverage production

Foreign Languages

Front Office operations

Computer and IT skills
7. Aeronautical Engineering
BE/B Tech Degree in Aeronautical Engineering is a technical course of four years duration. It will help you to land in a job related to the aviation sector. Aeronautical Engineering is all about designing, manufacturing and maintaining aircraft. Graduates will be absorbed by Private Airlines. Over there they may work in jobs posts like- Chief Engineer, Research and Development Engineer, Design Engineer etc.
8. Diploma in Airfare and Ticketing Management
This course will suit those who want to take up a ground duty job. It is a diploma certificate course lasting between six months to one year. This course is available in part time as well as full time formats. The course covers topics such as- Airline codes, ticketing terminology, Electronic ticketing, Passport and Visas, Foreign Exchange, Airfares and ticketing software. After pursuing this course, one will be able to find a job in the ticketing department. Ticketing courses are also available in the form of combination courses. An example is- Diploma in Travel Management and Air Ticketing.
9. AME (Aircraft Maintenance Engineering)
AME is a three years long technical training course. Academic program is two and half years duration. After the academic program, students also have to go through a six months of internship program. On successful completion of the academic program and internship, one will be awarded an AME license by the DGCA. Aircraft maintenance engineers deal with inspection, maintenance and servicing of aircraft. Licensed AME professionals are usually hired by Government Airline as well as Private Airlines. Aviation Organizations, Aircraft maintenance firms.
Aviation Industry: Career Options and Job Prospects
The civil aviation industry in India has emerged as one of the fastest growing industries in the country during the last three years. It is always looking for candidates who are keen to work in the complex and busiest schedule of the aviation sector. Some of the popular job profiles in aviation that candidates can hope to pursue are as mentioned below:
Job Profiles in Aviation
| | |
| --- | --- |
| Pilot | Aircraft Electrical Installer or Technician |
| Aircraft Manufacturing Engineer | Air Traffic Controller |
| Quality Control Personnel | Airport Operations Manager |
| Air Ticketing Staff | Aviation Maintenance Technician |
| Flight Steward/ Stewardess (Air hostess) | Ground Staff |
Also read- Hotel Management: Types of Job Profiles
Salary in Aviation Sector: The average salary for a fresher in the aviation industry varies as per their job roles. The starting salary for a cabin crew/ steward is Rs. 5 lakhs - Rs. 7 lakhs per year whereas for the ground staff, the package is between Rs. 4 lakh - Rs. 6 lakh. Candidates after gaining sufficient experience can even start their own aviation training centres or can work as full-time grooming/ professional trainers. There are many travel and tourism companies too that hire aviation degree students. Listed below are some of the top aviation recruiting companies:
Airport Authority of India

Make My Trip

Airbnb

Yatra

Air Asia

Air India

Vistara

Spicejet

Indigo

Go Air