Hotel Management Career Options
Career after Doing Hotel Management- One of the significant outcomes of globalization is the tremendous growth in the hotel management industry. This opens a number of career options after doing hotel management. With India being one of the most popular travel destinations, the government too is encouraging and investing in the development of the hospitality and travel sector. The hotel industry is a crucial part of the hospitality industry. Students who complete their degree from top hotel management colleges in India are most likely to avail the bestest of opportunities in this sector. The admission to these colleges is granted on the basis of a national level entrance exam, NCHM JEE which is conducted once in a year. Apart from its glamour, a career in hotel management has become lucrative and exciting, attracting more and more students to opt for it. Let us give a peek into what your career will be like after doing hotel management.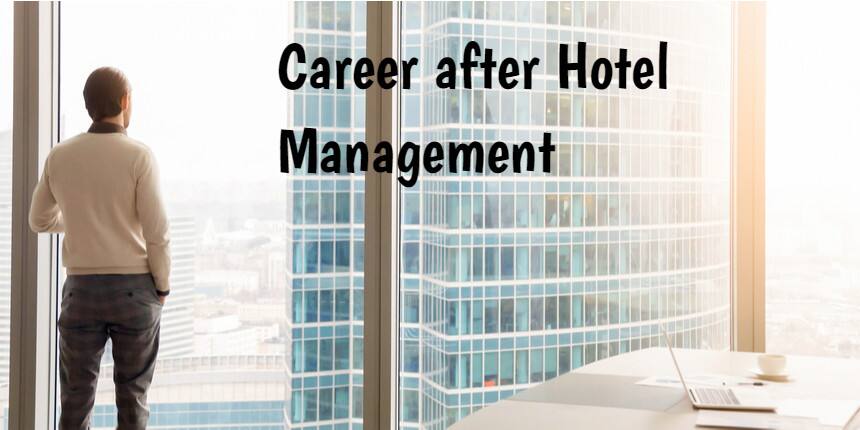 Also read- 10 Essentials of a Good Hotel Management College
What is Hotel Management?
Hotel management is the system involving the management of all things related to the hotel business. As a hotel manager, you will be responsible for overseeing and having a strong knowledge of finance, planning, service and organization. While you have a team of managers working alongside you, as hotel manager you have to lead rather than follow. As a field of study it involves learning the management techniques that cover all aspects of managing a hotel business including hotel administration, marketing, housekeeping, accounts, maintenance, food management, catering, and beverage management.
Five-Star hotels require trained staff for following departments:
Food and Beverage (F&B)
Housekeeping
Accounting
Marketing
Recreation
Computer Applications
Financial Management
Engineering
Maintenance
Security
Fire Fighting
Public Relations
Eligibility to pursue a career in hotel management:
Students who have successfully completed their 10+2 are eligible to pursue a degree, diploma, or a certificate course in the field.

If you have completed your graduation then you will be eligible for the post graduate program in hotel management.
UG Courses for Hotel Management
There are a number of hotel management courses after class 12. Many of the colleges conduct their own hotel management entrance exams and admission to IHM's and other top colleges is granted on the basis of NCHM JEE 2020. It is vital that you make an informed decision before taking up a specialization course in hospitality management. You need to choose the course that inculcates in its curriculum the maximum hours on hands-on-training, teaches you more about entrepreneurship skills, marketing techniques and financial management. Many future managers embark on internships to gain more experience, working at hotels of varying ranges, reputations and locations. This is also a great way to complement your degree. To learn in detail about the undergraduate courses in hotel management refer to- Hotel Management: UG Courses one can study.
Also read- Best Hospitality Management Courses That Give You edge
Hotel Management: Job Profiles
The scope of opportunities in the hotel industry is vast. This industry is in constant need of manpower. As a hotel management graduate who is skilled, trained and confident, you can never find any dearth of opportunities. There are so many departments that contribute to different aspects of running a hotel. This also includes recreation, public relations, security, and computer applications besides the above-mentioned mainstream specializations.Having a hotel management degree can help you get a lucrative entry position in food and beverage service, accounts, restaurant service, executive housekeeping, marketing, or other departments within a hotel. As the travel and tourism industry continues to grow at an unmatched pace, there is continuous increase in demand for hotel management professionals. Thus, completing a hotel management course gives you a career opportunity that's vast, stable and exciting. Here are some of the job roles offered in the hotel management industry.
Hotel Manager

Restaurant Manager

Hotel Director

Event Coordinator

Resort Manager

Event Manager

Executive Chef

Housekeeping Manager

Chief Sommelier
To get a detailed information about the job profiles offered in hotel industry, refer to- Hotel Management: Types of Job Profiles
Career after Doing Hotel Management
The hotel business offers a wide range of career opportunities. Therefore, the hotel management field provides you a large variety in terms of roles. Another advantage of choosing this field is that there is plenty of room for advancement in your field of specialization. When you choose hotel management as a career line, you will be able to access career opportunities in different types and sizes of hotels. Most large hotels prefer promoting their existing employees over hiring new ones. It is often also encouraged to take up positions outside of your field of specialization to help you broaden your expertise.
Career Prospects:
Club Management
Hotels and Restaurants
Hospital Administration and Catering
Airline Catering and Cabin Services
Guest Houses
Cruise Ship Hotel Management
Forest Lodges
Hotel & Catering Institutes
Catering departments- shipping companies, banks, armed forces, and railways
Hotel & Tourism Associations
Let us learn about each job profile in hotel management in detail.
1. Hotel Manager
Hotel managers run hotels, motels and other lodgings. This involves handling staff, interacting with guests, managing the finances of the property, and much more. The managerial roles could be supervised in conferences, bars, casinos, travel agencies, entertainment venues, etc. They are supposed to create budget and room rates , hire, train and interview new staff along with helping guests in solving any issues they have. A person working as a Hotel Manager in India typically earns around 46,700 INR per month. Their salaries may range anywhere from 21,500 INR (lowest) to 74,300 INR (highest).
2. Sales Manager
These are the professionals who have some years of experience and help hotels in making the money. They work with senior sales managers planning for sales promotion. Possessing complete knowledge of each and every service offered by the hotel is important for making a successful sale. Work experience is an important factor to succeed in this occupation, so internship is highly desired by the candidates. Employers hire for those hotel sales managers who are decisive, flexible, motivated,creative and reliable. As there is a potential pressure to generate sales, hotel sales managers must be able to handle the stress appropriately.
3. Restaurant Manager
If you are foodaholic and you have a perfect nose and aura for sophisticated dining experience, then you can bring your hotel management degree to use here. This could prove an interesting position for you. You can manage an outlet of a renowned chain with years of experience and have a basic start by looking for some smaller independent outlets . The responsibilities include recruiting and hiring restaurant staff , their training, restaurant marketing strategies, training, adjudging food quality, developing menus as well as greeting and serving restaurant guests.
4. Food and Beverage Manager
Food and beverage service managers supervise the day to day operations of dining arrangements and bars. They order supplies, create schedules, ensure customer satisfaction, and train new employees. Additionally, food and beverage service managers handle some human resource and administration duties like employee records, payroll and customer complaints. These professionals may work at fast food chains, upscale restaurants or cafeterias. The job requires long hours, and many pubs, bars, and hotels are busiest on weekends. They must also have the ability to solve problems and the customer service skills.
5. Event Manager
Your degree can act as an interesting aspect for you in this case. Being an event manager there will be several doors opened for you as event planner, party planner, conference manager, bridal consultant. You will be organizing and planning weddings, conventions and various big meetings paying attention to even the minutest detail. For this you should have been born with the skills of strategizing and executing.
6. Housekeeping Manager
The Housekeeping Manager is responsible for dealing with the job of ordering cleaning supplies in a timely manner. He/she has to supervise the seamstress, housekeepers, cleaners. They are responsible for preserving a standard of cleanliness throughout a hotel or other hospitality venue.There are also opportunities for management positions within these areas like housekeeping director, maintenance director, operations director, housekeeping supervisor, etc.
7. Banquet Manager
The Banquet Manager is entitled to coordinate the delivery of all food and beverages for parties, functions, events, conferences held in the hotel. He needs to work very closely with the food and beverage service manager and the catering department to ensure that food and drinks and timely snacks are presented to the guests.
8. If you can, open a hotel
An excellent experience for any budding hotel manager is to involve himself in a hotel opening. It can be the new site of a leading brand or a boutique independent, either way seeing what it takes to get a hotel started gives you a true understanding of all the moving parts. Unlike taking a job at an established hotel, where you have processes in place to learn and master, at an opening hotel, you're responsible for installing or even creating those processes. The skills you need to have include communication, teamwork and organization. However, you also need to understand and appreciate the challenges every department faces. It is important for you to spend time working or shadowing each part of a hotel, from finance to housekeeping. This ensures that you will have the awareness and experience to assist these departments when you become a manager.
Questions related to NCHM JEE
Showing 754 out of 754 Questions