Career Scope in Food and Beverage Services
Career Scope in Food and Beverage Services- Food and Beverage Service is the heart of the hospitality industry. With fast paced F&B services, there is a huge scope of career in food and beverage services in the present environment. Not only hotels and restaurants, food and beverage services are an important facet to all hospitality organizations like airlines, railways, corporate canteens, cruise liners and other allied industries. Candidates who wish to make a career in this field can pursue it both at undergraduate and postgraduate level. Apart from them, diploma and certificate courses are also available in food and beverage services. The top institutions at undergraduate level take admission through NCHM JEE, a national level hospitality and hotel level management entrance examination for granting Bachelor's degree. Read here more about the career scope in food and beverage services.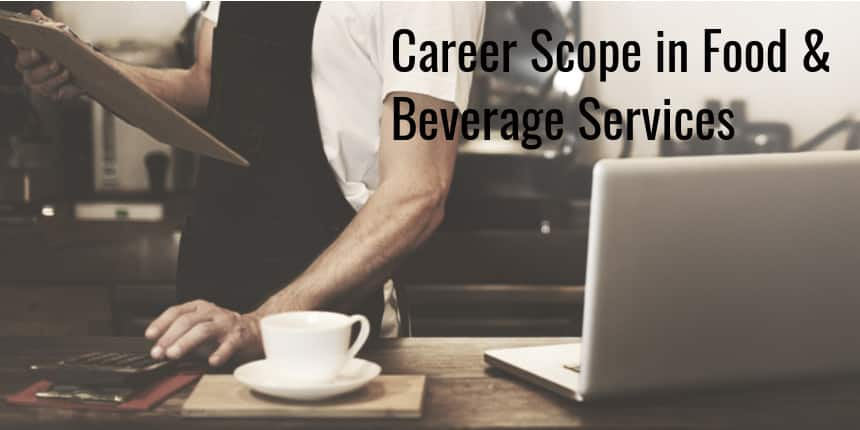 Food and Beverage Service- Educational Requirements
F&B is a specialization that comes under hospitality management. The course requires candidates to have passed class 12 with a minimum of 50% with English as a compulsory subject. There are courses which vary from six months duration certificate courses to three to four-year bachelor's degrees especially as cooks, Operations Managers, Bakers and F&B Management, etc. Candidates can opt for a diploma in food and beverage services. These come along with options to pursue masters in particular specializations too. For admission to top IHM's , we have NCHM JEE 2020 entrance test, group discussions and personal interviews for admissions. While applying for other colleges, it is recommended that you do a proper check on their affiliations, specializations and feedback from alumni.
Read More- Best Hospitality Management Courses That Give You edge
Career Scope in Food and Beverage Service- Required Skills
Food and Beverage industry is mostly defined by the output of its products and the professionals work tirelessly to gratify customers' experience through their service. So there are some key skills an aspirant needs to possess for making a career in food and beverage services.
Passion for food beverages with sound knowledge of the latest trends in the food and beverage industry.

Management in diversity - Manage and work with a diverse staff from waiters to chefs to kitchen staff to cleaners.

He/she must be an excellent communicator.

He/she must possess a problem solving attitude.

A number's person- You cannot manage your food, beverage, labour and additional costs if you are not good in math.

Exceptional organizational and inventory skills – You must know which area requires more attention and what products are good for the smooth operation of your hotel or restaurant.

Good sense of flavours- Taste is the most important sense and whether it is food or beverage, you must be very good in your tasting senses.

Passion for learning- You can only succeed and move to the upper level of your job position if you learn at every phase, each time everything new.
Top Institutes for Food and Beverage Services
Hospitality education offered in India is not very big-budget. Developing an employable talent in the hotel and hospitality sector in sync to the needs of the present scenario has always been a challenge. However, lately there are slight reforms to put innovative practices in place to ensure the same. Here are some top Indian institutes which offer degrees and diplomas in food and beverage services.
Indian Institutes for Food and Beverage Services
Institutes outside India:
| | |
| --- | --- |
| Ecole Hôtelière De Lausanne, Switzerland | Les Roches, International School Of Hotel Management, Switzerland |
| Glion Institute Of Higher Education, Switzerland | Cornell University, USA |
| Emirates Academy Of Hospitality Management | Oxford Brookes University, United Kingdom |
| César Ritz Colleges, Le Bouveret, Switzerland | Les Roches International School Of Hotel Management, Spain |
Read more- Top 10 Hotel Management Institutes with their Fee Structure
Career Scope in Food and Beverage Service- Job Profiles
F&B Service Manager- In this job profile, you need to organize, plan, and supervise the catering department. Food and Beverage Services Manager require excellent communication and leadership skills. They must be well-versed in sales and customer service including human resource management skills. It is essential for a manager to have knowledge of the services, industry and local area, and as well relevant legislation and regulations.

Food and Beverage Service Supervisor- Food and beverage supervisors supervise the kitchen staff, bar staff and beverage servers. They are responsible for resolving conflicts and problems, complaints , ensure customer satisfaction and maintain inventory control costs.

Executive Chef- In this job profile, one is responsible for managing the entire kitchen which includes training kitchen staff, planning menus, managing the budget of the kitchen. They supervise sous chefs, chefs, line cooks and kitchen helpers. An executive chef plans and writes menus, manages finances and preserves food quality by enforcing health and safety regulations.

Bartender- In such a job profile one has to prepare both alcoholic and non-alcoholic beverages for customers. The Bartender has to perform tasks like interacting with customers and clients, taking orders and serving snacks and drinks. The bartender must have a good knowledge of all types of drinks.

Waiter/ Waitress- Here one is responsible for presenting the necessary cutlery at a restaurant. He/she has to ensure the adequate and proper furnishings are available at the restaurant. A waiter/ waitress also needs to be well-aware of the menu of the restaurant he works in and must be able to suggest dishes/ beverages to customers in hand with the art of persuading his clients.
Career Scope in Food and Beverage Service- Salary
According to the analysis, a Food and Beverage Manager on an average earns approximately Rs 7 lakhs a year. At first there is a steep hike in salary for like first five to ten years. After that there is a stagnancy in the scale of pay unless one is appointed at a strategic managerial position.
Salary in Food and Beverage Service
| | |
| --- | --- |
| Job roles | Salary |
| F&B Service Manager | 6 to 8 lacs |
| Assistant F&B manager | 5 to 7 lacs |
| Food and Beverage Supervisor | 2 to 3 lacs |
| Bartender | 2 to 3 lacs |
| Head Chef | 3 to 4 lacs |
| Cooking Teacher | 1 to 3 lacs |
| Waiter/Waitresses | 1 to 2 lacs |
| Guest service associate | 2 to 3 lacs |
| Sports Nutritionist | 5 to 6 lacs |
Questions related to NCHM JEE
Showing 692 out of 692 Questions