Hotel Management : Types of Job Profiles
Hotel Management: Types of Job profiles- The demand for hotel management professionals is high already and shows an exponential rise with the increasing number of hotels being set up in India and all over the world. Hotel management can involve jobs like Hotel & Restaurant management, Hospital Administration and Catering, Cruise Ship Hotel management, Hotel and Tourism Associations, Club management, Airline Catering and Cabin Services, Guest Houses, Forest Lodges amongst others. There are multiple job profiles in hotel management and scope of career in hospitality management depending upon the education of the candidate, work experience, skills and ability to handle tough situations. You can have increased chances of good placement if you pursue your degree through national level hotel management colleges for which entry is through NCHM JEE. Check here the various types of job profiles in hotel management.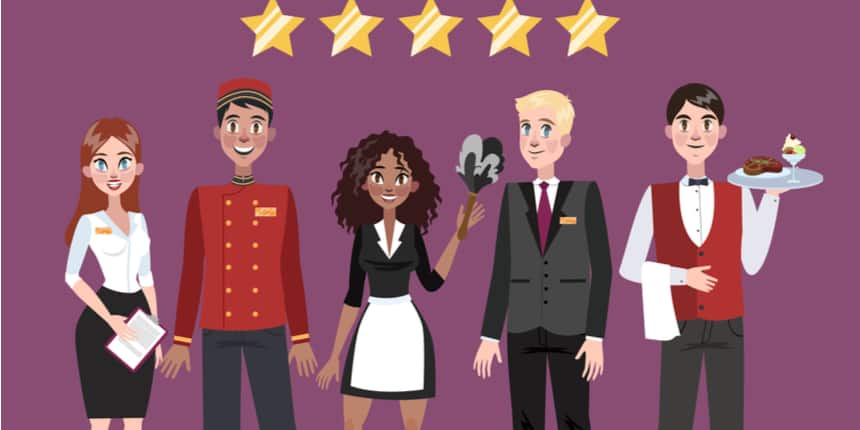 Hotel Management: Different Fields and Job Prospects
'What are the different hotel management fields?' This is a question that pops up in every candidate's mind before opting for Hotel Management. Whether its a degree, diploma or certificate courses, all these ensure jobs in different fields. Candidates can check here the job prospects.
Airline Catering (flight kitchen) and Cabin Services
Cruise Ship Hotel Management
Club management
Kitchen Management (in hotels or running canteens in college, schools, in factories, company guest houses etc.)
Guest Houses, resorts
Catering departments of railways, banks, armed forces, shipping companies etc.
Forest Lodges
Hospital administration and catering
Hospitality services in the Indian Navy
Hotel and Tourism Associations (for example: state tourism development corporations)
Hospitality services in various MNCs
Kitchen Management (in hotels or running canteens in college, schools, in factories, company guest houses etc.)
Hotel and catering institutes (as a management trainee/ marketing or sales executive)
Self Employment( Entrepreneur)
Hotel Management Job Profiles
The trained hotel management professionals have privilege over untrained graduates when it comes to job level in the hotel and hospitality industry. The reason is obvious as many hotels are not willing to invest in recruits rather having trained ones. The one through top notch IHM's in which entry is through NCHM JEE 2020, are offered a good starting salary. Candidates who are looking for a career in hotel management should have good communication skills, leadership qualities and a pleasing personality with required skills. Given below are some of the job profiles for hotel management.
Hotel Manager

Food and Beverage Manager

Sales Manager

Front office Manager

Chef

Banquet manager

Housekeeping Manager

Floor Supervisors

Waiter/Waitresses

Porter

Concierge
Hotel Manager
A Hotel Manager looks after all the operations carried out in the hotel including day-to-day activities in an organization. They take responsibility for a variety of duties including managing each and every thing from accounting to sales, customer service and business development. He/ she is expected to set up the standard of the hotel and is also the person in-charge to devise plans to promote the popularity of the restaurant or hotel. They ensure that best quality food is offered to their guests and are also indulged with the working of the banquet department. They are also referred to as Hotel Operations Manager.
Front office Manager
The senior person in an office environment who is accountable for preserving a professional work environment along with administrative support and staff supervision is called the front office manager. They carry out many responsibilities, sometimes even at the discretion of the organisation owner. He can work anywhere like hotels, spas, resorts and retreats. The key responsibilities of a Front office manager are :
Dealing with guests

Managing and training the Front Office staff

Arranging staff scheduling

Acting as liaison between General Manager and staff

Ensuring the front desk provides a professional and friendly service for guests
Sales Manager
These are the professionals who have some years of experience and help hotels in making the money. They work with senior sales managers planning for sales promotion. Possessing complete knowledge of each and every service offered by the hotel is important for making a successful sale. Work experience is an important factor to succeed in this occupation, so internship is highly desired by the candidates. Employers hire for those hotel sales managers who are decisive, flexible, motivated,creative and reliable. As there is a potential pressure to generate sales, hotel sales managers must be able to handle the stress appropriately.
Food and Beverage Manager
Food and beverage service managers supervise the day to day operations of dining arrangements and bars. They order supplies, create schedules, ensure customer satisfaction, and train new employees. Additionally, food and beverage service managers handle some human resource and administration duties like employee records, payroll and customer complaints. These professionals may work at fast food chains, upscale restaurants or cafeterias. The job requires long hours, and many pubs, bars, and hotels are busiest on weekends. They must also have the ability to solve problems and the customer service skills.
Banquet Manager
The Banquet Manager is entitled to coordinate the delivery of all food and beverages for parties, functions, events, conferences held in the hotel. He needs to work very closely with the food and beverage service manager and the catering department to ensure that food and drinks and timely snacks are presented to the guests.
Chef
A chef is the one behind the scenes in the hotel and hospitality industry. There are various lessons aspirants take on how to become a chef. Most people work their way upto the level of a chef by being in the line of cooks for several years in which they acquire the managerial skills required to oversee the kitchen. People in this role supervise sous chefs, cooks and other kitchen employees. They typically prepare the food also, order all of the food and plan the meals in the kitchen.
Read more -Important Chef qualifications and Skills
Housekeeping Manager
The housekeeping manager gives training to staff. He also monitors inventory and ensures that the standards of housekeeping in the place are met. This position normally requires at least three years of experience in housekeeping as well of managerial experience. They are responsible for ensuring that the entire hotel premises including the guest rooms, banquet rooms, conference rooms and reception area are healthy, clean and maintained well.
Floor supervisors
Floor supervisors are responsible for maintaining the guest areas, working areas clean and in an orderly manner. They have to keep a routine check on the assigned staff. They also monitor the revenue an establishment generates on a daily basis. They create and maintain reports based on key performance indicators and submit it to their managers regularly. Floor supervisors make sure of the disciplinary standards of the staff. They collaborate with their manager and train new hires on company policy. They also delegate day to day tasks as required on a needed basis.
Waiter/Waitresses
Waiters and waitresses work in bars, restaurants, hotels, casinos, and other food-serving places. They are indulged directly with the customers taking the orders, serving food and beverages. Though no formal education is required, waiters/waitresses must possess strong communication and interpersonal skills. They need to be detail-oriented when presenting food to the customers. This job is suitable for people in the hospitality industry who want to indulge with customers face-to-face.
Concierge
A concierge provides various services to the customers interacting directly with them. They may have to respond to requests like "Can you book our table for reservation?" or apprehend what customers might need. These services could range from arranging for a babysitter to getting tickets to a show to suggesting a restaurant. At some hotels, concierge is an entry-level position. However, some luxury hotels need concierges who have years of hotel and hospitality industry experience. A concierge needs a problem solving attitude or say skills with wide ranging customer-service skills and can handle difficult patrons.
Porter
Porters are tasked with baggage handling for whatever guests are assigned to them. They might bring luggage up to guests' rooms or take the baggage to the lobby. A porter is one of many support staff positions in the hospitality industry. Another common position is that of valet (also known as parking lot attendant). A valet parks patrons' cars when they come to a hotel, restaurant, or other venue.
Questions related to NCHM JEE
Showing 692 out of 692 Questions