Dos & Don'ts for NCHM JEE 2021: You Must Know
Dos & Don'ts for NCHM JEE 2021- Candidates appearing in NCHM JEE 2021 must be well aware of the do's and dont's for NCHM JEE exam. The key do's and don'ts will help you take your NCHMCT JEE exam better and improve your score in the exam. The set of instructions include do's before the NCHM JEE 2021 exam, do's during the exam, don'ts before NCHM JEE 2021 and dont's during NCHM JEE 2021. Especially during the last few days of the exam, it is crucial for the candidates to stay calm and positive so as not to mess up with their preparation for the exam. NCHM JEE, is a national level hotel management entrance test is scheduled to be conducted in the last week of April 2021 as a computer based test. Candidates must be well versed with the NCHMCT JEE 2021 exam pattern to ensure smooth preparation. Read the article below to get familiar with the do's and don'ts for NCHM JEE 2021.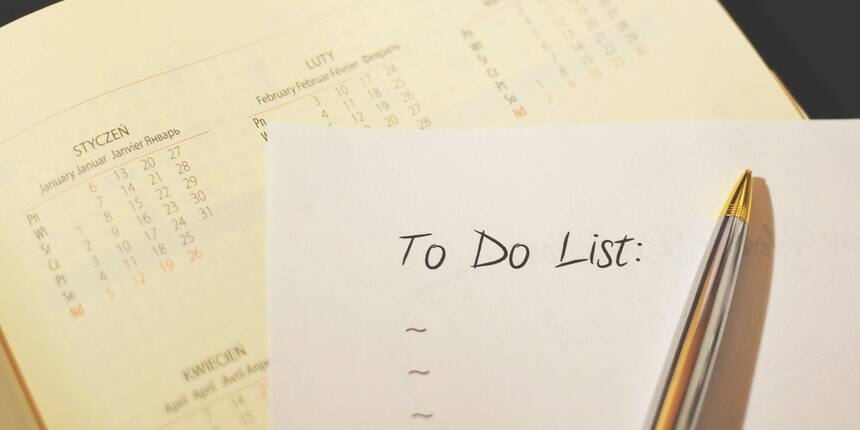 Also Read-
NCHMCT JEE 2021 Exam Preparation Strategy
10 Best NCHMCT JEE Preparation Tips & Strategy 2021
NCHM JEE 2021: Exam Overview
Particulars

Details

Name of the Exam

NCHMCT JEE

Also known as

NCHM JEE

Conducting Body

National Testing Agency (NTA)

Level of exam

National

Mode of the exam

Computer-based mode

Duration of the exam

Three hours

Total number of participating institutes

71

Medium of the exam

Bilingual (Hindi and English)

Types of questions asked

Multiple Choice Questions(MCQ's)

Total sections

Five namely,

Numerical Ability and Analytical Aptitude

Reasoning and Logical Deduction

Aptitude for Service Sector

English Language

General Knowledge & Current Affairs

Total number of questions

200
Do's for NCHM JEE 2021: Before the exam
Here is a checklist of some do's you need to include in your plan before the NCHM JEE 2021 exam day.
Practice regularly- Rather than attempting or starting reading any new topic, it'll be more fruitful to revise your already prepared topics. The more you practice, the more you will touch perfection.
Do break down the syllabus - Candidates can break-down the NCHMCT JEE 2021 syllabus into smaller units and prepare each topic individually. This will lessen the burden from the students to prepare the entire syllabus in one go. Also, aspirants can check the NCHMCT JEE 2021 chapter-wise weightage and important topics and prepare according to the study plan.
Solve NCHM JEE sample papers- Refer to some of the previous year question papers,mock tests and sample papers of NCHMCT JEE 2021, at-least of the previous 10 years and practice them as much as you can.
Maintain your confidence level- The fear of exams can lower your confidence so never let your fear overpower your confidence. It's your confidence which will ultimately keep you high and boost your winning strategy. It's just an exam like others that you have been appearing for.
Take care of your mental and physical health- Taking care of your health while preparing for NCHMCT JEE 2021 is very important. This is because a slight carelessness can lead to a loss of an entire academic session for the candidates.
Do's for NCHM JEE 2021: During the examination
Just like candidates have adopted some do's before appearing for NCHM JEE 2021 exam, the do's during the examination are equally important.
Prior visit to the exam centre- Candidates are advised as well as notified by the NCHM JEE officials to report at your respective NCHM JEE exam centres one hour prior to the commencement of exam. Therefore, plan your timing in a way that you reach the exam centre accordingly.
Carry Admit Card and Valid Photo ID Proof- All candidates must have a hard copy of the admit card of NCHM JEE 2021. Note that candidates who will not carry the admit card in hard copy will not be allowed to enter the exam centre at any cost. Duly filled NCHM JEE 2021 admit card is a mandatory document. Test takers must ensure that signature and photograph printed on the admit card is legible. Candidates are requested to check following information on their admit card beforehand:
Name of the candidate

PwD Status

Test City

Registration Number

Reference Number

Time and Session of NCHM JEE 2021
As an important do's of NCHM JEE, along with the NCHM JEE admit card, candidates have to carry at least one photo ID as a proof. Candidates must keep in mind that the photograph and signature provided on the ID proof should be clearly visible and not be smudged or damaged by any means. Candidates who have an (a)pacemaker or (b) implants (metal) or (c) other device(s) for Medical reason(s) will be required to produce a medical certificate for the same. Any of the below mentioned documents can be used by candidates as a photo identity proof on exam day:
Passport

Voter ID Card

Aadhaar Card

PAN Card

Driving License

Employer ID Card

College ID Card
Note- No candidate will be allowed inside the exam hall without admit card and valid ID proof
Check seating arrangements in advance
Once candidates reach the exam centre, the first thing they need to do is find their respective seats. Lab numbers will be displayed outside the centre.
Apart from these the other list of do's while attempting the NCHM JEE paper are:
Abide by the instructions of the invigilator regarding filling up of information and examination hour rules and in case of any doubts, get them cleared before attempting anything on your own

Read the instructions and the questions carefully before attempting to answer.

Solve the questions that are easier to tackle first and then attempt the tougher ones

As there is a negative marking factor in the exam, do not execute your guess work.
Don'ts for NCHM JEE 2021: Before the examination
There are some measures which you need to refrain from while being in the preparation phase and most importantly on the exam day. As not following these would land you in exemption from attempting the exam paper.
Do not stress yourself- Do not strain yourself till the last minute. Leave all your books aside for a few days before the exam. Have a good time and relax.
Do not start preparing late for the exam- Do not underestimate the amount of practice and time required for this exam. The only way to crack NCHM JEE 2021 is by starting as early as you can.
Do not set limits while studying- Do not limit yourself to the topics , cover as many topics as you can.
NCHM JEE 2021 Dont's: During the examination
The candidates must not carry mobile phone phones,smartwatches,wallets,handbags,notes,books or any fluid/marker inside the test center

Do not waste too much time on a single question. In case you are unable to solve the question, move on to the next keeping in mind the time limit of the exam

Do not presume the answers- The candidates must not mark the answers if they are not sure as there is 0.25 negative marking for every wrong/incorrectly marked answer

Do not ignore the instructions-Do not carry the question booklet or any part thereof outside the test before completion of the test.
Thus before you appear for the D-day, you need to have this NCHM JEE 2021 preparation checklist of do's and dont's that can prove you quite beneficial for your exam.
Frequently Asked Question (FAQs) - Dos & Don'ts for NCHM JEE 2021: You Must Know
Question: What is the exam date of NCHM JEE 2021?
Answer:
NCHM JEE 2021 will be conducted in the last week of April 2021.
Question: How many questions are there in NCHM JEE 2021?
Answer:
There are a total of 200 questions in the exam paper.
Question: What is the mode in which the test will be conducted?
Answer:
The test will be conducted in an online mode i.e. as a computer based test.
Questions related to NCHM JEE
Showing 767 out of 767 Questions