How to Prepare for NCHM JEE 2021 in 6 Months: Preparation & Strategy
How to prepare for NCHM JEE 2021 in 6 months: The National Council of Hotel Management Joint Entrance Examination( NCHM JEE), a national level hotel management entrance examination is conducted by the National Testing Agency for admission into Bsc. HHA course in various top IHM's. NCHM JEE entrance test checks your ability and readiness for the exciting and dynamic field of hospitality and service industry. Preparing for this entrance requires consistent study with strong determination starting from 6 month before the exam commences. So how do you prepare for NCHM JEE 2021 in 6 months? As per the previous year toppers and experts, candidates must know it is not about when you start but more about giving all you have. The right preparation strategy can not only help candidates qualify NCHMCT JEE but also qualify with a good score to obtain a seat. Careers360 brings you NCHM JEE 2021 preparation tips for 6 months to frame a solid strategy for the exam.
Also Read-
10 Best NCHMCT JEE Preparation Tips & Strategy 2021
NCHMCT JEE 2021 Section-Wise Preparation Tips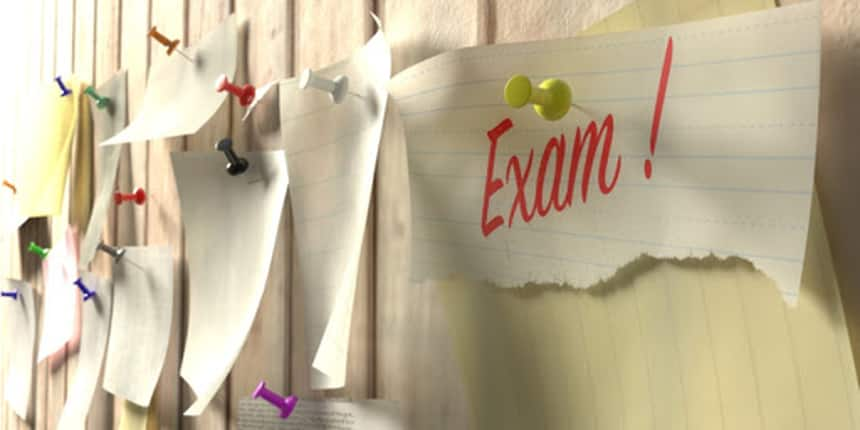 How to Prepare for NCHM JEE in 6 months
As it's a common preparation tip that practice is the key to success. So practice regularly. Aspirants should do away with the competitive nature of the NCHMCT JEE 2021 exam. Start aiming at what you want to do when, what you want to become when you get into the hotel management sector. This drive will eventually lead you to success. If you are working on something that you really want to do then you do not need to be pushed just the vision of pursuing hotel management from IHMs and attaining the degree will drive you.
The given below strategies will provide candidates with a head start, in the process candidates will be able to frame their own schedule, and at the end give a final push to utilise 6 months for NCHMCT JEE 2021 preparation.
Understanding NCHMCT JEE syllabus 2021
At this point, candidates must be completely aware of NCHMCT JEE syllabus. This is not the time to do something at the drop of a hat. Hotel management aspirants must divide each topic and understand the important topics and chapterwise weightage of each topic. It is a known fact that candidates must be familiar with NCERT syllabus of Classes 11 and 12. List out the common topics and concentrate on the topics that are not covered in NCERT. Candidates can check here the topic-wise number of questions that came in the NCHMCT JEE question paper 2020 to know the important topics on which candidates should pay more attention.
Topic wise Distribution of Questions in NCHM JEE 2021
| | |
| --- | --- |
| Subject | No. of Questions |
| Numerical Ability and Analytical Aptitude | 30 |
| Reasoning and Logical Deduction | 30 |
| General Knowledge & Current Affairs | 30 |
| English Language | 60 |
| Aptitude for Service Sector | 50 |
| Total | 200 |
Know the NCHM JEE 2021 Exam Pattern
Before starting to prepare for NCHM JEE in 6 months, it is expected of candidates to know the salient features of NCHM JEE exam pattern 2021 like negative marking, section-wise distribution of questions, etc. 1 mark will be deducted for each wrong answer, therefore, candidates must be thorough with their topics and answer only those questions which they are certain about. English section carries more weightage as out of 200 questions 60 will be from this section. Candidates can take a quick review of NCHM JEE exam pattern to frame their strategy accordingly.
Also Read: How to Prepare for NCHMCT JEE 2021 in 1 Year
Exam Pattern
Particulars

Details

Exam Mode

Online

Duration of exam

Three hours

Linguistic medium of the exam

English and Hindi

Type of questions

Multiple Choice Questions

Total number of questions

200

Total marks of the examination

800

Negative marking

-1 deduction for wrong answer

+4 for correct answer

Official website

https://nchmjee.nta.nic.in/
There is no scarcity of books to prepare for NCHM JEE in 6 months but to select the right material is challenging. It goes without saying candidates must prepare from the NCERT books for Classes 11 and 12 since NCERT books are the most important source of information. As per the previous years' toppers, aspirants must solve the numerical from NCERT books as per the syllabus of Hotel Management. To refine the preparation for other sections in 6 months, candidates can try other competitive books and practice objective type questions.
Candidates can check here the list of books to study in order to prepare for NCHM JEE apart from NCERT books. For numerical ability and reasoning books by RS Aggarwal can be referred to. Pearson's English, Wren and Martin are some of the books prescribed for English Language section. R Sharma's aptitude for the service sector can be referred for preparation. English newspapers and monthly magazines and books like Manorama Yearbook are known for General Knowledge and Current Affairs preparation.
Formulate an effective study timetable
Another important aspect of the preparation strategy for NCHM JEE is having an effective study plan. As they say, "Take care of the minutes and the hours will take care of themselves." Make smaller goals and gradually everything will start making sense. While preparing the timetable to prepare for NCHMCT JEE in 6 months make a note of the points given below-
Candidates can divide the time for each section and set a goal for each day.
The study timetable to prepare for NCHM JEE in 6 months should include covering a topic, mock test practice, and analysis of mistakes.
Do not make far-fetched goals but the ones that seem realistic and give you space to understand each topic.
Make a note of all the important points and formulas that one has covered in a day.
The timetable should be interspersed with small breaks for recreational activities.
It is also essential to have a minimum of six hours of sound sleep in a day to keep you fresh and understand concepts better.
Study, Revise and Analyse
As per the experts, candidates wait to complete the whole NCHMCT JEE syllabus 2021 and then practice mock test which is not the best way to go about it. It is important to know the basic concepts but it is also important to know the level of questions that come in the question paper. NCHMCT JEE aspirants must study, practice mock tests and analyse the mistakes all at the same time. Practising previous year question papers and mock tests that too in the same time limit as that of the NCHM exam will help candidates in solving objective type questions, know the topics from which the questions are frequently asked and get accustomed with solving papers in three hour time. This will provide an exam day experience to candidates in advance.
Stay Positive
This journey will take a lot of hard work, perseverance, studying, learning and sacrifice. It is really important to stay optimistic in this whole process as the NCHM JEE 2021 syllabus is vast as the ocean and it might seem daunting in the starting. Cramming will not help because there is so much study but understanding the topics will boost the confidence of the candidates as a good understanding of one concept will help in comprehending the next topic. Eat healthy food and stay focused.
Frequently Asked Question (FAQs) - How to Prepare for NCHM JEE 2021 in 6 Months: Preparation & Strategy
Question: When will NCHM JEE 2021 be conducted?
Answer:
The NCHMCT JEE 2021 exam will be conducted in the last week of April 2021.
Question: How many sections are there in NCHM JEE 2021?
Answer:
There are 5 sections in the exam.
Question: What is the mode in which the exam will be conducted?
Answer:
The entrance exam will be conducted in an online mode.
Question: What is the duration of the NCHM JEE?
Answer:
The duration of the exam is three hours.
Question: Can we crack NCHMCT JEE in 6 months?
Answer:
NCHM JEE is not considered to be very tough so it is easy to crack the examination in six months.
Questions related to NCHM JEE
Showing 788 out of 788 Questions