10 Reasons To Choose A Career in Hospitality
10 Reasons to Choose a Career in Hospitality - Hospitality is one of the most dynamic, fast growing and challenging sectors in the 21st century. It is necessary for you to know 10 reasons to choose hospitality management careers. Hospitality offers thrilling opportunities for travel-enthusiast graduates who aim to begin their careers in India and abroad. Students are ushering in this industry for its various benefits. With every new technology advancement or guest experience, even more diverse and offbeat job opportunities open up. There have been even imminent fluctuations in the economy, but the hospitality industry has always shown great resilience in its business. It has even managed to sustain when other sectors could not maintain themselves up to the mark. Infact, according to a reliable source, the Indian hotel market is projected to grow to around 13 billion U.S. dollars by 2020. Many top level colleges offering degrees in hospitality accept NCHM JEE score. If you are tempted towards following a hospitality management career, explore these 10 reasons to choose a career in the hospitality industry.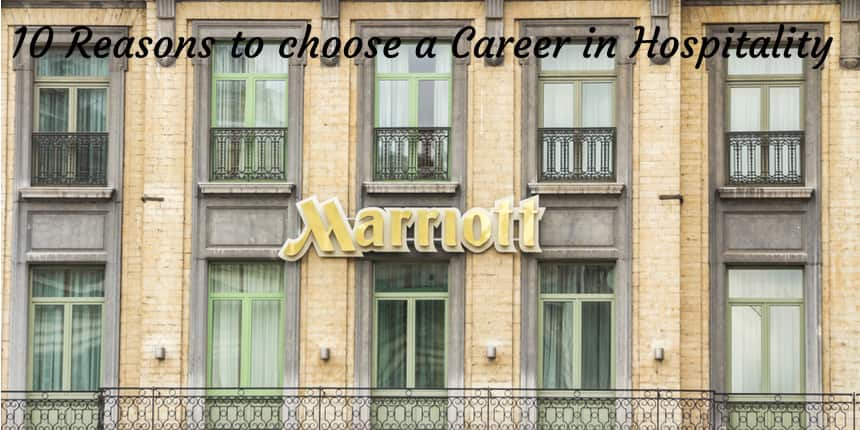 What is Hospitality Management?
Hospitality management is a perfect blend of day-to-day business activities and customer service. It imparts the skills of customer service which is the core of nearly every role you are ever going to perform. You will also be working behind the scenes in positions that may include food service and catering. Hospitality management includes handling different types of businesses including hotels, restaurant chains, resorts, casinos, travel and tour agencies and airlines. Graduates with Bachelors in Hospitality Management are polished in their skills to become and continue to be effective managers and supervisors in this industry. NCHM JEE 2020 is one such national level entrance exam that can grant you admission to top hotel management colleges in India.
Hospitality and Hotel Management
There always remains a confusion between students between the courses of hospitality training and hotel management as they can be very confusing terms. The similarity between both these courses is that at last they merge into the larger picture of tourism industry. The syllabus for hospitality management also includes hotel management course as well therefore the total curriculum for hospitality is much wider as compared to just hotel management. Like hospitality there is a good scope in Hotel management too. Let us see what can you do after Hotel Management.
What to do after Hotel Management?
Because of the hype of travel and tourism in India especially there are a lot of job opportunities awaiting the hotel management graduates for a hotel management career. Here are some of the aspects of your career after hotel management which you can choose to enter in:
A student who has earned a degree or diploma in hotel management can work in the below mentioned sectors:
Club Management
Hotels and Restaurants
Hospital Administration and Catering
Airline Catering and Cabin Services
Guest Houses
Cruise Ship Hotel Management
Forest Lodges
Hotel & Catering Institutes
Catering departments- shipping companies, banks, armed forces, and railways
Hotel & Tourism Associations
10 Reasons To Choose Hospitality Management Careers
A career in hospitality management can be immensely rewarding, with new breakthroughs at all levels of employment. Being not just restricted to the humdrum existence of more common place jobs, the hospitality sector will offer you a lot, from becoming renowned industry professionals to aspiring business leaders. So, what are the smart choices that will provide you an edge and make you worthy of the sumptuous lifestyle that this sector has to offer? Let's find out. There are even some top hotel management entrance exams in India that can assure you a promising hospitality management career. Here are ten of the reasons why a career in hospitality can prove to be your best decision in the long run.
A variety of employment options
There is a bay of options for anyone interested in applying their innovative skill set to the hospitality industry. Some of the most popular jobs that can be found in the hospitality, travel and tourism industry are:
Travel agencies and tourism

Business and marketing

Tour guides and tour operators

Restaurants, eateries, and catering

Bars, pubs, and clubs

Event and conference planning

Passenger services

Spas, fitness, and health and wellness facilities.

Customer service representatives

Entertainment organisers
Diversity - International Exposure
What is the one occupation that you can imagine which can possibly land you in a range of exciting job opportunities, from ultra-modern 7-star hotels in Dubai to exotic resorts in the Caribbean, travelling atop majestic ocean liners to exploring nature in an unprecedented way - all the while getting paid a handsome sum of money? The only feasible answer is the hospitality sector. Hence here you will be paid for attending career development conferences, meeting new people. Travelling also gives you a chance to strengthen your communication skills, overall personality and an additional plus- you get to learn about a new culture.
Availability of Career progression opportunities
This industry provides a ready made path where you can move into higher paying positions. In most of the roles job training is provided on the site which can help you work on your essential skills for development and progression with a more job responsibility. Consider this - a sales coordinator can manage up their way to event manager and a trainee chef with years can direct oneself to being the head chef.
Traditionally salaries within the hospitality, travel, and tourism sectors range lower as in comparison to other industries. Nevertheless, there are still many assuring roles in these sectors that can prove financially lucrative. If your hotel company provides best guest service then the best performing employee is paid in top dollars.They will offer you decent starting packages, regular pay increments, bonuses and other rewards for offering great service.
Creative world out for you
Being a people-oriented industry, hospitality is creative in nature. You can venture for new ideas so that it comes out more pleasant for your customers. To succeed as a hotel manager, it will be your responsibility to come up with and implement new ideas on a regular basis, for example themed afternoon teas, etc. in order to provide your customers with better services. You can also hone your presentation skills by using vivid colors presenting the menu , henceforth adding a pinch of salt to your culinary masterpiece.
Do you like getting up at the same time in the morning, putting on a suit and tie, having the same breakfast, and then catching the same train into the same office, day after day after day? If so, then hospitality probably isn't for you. You need to work in the flexible shifts. Even
Many people manage hospitality jobs along with their studies at the college level.
Few renowned hotel chains such as the Taj, Oberoi offer their own training programmes which provide the perfect confluence of classroom studies and job training experience. After completion of the programme, students are appointed at the junior management level. This is a considerable boosting factor and advances your career by five to seven years.
People always need food, drinks and somewhere to sleep, don't they? So, even in weak economic climates like the recent credit crunch, where every other industry is striving hard to survive, the hospitality industry is relatively secure. You will feel secure as the industry lives up to the mark of your basic requirements. The hospitality sector is an ideal choice if one's goals are stability and growth.
In the hospitality industry, no two days will be the same. You will meet new people and face new challenges every day, thus the chances of a hospitality job becoming mundane are very rare.
In every workplace, the work atmosphere is the most important thing one looks forward to. Hospitality industry is especially the one where employees who are unfriendly or not humble to the customers are not hired. That is why you will observe that hotel industries usually contain some of the most vibrant, lively and fun loving people which better meet the need of the organisation. Hence you will get to work with friendly people, colleagues, and customers. This will benefit you with a comfortable atmosphere to work.
Questions related to NCHM JEE
Showing 692 out of 692 Questions