Career in Hospitality Management
Career in Hospitality Management - The most conventional question that pitches into the mind of students entering in the hospitality sector is "How will they make their career in hospitality management?" There are various reasons for this confusion galore.There isn't enough awareness about these courses in India. Hospitality is entrenched in India's culture and is therefore a key industry in the subcontinent. Even during the plummeting period, there are accommodation and administrative arrangements related to a hotel you're managing, so people are always needed. Bachelor degree in hospitality and tourism management basically aims to prepare students for managerial positions in the dynamic and increasingly global era of hospitality industry. Through this journey of making a career in hospitality management students learn to think strategically and can be a part of many adventurous and exciting careers. NCHMCT JEE is one such entrance on a national level that helps you in procuring a seat in your dream college in the hospitality area. There are a number of job prospects in hotel management.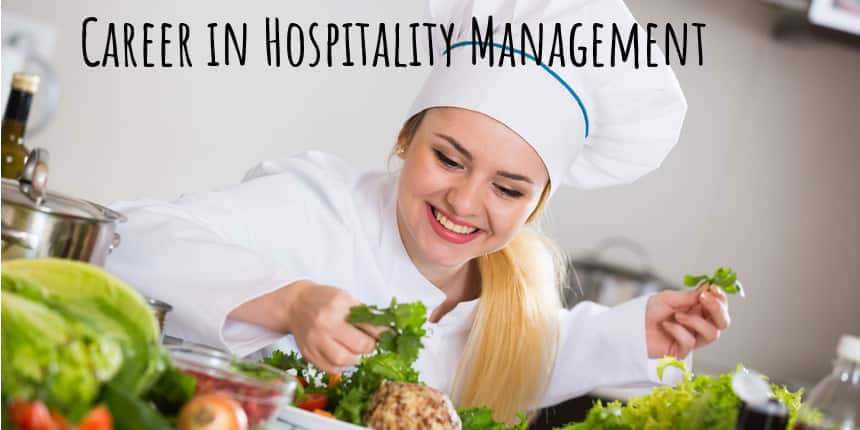 What is Hospitality Management?
Hospitality management is a detailed study of the hospitality and hotel industry. A hospitality manager looks after the administrative tasks of a resort, hotel and casino chain. He or she may ensure that a hotel is adhering to state regulations.The ethics required for understanding the industry are acquired by your hospitality management degree. It is necessary to have a knack in order for sustenance of your resort chain cutting down the cost expenses and giving people a wonderful experience at the same time.
UG Courses for Hotel/Hospitality Management
There are various undergraduate courses in hotel/hospitality stream offered across the top colleges in India on the basis of NCHMCT JEE 2020. Some of the common hotel management specializations and the streams that are offered in a hotel/ hospitality management course offered at the undergraduate level are:
Specializations in Hotel/Hospitality
Course

Subjects

Food & Beverage Service

Kitchen Operations Management

Wines Fundamentals

Fundamentals of Management,

Marketing and Human Resource Management

BHMCT( Bachelor of Hotel Management and Catering Technology)

Food & Beverage Service

Food production

Hotel Engineering

Hospitality Marketing

Hotel Accountancy

Basic Accounting

Travel & Tourism

Catering Science

Communication Fundamentals

Hotel related laws

Communication Fundamentals

Basic French for Hotel Industry

Housekeeping Operations

Bsc. HHA( Bachelor of Science in Hospitality and Hotel Administration)

Basic Principles of Food Production

Introduction to Cookery

Culinary history

Culinary terms

Hierarchy of Department and Kitchen

Aims & objectives of cooking food

Methods of cooking food

Culinary Management Foundation

Food Production Operations

Food and Beverage Operations

Nutrition, Health & Safety Management

Property Management Systems

Personal Development Planning (PDP)

Hotel Interface / Hotel Exposure

Business Finance

Human Resource Management

Marketing Management

Meetings, Incentives, Conferences & Exhibition Management (Open)

Contemporary Gastronomy (Open)

Facilities Management (Open)

Strategic Management

Culinary Operations Management

Global Cuisine Management

Digital & Marketing Communication (Open)

Culinary Innovation Management (Open)

Global Events & Festivals (Open)

Corporate Governance (Open)




General operations

Sales and marketing

Food and Beverage

Front office

Service keeping and catering




BA (Hons) in Hotel Management

Tourism & Hospitality Management Foundation

Food Production Operations

Food and Beverage Operations

Accommodation Management

Property Management Systems

Personal Development Planning (PDP)

Management of Hospitality Organisations

Hotel Interface / Hotel Exposure

Hotel Operations Management

Strategic Management

Corporate Governance

Business Finance

Marketing Management

Human Resource Management

Food & Beverage Enterprise Management (Open)

Meetings, Incentives, Conferences & Exhibition Management (Open)

Facilities Management (Open)

Managing Innovation & Change (Open)

Digital & Marketing Communication (Open)




BBA in Hospitality, travel & tourism

Business Organisation

Fundamentals of Travel and Tourism

Business Accounting

Business Mathematics

Business Communication - I

Business Computing

Marketing Management

Business Communication - II

Research Methodology and Report Writing

Business Law

Financial Management

Consumer Behavior and Market Research

Business Economics II

Travel Agency and Tour Operations

Human Resource Management

Essentials of Strategy Management

Entrepreneurship & Venture Management

Food & Beverage Management



Hospitality Management Job Titles
Jobs in the hospitality industry can either entangle a lot or a very less customer interaction. Many of the jobs are entry-level, but hospitality, like other service industry occupations, is a territory where you can climb the ladder to a managerial role chaperoned by more responsibilities, along with a higher salary. Candidates can make an enlightening career in hospitality management. There are a number of career and job prospects in hotel and hospitality management. Candidates can work in sectors such as:
Club Management
Hotels and Restaurants
Hospital Administration and Catering
Airline Catering and Cabin Services
Guest Houses
Cruise Ship Hotel Management
Forest Lodges
Hotel & Catering Institutes
Catering departments- shipping companies, banks, armed forces, and railways
Hotel & Tourism Associations
The most common hospitality job titles are :
Hotel Manager
Hotel managers run hotels, motels and other lodgings. This involves handling managing staff, interacting with guests, managing the finances of the property, and much more. The managerial roles could be supervised in conferences, bars, casinos, travel agencies, entertainment venues, etc. They are supposed to create budget and room rates , hire, train and interview new staff along with helping guests in solving any issues they have. A person working as a Hotel Manager in India typically earns around 46,700 INR per month. Their salaries may range anywhere from 21,500 INR (lowest) to 74,300 INR (highest).
Restaurant Manager
If you are foodaholic and you have a perfect nose and aura for sophisticated dining experience, then you can bring your hotel management degree to use here. This could prove an interesting position for you. You can manage an outlet of a renowned chain with years of experience and have a basic start by looking for some smaller independent outlets . The responsibilities include recruiting and hiring restaurant staff , their training, restaurant marketing strategies, training, adjudging food quality, developing menus as well as greeting and serving restaurant guests.
Event Manager
Your degree can act as an interesting aspect for you in this case. Being an event manager there will be several doors opened for you as event planner, party planner, conference manager, bridal consultant. You will be organizing and planning weddings, conventions and various big meetings paying attention to even the minutest detail. For this you should have been born with the skills of strategizing and executing.
Housekeeping Manager
The Housekeeping Manager is chored with the job of ordering cleaning supplies in a timely manner. He/she has to supervise the seamstress, housekeepers, cleaners. They are responsible for preserving a standard of cleanliness throughout a hotel or other hospitality venue.There are also opportunities for management positions within these areas like housekeeping director, maintenance director, operations director, housekeeping supervisor, etc.
Executive Chef
The credit for what happens behind the scenes of the hospitality industry to much extent goes to the executive chef. He oversees the food quality, works on devising the menus, supervise cooks, sous chefs, and other kitchen employees.
Top 10 Institutes for Hotel Management in India
Hotel Management Top Recruiters
Hospitality is a leading global industry and various renowned colleges provide fetching recruitment. The top hospitality/hotel management recruiters are:
Oberoi Group of Hotels

Westin Hotels and Resorts

The Taj Group of Hotels

Hyatt Regency

The Leela

Crowne Plaza Hotels and Resorts

Le Meridien

Holiday Inn Hotels and Resorts

The Lemon Tree

Rosewood Hotels and Resorts

Sheraton

Hilton Worldwide

Marriott International
Thus following these hospitality and hotel management guidelines along with the detailed description of career in hospitality management that your degree can provide you can surely move forward in making some life changing decisions.
Questions related to NCHM JEE
Showing 692 out of 692 Questions