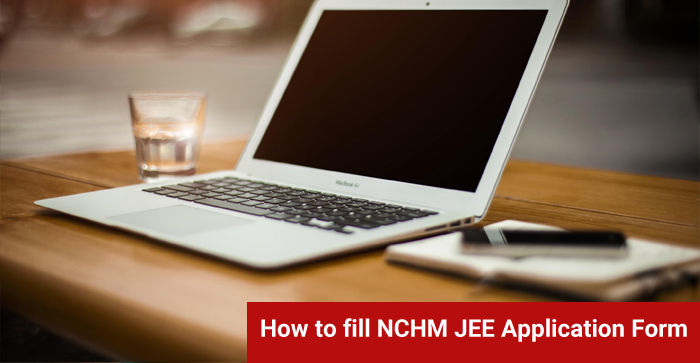 National Council for Hotel Management & Catering Technology (NCHMCT) makes available NCHM JEE application form in fourth week of December every year. Candidates interested in appearing for the National Council of Hotel Management Joint Entrance Examination need to submit after filling the NCHM JEE application form before the last date (second week of April). Candidates can apply for NCHM JEE in only online mode through the official link provided on this page.

LATEST - Candidates can download NCHM JEE Admit Card from here!
Admissions Open Now
Manipal Academy of Higher Education
Admissions 2019 OPEN | MAHE #1 Private university in India QS world Ranking
Candidates applying for the Joint Entrance Exam of NCHMCT can find here the process of filling NHCM JEE application form which also include uploading of documents, photograph, and images besides payment of fees.
NCHM JEE application form is a five-step process. For candidates, who want to know how to fill NCHM JEE application form, we bring you screenshots of the application process of NCHM JEE with an objective to help you.
Before proceeding to the step-by-step process of NCHM JEE application form, you need to ensure that you have gone through NCHM JEE eligibility criteria.


For academic year 2018-19, NCHM JEE application form 2018 is available from December 24, 2017 to April 11, 2018 in online mode. Apply now to appear for the national level hospitality entrance exam. 
NCHM JEE 2018 will be conducted on April 28 in offline mode for admissions to a total of 58 participating institutes.
Steps to fill NCHM JEE Application Form
Step 1 – Online registration for NCHM JEE
Candidates, in the first step, will need to click on fresh candidates' registration link and register for NHCM JEE. They will need to enter the necessary details including name, date of birth, category, e-mail id and captcha code for generating a NHCM JEE registration number.
,
Step 2 – Login to fill NCHM JEE application form
Candidates need to login by providing their NHCM JEE user ID (e-mail ID) and password (date of birth) through the application form link.
Step 3 – NCHM JEE application form window
Candidates, in this step, need to fill the application form of NCHM JEE including test centre, gender, communication address, parent's name and annual income besides the academic qualification details.
Once you have filled the application form of NCHM JEE, you need to click on 'Save' button after clicking on the check box of self-declaration text.
,
Step 4 – Uploading photograph and signature
Candidates have to fill their photograph and signature as specified in the NCHM JEE application instruction page. It must be noted that the photograph needs to be a recent coloured one and both the size of uploaded images should not exceed 50 KB.
Click on 'Next' button after successful completion of photograph and signature for NCHM JEE application form.
As you click on the 'Next' button, you will proceed towards the next step of NCHM JEE application process, i.e., payment of application fees.
Step 5 – Payment of application fee for NCHM JEE
The fifth step involves payment of NCHM JEE application fee, where you need to click on 'Make Payment' button.
Once you click on the button, you will be redirected to online payment mode where you can pay the application fee of NCHM JEE.
Questions related to NCHM JEE
Related E-books and Sample Papers