GNIHM JET Exam Pattern 2020: Check Marking Scheme and Topics
GNIHM JET Exam Pattern 2020- Guru Nanak Institute of Hotel management has released the official notification regarding the exam pattern of GNIHM JET 2020. The All India National Level Joint Entrance Test( JET) also known as JIS entrance exam will be conducted on September 4 and September 11. The earlier dates were August 08, 14 and 21, 2020. Earlier also it was conducted for July, June and May session on as a home based online test. The GNIHM JET 2020 exam pattern contains all the information regarding the exam such as mode of examination, total number of questions, marking scheme, etc. The online test will consist of 120 questions. The duration of the exam is 120 minutes. Candidates who wish to appear for GNIHM JET must know the exam pattern and the syllabus for better preparation of the exam. The GNIHM JET exam pattern 2020 will help students to get familiar with the weightage of each section and how the exam is carried out so that they can prepare for it accordingly.
Latest: The All India National Level Joint Entrance Test ( GNIHM JET 2020) to be conducted as a home based exam in online mode on September 4 and September 11.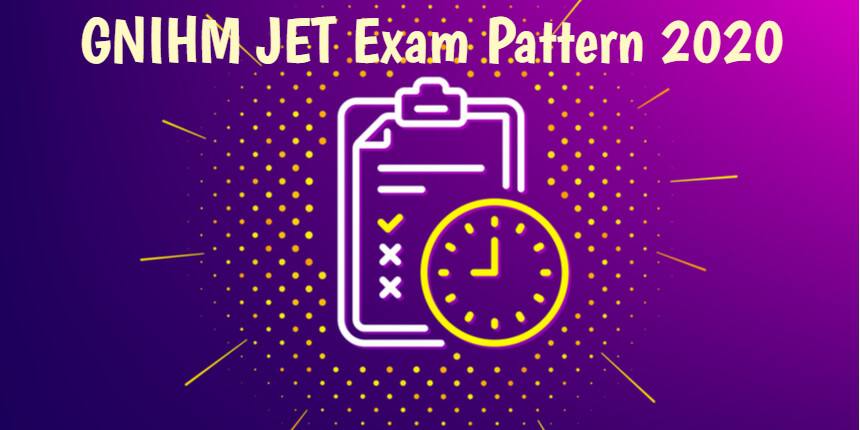 GNIHM JET 2020 Exam Pattern
Based on last years' exam, GNIHM JET 2020 will follow the same pattern. Candidates can go through the table given below to know about the mode and medium of the exam, duration of the exam and the number of questions asked.
Exam Pattern: GNIHM JET 2020
Particulars

Details

Mode of GNIHM JET 2020

Online( Computer-based-Test)

Medium of the exam

English

Duration of the exam

Two hours(120 min)

Number of questions Asked

120

Total marks

150

Type of questions asked

115 - Multiple Choice Questions

5- Descriptive Questions

Marking Scheme

1 mark for every correct answer

No mark will be deducted for wrong answer
GNIHM JET Exam pattern 2020: Topics and Marking Scheme
As per the GNIHM JET pattern for admission to hotel management courses, maximum marks that candidates can score in the exam are 150 as one mark is awarded for every correct answer for MCQ's and seven marks each for five descriptive questions with no negative marking for incorrect answers.
GNIHM JET Pattern 2020
Topics

Marks/question

Number of questions

Maximum Marks

Total Marks

English

General Knowledge

Current affairs

1

115

115

150

Descriptive questions

7

5

35
GNIHM JET 2020 Syllabus
GNIHM JET syllabus consists of three sections namely- General Knowledge, English, and Current Affairs. Check here the detailed syllabus.
Syllabus of GNIHM JET
Subject

Topics

English

English proficiency

Rearrangement of sentence

Formation of Paragraph

Paragraph completion

Fill in the blanks

Vocabulary

Synonyms

Antonyms

Analogies

Spelling mistakes

Idioms and phrases

One word substitution

Sentence formation

Sentence completion

Sentence improvement

Sentence Reconstruction

Rearrangement of words in the sentence

General Knowledge

Books and authors

Famous personalities

Currencies

Inventions and discoveries

Music & Dances

World organisations

Prizes and awards

Solar System

Sports

Current Affairs

Knowledge about recent nation & international affairs about sports, hospitality, politics etc.
GNIHM JET Sample Papers 2020
Candidates must solve previous years sample papers of GNIHM JET to have a better grasp of the question paper. Sample papers play a crucial role in the preparation of any exam. They assess candidates' strong and weak points helping them to identify their weak areas. Analyzing the weak areas, they can work on them and hence enhance their preparation for the exam. The primary objective of providing the sample papers is for candidates to know the JET 2020 exam pattern.
Click here to check the sample questions for the JET 2020 exam.
Thus once you clear the GNIHM JET 2020 entrance exam, you can certainly make it big with hard and smart work.
Frequently Asked Question (FAQs) - GNIHM JET Exam Pattern 2020: Check Marking Scheme and Topics
Question: What is the mode in which GNIHM JET 2020 will be conducted?
Answer:
The exam will be conducted in an online mode as a computer based test to be accessed from one's own residence due to covid-19 pandemic.
Question: What is the duration of the exam?
Answer:
The duration of the exam is two hours i.e. 120 minutes.
Question: How many questions will be asked in the exam?
Answer:
There will be a total of 120 questions with the weightage of 150 marks of the entire paper.
Question: Is there any negative marking in GNIHM JET 2020?
Answer:
No, there is no negative marking for any incorrect answer. One mark will be awarded for every correct answer in case of multiple choice questions and seven marks per question for descriptive questions.
Question: What are the topics from which questions will be asked in the GNIHM JET exam paper?
Answer:
The questions will be asked from English language, aptitude, general knowledge and current affairs. There will be a separate section for descriptive questions also.
Guru Nanak Institute of Hotel Management, Kolkata Updates and Articles