The Rise of Robots in the Hospitality sector
The Rise of Robots in the Hospitality sector: From artificially intelligent chatbots to robot assistants, the hospitality and travel industry has been designing robots to support the customer service process. Robots in the hospitality industry are deployed to improve guest's experience. The tech driven revolution in hotel management in India is sure to put the students' career in the hospitality industry in danger. Artificial Intelligence will allow guest experience to become so much better. Chatbots are already making the booking experience easier. Every hotel chain from Marriott and InterContinental to Taj and ITC is studying the changing consumer and new guest expectations, and beginning to redo their services accordingly. As a result of COVID-19 impact on the hospitality sector, the need to avoid human contact and labour shortage have given new urgency to the adoption of robots in hotels and restaurants. Let us dig deep into the changes that are supposed to happen by 2030 in this digital era of hospitality with the rise of robots in the hospitality industry.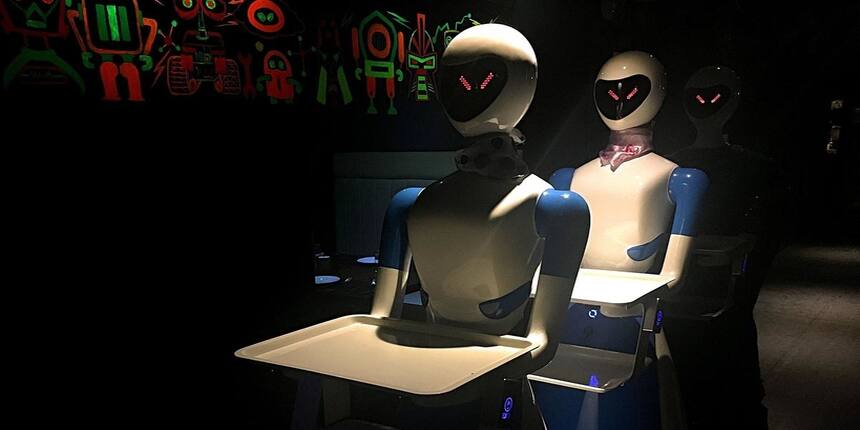 Also Read-
Green Cleaning - The Path Forward for Hotel Housekeeping
Hospitality Career Scope, Eligibility and Job Prospects
What are Robots?
When discussing robots and their uses, it is important to first establish what they actually are. In simple terms, a robot is a machine, which has been built to carry out complex actions or tasks automatically. Some robots are designed to resemble humans and these are called androids, but many robots do not take such a form.
Modern robots can be either autonomous or semi-autonomous and may make use of artificial intelligence (AI) and speech recognition technology. With that being said, most robots are programmed to perform specific tasks with great precision, with an example being the industrial robots seen in factories or production lines
Technology Impact in Indian Hotels
Giving a new look to the hospitality careers after crippling lockdown, some of the top notch hotel brands that also provide highest packages to hotel management graduates have considered deploying robots to prevent human touch. Check the highlights here.
Some of the leading five-star hotel chains in India, including the one run by ITC Ltd, are in talks with robotics companies to deploy humanoid robots to interact with customers, help them check-in and serve food in restaurants

The Oberoi hotel chain is not deploying humanoid robots in the reception and restaurants but using artificial intelligence (AI) to automate some processes

Firms offering these robots such as Milagrow and Universal Robots have seen an increase in enquiries for humanoid robots and cobots.

These cobots can cook and prepare coffee

However the cost of humanoid robots start at ₹4 lakh and go up to ₹12 lakh and cobots by Universal Robots cost ₹16-22 lakh
Advantages of Robots in Hotels in India
According to Rajeev Karwal, founder, Milagrow Robots, "The novelty value and the need of distancing the humans from other humans due to the pandemic are currently very high." There are more advantages suited to the replacement of humans with artificial intelligence. These are:
Robots and automation shall improve our quality of life and newer job opportunities

Robots, will assist in contactless service including various cleaning activities

These robots can do any job humans can do, perhaps much more effectively and efficiently and without falling ill, needing breaks or offs, and most importantly, without having to isolate themselves during a pandemic.

By 2025, many technologies that are just emerging today will have moved into mainstream operation. Robotic process automation (RPA), for example, will disrupt hotels' booking and loyalty processes in positive ways.
Rise of Machines vs Human Workforce
Can the rise of the robot be the demise of the server, chef and bartender? Well according to some top hospitality employees of Hotel brands, it will definitely have a huge impact on the workforce because they already have initiated the contactless dining, check-in, etc. Robots are a matter of debate, with both advantages and disadvantages. On the flip side, increased automation could lead to a job crisis due to fewer reversible jobs, while initial robotic investment and maintenance costs can be high. They can not also act outside their programmed parameters, which means that they can not adapt to unforeseen situations.
Hence, now is the time of reinvention and reimagining, with technology playing an integral role in this 'new normal', but we must also understand it is not to the detriment of the human touch
Frequently Asked Question (FAQs) - The Rise of Robots in the Hospitality sector
Question: What are robots?
Answer:
Robots are the artificial intelligence machines designed by humans.
Question: Why is the hospitality industry focusing on the use of robots?
Answer:
The main motive behind this is to minimise the human touch after the novel coronavirus pandemic.
Question: Is the rise of robots likely to cause impact on jobs in hospitality?
Answer:
As a matter of fact, yes one can consider the demise of chefs, servers and bartenders.
Question: What is one of the biggest disadvantages of robot usage?
Answer:
They can not also act outside their programmed parameters, which means that they can not adapt to unforeseen situations.
Question: What is the cost of the humanoid robots in India?
Answer:
The cost of humanoid robots start at ₹4 lakh and go up to ₹12 lakh and cobots by Universal Robots cost ₹16-22 lakh.
Questions related to NCHM JEE
Showing 754 out of 754 Questions