NCHMCT JEE 2022: Exam Preparation Strategy, Important Tips Here!
NCHMCT JEE 2023 Exam preparation strategy - Candidates appearing for the hotel management entrance exam must be familiar with the essential NCHMCT JEE exam preparation strategy. To succeed in the examination, it is necessary that hotel management aspirants must have a clear cut blueprint regarding how to prepare for NCHMCT JEE 2023.
Latest Updates for NCHM JEE
Stay up-to date with NCHM JEE News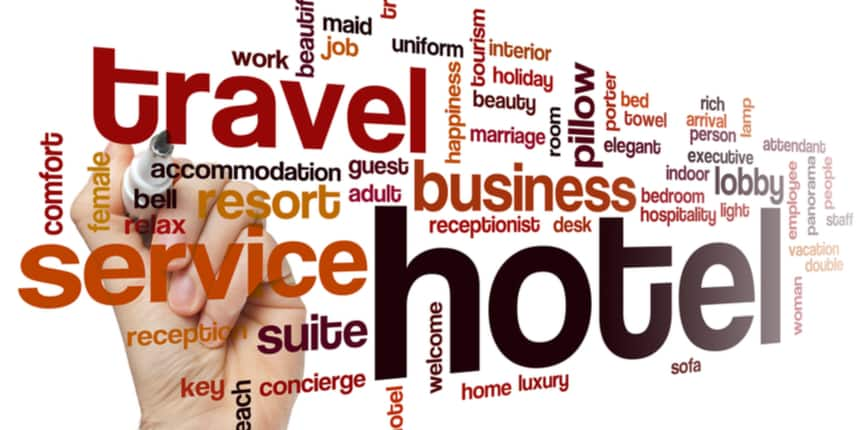 National Testing Agency (NTA) will conduct the National Council for Hotel Management Joint Entrance Examination, NCHM JEE, in a computer-based mode for admission to the B.Sc. Course in Hospitality and Hotel Administration (B.Sc. HHA). Hence it is wise for the candidates to test their ability and readiness for the exciting and dynamic field of the hospitality and service industry beforehand.
NCHMCT JEE Exam Pattern 2023: Synopsis
Before starting preparation for any entrance exam, be it NCHM JEE 2023 or any other, the foremost tip is to look into the correct exam pattern. The exam pattern of NCHM JEE 2023 will help in premeditating the duration of the exam, mode of the entrance test, sectional weightage of each question, types and the total number of questions. Knowing the exam pattern will help you devise a good NCHMCT JEE 2023 exam preparation strategy. Let us have a look:
NCHM JEE 2023 Exam pattern
| | | |
| --- | --- | --- |
| S. No. | Particulars | Details |
| 1. | Mode of Test | Online( Computer-based test) |
| 2. | Type of questions | MCQs |
| 3. | Duration of the exam | Three hours |
| 4. | Medium of Exam | English and Hindi |
Sectional Distribution of Questions
| | |
| --- | --- |
| Subjects | Number of questions |
| English Language | 60 |
| Aptitude for Service Sector | 50 |
| General Knowledge & Current Affairs | 30 |
| Reasoning & Logical Deduction | 30 |
| Numerical Ability & Scientific Aptitude | 30 |
| Total | 200 |
Note-
One mark is deducted for every wrong answer marked

Four marks are awarded for every correct answer
NCHMCT JEE Exam Preparation strategy 2023
Overview, reading, recall, reflect, revision! These are the main fundamentals that will help you in formulating the exam strategy for NCHMCT JEE 2023. It is true that competitive exams are not that easy to ace, but it is also not impossible. With proper guidance and hard work, you can easily crack the entrance test. Getting a noteworthy score in the NCHMCT JEE can land you up in some of the best hotel management colleges of India but preparing for it can be a challenging task. Here are a few tips and tricks we've compiled for you which can help you prepare well for the NCHMCT JEE:
Before NCHMCT JEE
Dig deep into the NCHMCT JEE syllabus
Candidates must be fully aware of the latest syllabus of NCHMCT JEE. Once you are done with the syllabus you can easily plan on how to work through and the total time you will have to give to each topic under that section. Make sure that you do not miss any topic while studying for the exam as this may hamper your performance in the exam.
An organized study schedule for the NCHMCT JEE will allow you to be more effective. Candidates must start with understanding the exam structure followed by self-analysis of their strengths and weaknesses. Divide your time for each section as per your requirements and make sure you follow your plan sincerely. Use the 'Target Vs Time' method, wherein you should ensure that you complete your weekly targets and they act as milestones to your preparation.
Tip for passing Numerical Aptitude
Focus on the question before you start looking at the data underneath it. You're being measured on two things when you take numerical tests: how many questions you get right and how long you take to answer the questions. So if you can't answer a question, move on. Try to master yourself in mental calculations rather than opting each time for a calculator.
Keep your General Knowledge Up to Date
The General Knowledge and Current Affairs section consists of 30 questions but how to prepare for this section? Many times students are clueless when it comes to GK. Read newspapers daily and catch up with general guidebooks such as 'The Manorama Guide'. Make the Internet your friend – subscribe to online alerts and browse through popular websites to keep a grip on your knowledge about current affairs.
Master your English Language Skills
The English Language section of NCHMCT JEE can be scoring for candidates. Brush up your vocabulary by reading newspapers and daily articles. Start revising all the grammar concepts and practice regularly reading passages. You can refer to good books like Wren and Martin, etc.
Understand the Aptitude for Service Sector Section
The Aptitude for Service Section questions is very different from the rest of the sections asked in the NCHMCT JEE as it tests your interpersonal and general moral skills. Try to analyze each and every question objectively and answer only on your personal judgements.
Read More:
Top Hotel Management Colleges in India 2023
Top Hotel Management Entrance Exams in India
During NCHMCT JEE
Read instructions and guidelines carefully
You have started answering the questions, but did you scan the instructions thoroughly? Many of us think it is unimportant. Well, sometimes it is not. Maybe the pattern has just changed for which you can only get familiar if you read the instructions carefully. Always look for the marking scheme. Then answer the questions accordingly.
Manage your time proportionally
Allocate your time to each section and per question. The duration of the paper is three hours and there are a total of 200 questions. If you cannot answer a particular question move on. You may well be able to flag the tougher questions and come back to them at the end if you have time.
Keep Calm and don't lose hope!
NCHMCT JEE is an easy exam, you just have to be confident in the exam paper. Do not panic if you cannot solve some questions. If you have prepared well, then maybe the question that is difficult for you is for the rest too. Remain motivated at every step and excel in your journey. De-stress yourself by drinking water. Hence stay optimistic and you're going to score well in NCHMCT JEE 2023 for sure!
Quick Links -
Frequently Asked Question (FAQs) - NCHMCT JEE 2022: Exam Preparation Strategy, Important Tips Here!
Question: What is the mode in which the exam will be conducted?
Answer:
The entrance exam will be conducted in an online mode.
Question: How many sections are there in NCHM JEE 2023?
Answer:
There are 5 sections in the exam.
Question: What is the duration of the NCHM JEE?
Answer:
The duration of the exam is three hours.
Questions related to NCHM JEE
Showing 729 out of 729 Questions