Systematic Training and Education Programme: STEP- Systematic Training and Education Program is a training programme offered by The Oberoi Group of Hotel chains at various parts of the country. The programme is specifically for students who have qualified class XII board exams. It includes comprehensive on-the-job training at select Oberoi and Trident Hotels along with a correspondence Bachelor's Degree in Tourism Studies from Indira Gandhi National Open University (IGNOU). Unlike other hospitality education programmes, the Oberoi STEP programme stresses on practical training in hotels. Students who get selected for the STEP programme do not have to pay any fee for enrollment. Instead, The Oberoi Group offers a monthly allowance, accommodation, meals on duty, uniform and medical insurance to the students. On completion of the programme depending on vacancies, the STEP graduates may join The Oberoi Group as Operations Assistants. Alternatively, they are also eligible to compete for admission to The Oberoi Centre of Learning and Development two year postgraduate management programmes leading to an executive position with The Oberoi Group.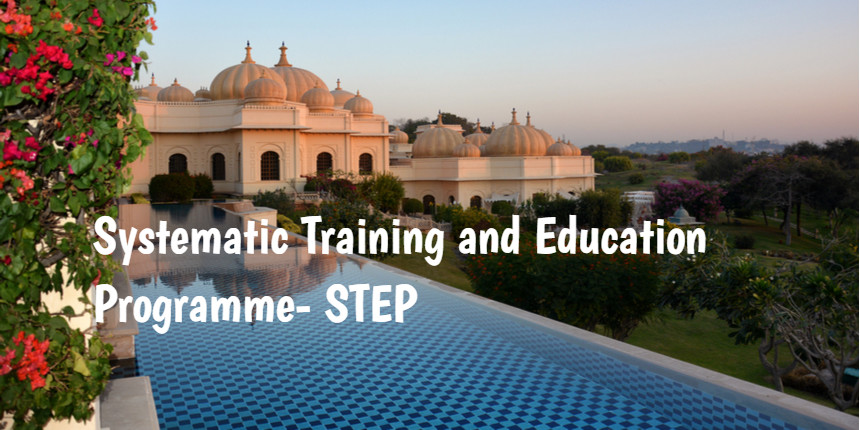 Also read-
Top Hotels that offer Highest Packages to Hotel Management Graduates
Oberoi STEP- Courses offered
The Oberoi Group's STEP programme offers students the opportunity to acquire all round and specialised skills and knowledge in all departments of a hotel.The Hotel Operations Programme offers training in the three operations departments of Food and Beverage, Front Office and Housekeeping.The Kitchen Operations Programme includes training in the western and Indian kitchens besides orientation in specialised sections such as bakery, pastry and the cold kitchen.
Oberoi STEP Eligibility Criteria
There is a certain set of eligibility criteria set up in order to apply for Oberoi STEP in OCLD admissions. General eligibility criteria that aspirants need to meet to secure admission in courses offered at Oberoi STEP is mentioned below:
Candidates should be above 18 and below 20 years of age, as on August 15, of the year of joining the programme.

Passed in Class XII as on July 1, of the year of joining, from a board recognised by the Indira Gandhi National Open University (IGNOU), India.

The programme requires a Class X English score of 71% or above. The equivalent in CBSE is a B1 Grade or an 8 Grade Point.
STEP- Required Skill Set
Good learning and communication skills while being fluent in English language.

Pleasing personality with proportionate height and weight.

Extrovert / team person, possess leadership qualities and be an emotionally stable person with sound health and caring attitude.

High level of general awareness and basic knowledge of computers.

Initiative, drive and an eye for detail and team oriented.
Oberoi STEP Admission Process
Candidates can go through the steps that they need to follow while taking part in Oberoi STEP 2020 admission process.
Step 1: Fill Oberoi STEP Application Form
Candidates need to fill Oberoi STEP application form online on the official website of Oberoi Centre for Learning and Development. As part of Oberoi STEP 2020 application process candidates need to fill their educational qualifications, select their interview venue and date in the application form. Aspirants do not need to pay any Oberoi STEP exam application fee while filling the registration form for the interview round for OCLD admissions.
Step 2: Appear for Oberoi STEP Interview
In order to be shortlisted for admission in programmes offered at Oberoi STEP, candidates do not need to give any written entrance exam but need to appear for an interview round.
Step 3: Check Oberoi STEP Result
After all the interview rounds are conducted by Oberoi Centre for Learning and Development, the officials formulate the list of candidates shortlisted for Oberoi STEP admissions 2020. The result for Oberoi STEP 2020 entrance exam is sent to aspirants by means of email or post.
STEP programme conducted by Oberoi Group of Hotels commences in the month of August each year.
Selection Process Schedule
| | | | |
| --- | --- | --- | --- |
| October - April | April - May | June | August |
| Register Online | Assessments & Interviews | Results | Start of the Programme |
Important Documents: Oberoi STEP Interview Round
Print out of Oberoi STEP application form

One passport size photograph

Copy of class X certificate: If any candidate's Class X certificate doesn't mention the date of birth then they need to carry one copy of their birth certificate at the time of the interview round.

Copy of class XII certificate

Medical certificate: The candidate should be deemed medically fit by Oberoi STEP's company doctor.
Oberoi STEP Interview Round
The interview round of Oberoi STEP is conducted in three major steps. Candidates can go through the three rounds for Oberoi STEP 2020 as mentioned below:
Selection Process: In the first round of the interview process, candidates are divided into groups of 15-20 aspirants each. Here, they are required to perform many activities as well as attempt different questionnaires.
Evaluation Criteria: They will be evaluated on the basis of the criteria like grooming, poise and fluency in speaking English. Here the communication skills of a candidate are checked.
Selection Process: Candidates who will be shortlisted in Round 1 of the Oberoi STEP interview process will be eligible to appear for Round 2. In this round, candidates have to appear before a panel consisting of faculty members wherein a one-on-one meeting is held.
Evaluation Criteria: Candidates are evaluated on the basis of their behavior, personality and the knowledge they hold of hospitality aptitude.
Selection Process: Shortlisted candidates from Round 2 are further eligible to appear for the next interview round in the selection process for Oberoi STEP. In the third round, candidates need to appear for another set of activities and attempt some more questionnaires.Here a final interview with a panel is conducted. However, it must be noted that Oberoi interview rounds may be conducted on a different day as well as against Round 1 and Round 2.
Evaluation Criteria: Aspirants are evaluated on an overall basis, that is, on the basis of their personality, knowledge, behaviour and skill-set.
Oberoi STEP Training Centres
The hotel among The Oberoi Group of Hotels that will be assigned to candidates for STEP programme will be at the sole discretion of OCLD. Oberoi OCLD programme is being hosted by:
Centres:
| | |
| --- | --- |
| The Oberoi Bangalore | The Oberoi Amarvilas, Agra |
| The Oberoi Cecil, Shimla | The Oberoi Rajvilas, Jaipur |
| Trident Gurgaon | The Oberoi Gurgaon |
| Trident Agra | Trident Jaipur |
| The Oberoi Udaivilas, Udaipur | The Oberoi Udaivilas, Udaipur |
| Trident Udaipur | |
Benefits of Oberoi STEP Programme
Selected candidates will be enrolled into the Indira Gandhi National Open University(IGNOU) - Bachelor of Tourism Studies.

The Oberoi Centre of Learning and Development invests time, effort and money in candidates selected for the three year STEP Programme.

The programme includes a dedicated study day once a week, three weeks study leave to take IGNOU exams and three weeks annual leave.

OCLD bears all expenses on IGNOU course fee and books, accommodation, duty meals, transportation, medical insurance and uniforms.

The selected candidates are also paid a monthly allowance during the training period.

On successful completion of the STEP Programme, trainees will receive a Bachelor of Tourism Studies degree from IGNOU and a Certificate of Proficiency from The Oberoi Centre of Learning and Development.

The programme prepares candidates to join The Oberoi Group as Operations Assistant at our hotels.
Read more-
Top 5 choices for hotel management internship