NCHMCT JEE 2020: Last Minute Tips & Exam Day Guidelines
NCHMCT JEE 2020: Last Minute Tips and Exam Day Guidelines - Candidates appearing for NCHM JEE entrance exam must know the last minute tips and exam day guidelines for NCHMCT JEE 2020. With the exam approaching, this is the crucial time to know the last minute tips. If at this crunch time you keep your nose to the grindstone then the win is definitely in the bag. If you know the last minute strategies backwards and forwards along with the exam day guidelines, then you are sure to rise with success in the NCHM JEE exam. NCHMCT JEE is a three hours duration exam conducted by the National Testing Agency. Candidates are required to reach the exam centre for NCHMCT JEE entrance exam at least an hour before the commencement of the exam. In addition to the last minute tips, the article below mentions the important documents to carry in the exam hall, the things not to carry and the do's and don'ts on the exam day.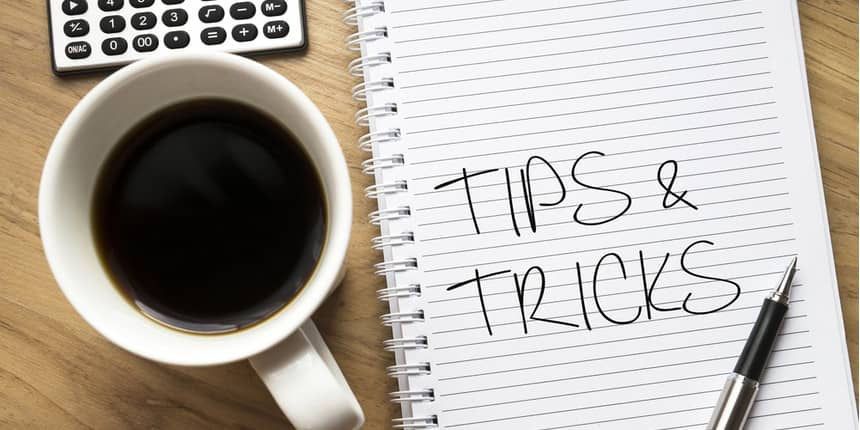 Last Minute Tips for NCHMCT JEE 2020 Entrance Exam
In order to sail through the NCHMCT JEE 2020 exam, it is crucial for the candidates to be prepared well with the NCHMCT JEE last minute tips to be followed in the zero hour. Following these will help you in scoring the desired marks in order to secure a seat in the IHM's and other good colleges accepting NCHM JEE score.
Go Through The Formulas And Shortcut Tricks
It is essential for the candidates to go through the entire syllabus once but most importantly, cram up the formulas and tricks to solve numerical aptitude and reasoning questions. It is not possible to solve different kinds of sums in one last night but if you have maintained the notes of some basic formulas, you can revise them and hence brush up your knowledge.
Remember and Work on Your Weak Spots
Clearing the NCHMCT JEE entrance exam would need sincere and dedicated efforts. The more you practice the more you will get to know your strengths and weaknesses. Analysing and working on your weak areas is the best tactic that you can practice even a few days before as these are the ones which will help you in acing the exam.
Do Not Burn The Candle at Both Ends
In your last few days avoid staying up late in the night and then getting up early the next morning to carry your study preparation. This will only lead to increased stress level and anxiety which can even hamper all you have studied till the date.
Loosen Up a Bit
How to loosen up? Well what might be my way of relaxing may not be your technique. But everyone knows how to de-stress themselves. You can hit up the gym, practice meditation or do some recreational activity. If you don't you might end up filling our brain with excess information which can prove to be difficult to handle in one go.
Keep in Mind The Negative Marking Factor
There is negative marking in the exam, so you need to be aware of this factor. Aspirants are advised to solve questions accordingly be extremely careful while attempting any question whose answer they are not sure of. There are four marks awarded for every correct answer and one mark is deducted for each incorrect answer you mark.
Be Positive
This is one of the most pivotal last minute tips for NCHMCT JEE 2020. Believe in yourself. Be positive. You know you have studied hard then there is no reason for you to panic. Your hard work will definitely pay off and in the end you will knock it out of the park.
Exam Day Guidelines for NCHMCT JEE 2020
Given below are some important guidelines for NCHMCT JEE 2020 exam day that candidates must follow in order to avoid any hitch before writing the exam.
Important Things To Carry
Carry all important documents as you will not be allowed to enter the exam hall without them. Some of the important documents to be carried are:
Admit card - Any candidate not carrying his/her NCHMCT JEE admit card will not be allowed to take the exam. Candidates need to download their admit card from the official website of NTA and take a clear print out of it.

Passport size - Candidates must carry a passport sized photograph to the exam centre which must be the same they used while the online application form.

ID proofs - The ID proof is one of the necessary documents which will be required for verification of a candidate's identity at the exam centre. Any candidate not having his/her ID proof will not be allowed to take the NCHMCT JEE 2020 exam. You must carry either your voter Id card, Aadhar card, PAN card or Driving license.
Things Not To Be Carried at The Exam Centre
NCHMCT JEE will be conducted online i.e. a computer based test, so candidates are required not to carry any pen/pencil or blank paper inside the examination hall. Furthermore the examination centre may also not have proper facility for safekeeping the personal items. So candidates will have to bring them at their own cost. These are the belongings which are prohibited to be carried inside.
Calculator

Log tables

Pencil/Geometry box

Electronic gadgets or smart watch

Any kind of paper/ stationery/ rough sheet

Mobile phone/ earphones/ Microphone
In addition to the above tips, the following are some more exam day guidelines for NCHMCT JEE 2020 which may prove beneficial to the candidates appearing for the exam.
Set The Foot at Exam Centre on Time
Candidates are advised to visit their allotted exam centre for JEE at least an hour before the exam commences. NCHMCT JEE 2020 is scheduled to be held from 9:30 am to 12:30 pm.
Reporting early will help you in saving your time in searching for the alloted seat numbers.
Read Questions Carefully
As soon as you have logged in the test, scan the entire test paper in one go. This will help you in getting a glimpse of the difficult, easy and moderate questions so that you can attempt them according to your ease. There will be a negative marking in the exam paper so solve the tricky questions very meticulously.
Bash The Questions You Know First
This is a great strategy to complete the entrance exam in the stipulated time as well as in boosting and maintaining your confidence over the entire paper. There is a less scope of negative marking as you will mark your answers accurately because they are one level easy for you. So aim for them first and then move on to the difficult ones.
Work In The Blink of An Eye
Aspirants need to fix time they will be devoting to each section while solving the paper as the time will pass in the blink of an eye while you are busy solving the question you are unsure of. Follow the time management strategy that you devised while practicing the NCHMCT JEE 2020 sample papers.
Thus you can consider these NCHMCT JEE 2020 last minute tips and exam day guidelines heaven sent which can ultimately prove to be rewarding for you, in case implemented properly.
Questions related to NCHM JEE
Showing 692 out of 692 Questions