Tea Management Courses in India: A Rare Option in Beverages
Tea Management Courses in India: A Rare Option in Beverages- India is the world's largest consumer and the second largest producer of tea in the world. This opens the door for a number of career options for those pursuing tea management courses. The tea industry in India is quite well established and offers a refreshing career opportunity for students who are eager to make their mark in this specialized sector. Tea management courses in India will teach you about tea production, quality, tasting, marketing and more. Pursuing these courses is a good idea for those who have an interest in outdoor life, love to take initiative, have geographic knowledge, leadership and communication skills for dealing with laborers. Best tea growing areas in India are Darjeeling, Nilgiris, Karnataka and Assam. The courses are available at both undergraduate and postgraduate level – as a certificate or diploma course also with duration ranging from six months to one year. Check details here about this rare option in beverages in the hospitality industry.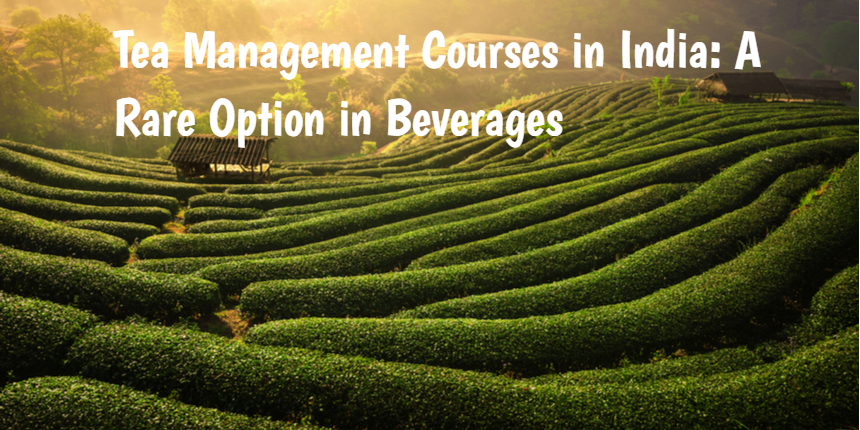 Qualification Required: Tea Management Courses in India
Though anybody with a basic educational background can find job opportunities in the tea industry and can get the necessary on-the-job training in required skills, there is a set of criteria pursuing higher level courses. These are as follows:
A candidate with a senior secondary certificate (10+2) can apply for the degree, diploma and certificate courses in Tea Management.

For other Tea Management courses, one should preferably have a B.Sc degree in Botany, Horticulture, Agricultural Sciences, Food Sciences, or other related fields.

For post graduate diploma in tea management, aspiring candidates need to have a Bachelor's degree (10+2+3 pattern) in any discipline from a recognized/ accredited institute, with a minimum aggregate score of 45% (5% relaxation applicable for SC/ST/OBC candidates)
Tea Management as a Career: Personal Attributes
Must be physically fit, self-reliant and adaptable.

Leadership qualities are an added advantage for becoming factory/plantation managers.

Must be knowledgeable about the tea market.

Should possess fair knowledge about the geographical and topographical location of tea estate.

Tea tasters are required to have keen taste buds.

Should also be inclined towards drinking and intake of spicy foods in check.
Tea Management Courses in India
There are a number of courses in tea management in India say either diploma, certificate courses or undergraduate and postgraduate degree courses. Some of the tea management courses which can pave a way to the career in this field are:
Courses in Tea Management
| | |
| --- | --- |
| B.Sc in Tea Husbandry and Technology | M.Sc in Tea Husbandry and Technology |
| Post Graduate Diploma in Tea Management | Certificate Programme on Computer Application in Tea |
| Advanced Programme on Computer Application in Tea | Certificate Programme in Tea Tasting and Marketing |
Subjects in Tea Management Courses
Course structure and duration may differ, based on the institute or type of program you choose. But here are the important aspects usually taught:
Subjects
History of Tea

Tea Selection and Breeding

Mineral Nutrition and Fertilizer Management

Pruning, Plucking and Shade Management

Manufacturing Techniques

Weed, Pest and Disease Management

Drainage and Irrigation

Operational Control

Medicinal Properties of Tea

Tea Tasting and Blending

Accounting and Financial Management

Production Management

Information Systems

Nature Study and Land Survey

Human Resource Management

Labor Laws

Tea Economics

Health Management

Total quality Management

Marketing and Sales Management
Top Colleges/Institutes for Tea Management
Since Assam, especially Darjeeling, is the major tea producer of India, it is natural that most of the tea management institutes are clustered around the region. Some of the most popular ones are:
Tea Management Colleges
| | |
| --- | --- |
| S. No. | Colleges |
| 1. | NITM - Darjeeling Tea Research and Management Association |
| 2. | Indian Institute of Plantation Management - Bangalore |
| 3. | University of North Bengal - Darjeeling |
| 4. | Assam Agricultural University |
| 5. | Assam Darjeeling Tea Research Center |
| 6. | Assam University |
| 7. | Birla Institute of Management & Futuristic Studies - Kolkata |
| 8. | Dipras Institute of Professional Studies- Kolkata |
| 9. | The Tea Tasters Academy |
| 10. | Dibrugarh University - Assam |
Performance Outlook of Tea Industry in India
Tea is the second most consumed and popular beverage in the world. India is one of the largest producers, exporters, and consumers of tea which gives a bright scope to this career in India. The Indian Tea industry has grown its own global tea brands and has evolved as one of the most technically equipped tea industries in the world. Here are some of the figures of tea market performance in India.
Global Tea Market is forecasted to grow at a CAGR of 2.65% between 2020-2024. The overall tea market is segmented through different types of tea.

Rapid growth of per capita income and increasing urban youth population especially in the Asia Pacific region are also making the absorption of comparatively higher priced green tea possible.

Rainfall and sunshine, both are equally important for tea production. Absence or greater/lower flow of any of these during plantation period can seriously affect the growth of the plants.

Tea production from the small tea businesses has risen significantly over the years. 10 years back, the Small Tea Growers (STG) only accounted for 20% to 25% in the overall production. However, in the first few months of FY20, that share of STGs has increased to 49% in the overall tea production leading to a marginal difference with the share of Big Tea Growers (BTG).
Career Prospects in Tea management
India being the leading producer of tea in the word, the career scope in this field is immense. New entrants are taken on as assistants in the plantation level. After years of gaining experience and competence, an assistant can get promoted to the level of assistant manager and then Manager of a tea garden. This happens in 12-15 years of service. Tea associations and tea boards are the major employers. You can work in a number of areas like:
Tea Tasting

Research

Plantation Management

Tea Brokering

Consulting

Auctioning

Processing

Branding

Marketing
Some of the places where graduates of the program are generally employed are Tea Plantations and Associations, The Tea Board of India, Tea Broking Houses, Agro-Chemical Companies and Tea Research Associations.
Pay Package: Tea Management Careers
The trainees in the tea management industry earn about Rs. 7,000 and senior professionals about Rs. 25,000 per month. Specialised professionals may earn upto 40,000- 50,000 per month.