Chef Qualifications and Skills
Chef Qualifications and Skills- Professional chef as a career is high in demand all over the world. It is crucial to have some key chef qualifications and skills that lead you to a path of becoming a successful chef. What it takes is a mixture of both hard and soft skills to be a great chef who can constructively command a kitchen. Professional chefs not only prepare and cook food but also supervise other culinary professionals in the kitchen. The track to being a chef requires countless hours in the kitchen. You need more than raw talent to reach that upper level in this profession. Both apprenticeship or training and experience are required to ace the art of perfection. Not just working in restaurants and hotels, but having chef skills and proper chef qualifications will help you in leading the cooking staff and in making several decisions from food production to administrative issues.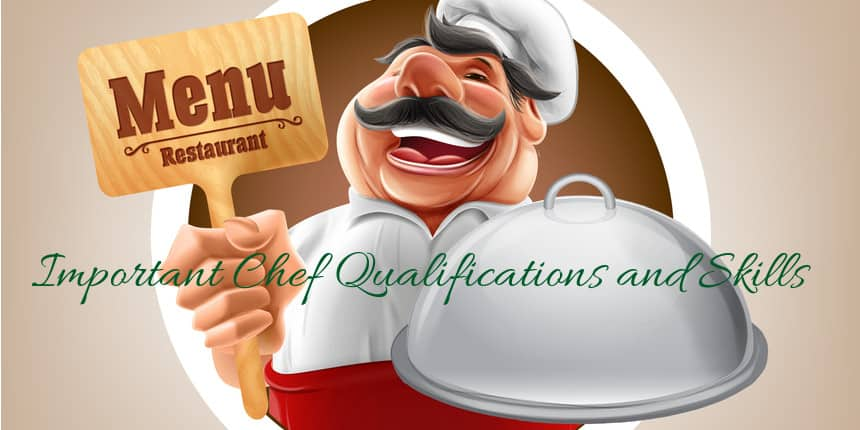 Chef Educational Qualifications
One of the main questions while entering this field is " How to become a chef?". Well, the educational path for becoming a chef varies from individual to individual but many students opt to complete a 2-year degree programme or a 4-year culinary arts programme. Here are some of the important chef qualifications you require:
Degree programmes- Undergraduate certification and undergraduate or postgraduate degree programmes are the most conventional choices opted by candidates for becoming a chef. In fact, there are MBA programmes in hotel management which candidates opt for.

Formal Training Programs- Aspiring chefs may sign for formal training through culinary arts programs offered by institutes and universities. Some chefs complete certifications that normally last for a few months, while others earn 2-year associate's or 4-year bachelor's degrees. Culinary programs give emphasis on in-class guidelines and hands-on training in the kitchen. Courses commonly include baking and cooking, safety and sanitation, food preparation and nutrition, etc. Depending on the type of program, students may be required to conclude their internship programs.

Certification Program- These programmes increase the advancement opportunities for culinary professionals. Eligibility requirements are high school diploma or equivalent; or bachelor's degree. Students can also get certification from the American Culinary Federation (ACF) which offers 14 different certification designations for culinary professionals.

Diploma Courses- The number of food craft institutes across India offer diploma courses in catering and food processing.These courses are of 6 to 18 months and after the completion, students get junior level employment in hotel chains and over a period of time alongwith practice, they can also reach the supervisory cadre. The minimum qualification requirement for pursuing these diploma courses is class X with 60% percentage.
Chef Courses in India
In order to chase after the chef educational qualifications and skills, it is must that candidates must know the important chef courses in India. Here is the detail of the courses:
Courses for becoming chef
| | |
| --- | --- |
| | |
| Post Graduate Diploma in culinary arts | |
| | Diploma in kitchen management |
| Diploma in bakery & patisserie | Diploma in culinary arts |
| Craft certification course in food production | Craftsmanship course in food & beverage service |
| Craftsmanship course in food production & patisserie | |
Chef Skills and Qualities
Many chefs give a kick start to their careers from the base of the culinary work ladder working in low-skill positions in the kitchen. They work their way up by acquiring experience and doing further education. Higher and advanced positions require the most training and experience. While there are numerous skills out there among the best talents that distinguish people from one another, most chefs share similar traits that makes them hone and perfect their craft. Here are some of the essential chef skills.
Get down to business sense- Chefs need business management skills. You will be required to supervise the sous, assistant chefs , prep cooks along with other employees in the restaurant's kitchen.So you need to balance your cooking and leadership capabilities with business skills like managing food costs and anticipating the amount of perishable food you will need.
Learn Concepts of Accounting- Whether it is any business , be it a restaurant or a shoe shop, if you do not have the ability to manage funds and resources, your business will turn out to be a big failure. Making proper eatworthy orders, properly pricing out a menu,etc. are key aspects for a chef to advance professionally. So having a culinary arts program degree makes students learn the concepts of accounting and business math resulting in proper application of these skills in the hospitality field.
Understand Nutritional Science- So you are going to be a chef, but is it all? Yes, it is mandatory for you to cook a dish perfectly but you also need to bring together many unique flavors keeping the nutritional value of your food in mind. As a culinary student, you'll acquire strong knowledge and concepts on food sources, nutrients, and the ability of the human body to process them. This will help you in seeing the ingredients as more than constituents of a dish. The aspect of a chef which cannot be ignored is that you must know the alternatives for individuals who are allergic to certain foods in addition to creating nutritionally dense meals.
Develop Time Management- Professional kitchens demand mental and physical labour, long hours and short deadlines. A chef must have a time management skill so that he can deal with the demand in this profession. He is the one who possesses the skills to make decisions quickly and efficiently. As the kitchen is a fast-paced environment, a chef must be able to take initiative, solve problems and handle pressure.
Appreciate Different Cultures- Culinary institutes give you the edge to welcome different cultures and experience things outside the restaurant. This, in turn, helps you in building empathy for people and resulting in appreciation for different styles of cooking for your customers.
Culinary Expertise- The hardest and most important skill chefs need is an ability to cook good food including the knowledge of the kitchen. This wide skill includes a variety of specifics of smaller skills like knife and tasting skills. Chefs need to cook precisely and proficiently. They need to be skilled at recognizing flavours and the balance of seasonings and toppings.
Motivational Management Style- A virtuous chef will motivate his subordinates and colleagues working with him/her in the kitchen. He or she must have the quality to keep everyone working at an efficient pace by demonstrating the traits of good communication, smart cooking techniques and possessing leadership passion.