Career as Tea-Taster: Sip Your Way To Success !
Career as Tea-taster: Sip Your Way To Success- The tea industry in India is well established and offers several career opportunities in this field. Tea tasting is the process in which a trained taster determines the quality of a particular tea. India being the world's largest consumer of tea is a nonpareil ruler in this industry. Whether it's the southern part or the northeastern part of the subcontinent, you cannot go anywhere in India without seeing people sipping on small cups of steaming tea. If you are one of those who takes your tea seriously and are sensitive to the various tones and variations of its flushes, tasting the beverage is the right career option for you. Though pursuing a tea management course in India is a rare option in beverages, it can prove to be fruitful for those aspiring to become tea- tasters. The course will teach you about tea production, quality, tasting, marketing and more. Let us see how students who love tea and want to join the tea industry can take up a career as a tea-taster.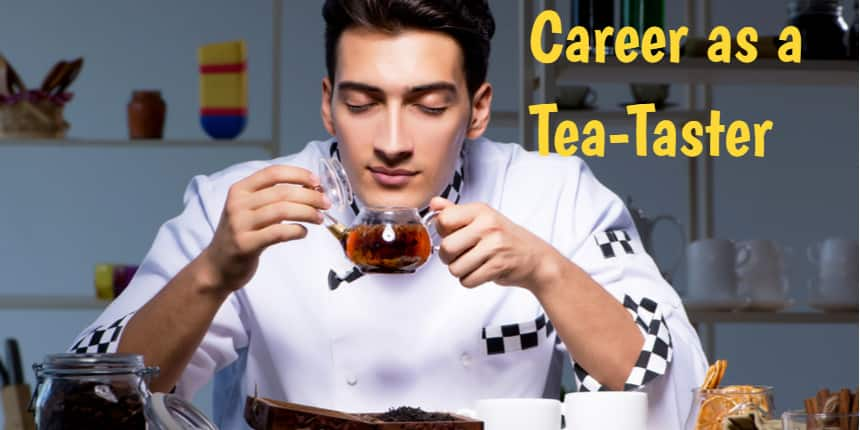 Also read- Diploma in Food & Beverage Service
Tea-Taster: Eligibility
Though there are no formal degree courses available in tea tasting, however the demand for a tea sommelier has enabled a few certificate courses in tea tasting that impart training about scientific knowledge and different techniques of tea tasting. The candidate must be well acquainted with all aspects of tea management which can only be acquitted by pursuing higher level courses and on-the-job-training. The basic eligibility is graduation in food and beverage or food science related courses. Check here the detailed eligibility criteria to get on the path of your tea tasting field.
A candidate must have a senior secondary certificate (10+2) or equivalent from a recognized board.

To succeed in this field, one should preferably have a B.Sc degree in Botany, Horticulture, Agricultural Sciences, Food Sciences, or other related fields

Candidates can also go for post graduate diploma in tea management with a minimum aggregate score of 45% (5% relaxation applicable for SC/ST/OBC candidates)
Career as a Tea Taster: Personal Attributes
Should have knowledge about tea market and emerging market trends

Should have knowledge about tea market and emerging market trends

They should have knowledge of the cultivation and manufacturing process in tea plantation such as tea kinds, varieties and grades and the characters of the resulting liquors

They must have leadership and strong communication and decision making skills

They should also be away from certain habits like smoking, alcohol, tasting strong spicy foods, etc.
Institutes offering Courses for Tea Taster
There are not many colleges in India that offer tea tasting courses. However as Darjeeling is the major tea producer of tea in India, most of the institutes that offer these courses are clustered around this region. Some are in other parts of the country too. Given is the list of few such colleges:
Colleges offering Tea Tasting Courses
| | |
| --- | --- |
| Department of Tea Husbandry and Technology, Assam Agricultural University | Dipras Institute of Professional Studies, Kolkata |
| Darjeeling Tea Research and Management Association, Darjeeling | University of North Bengal, Darjeeling |
| Birla Institute of Management and Futuristic Studies (BIMFS), Kolkata | Indian Institute of Plantation Management, Bangalore |
Tea Taster: Career Prospects and Role in Industry
Tea tasting is a fascinating career among other food and beverage career options in the plantation and as well as in the tea trade at an international panorama. Most tea companies employ tea tasters for ensuring quality standards and preparing blended mixtures. Tea tasting is typically learned through on-job-training in the field. You can go to the estate, production (tea manufacturing), brokerage, auctioning-side, buyers-side, blenders-side, retail-side. You can start your own retail outlet as a tea holder. There is scope in all evaluations.
Tea tasters could identify and understand the mistakes that happen at the production level, example, if there is something wrong in the withering pattern, etc.

They also have to coordinate with gardens, look after import and exports, advice researchers on commercial factors like taste, economic viability etc.

On the trading side, tea taster plays a vital role in fixing the price. When it comes to auctioning, brokerages, buyers ensure that tasting is done before they fix the price.

Tea tasters play a crucial role at the brokerage level too. Once the tea is manufactured, the firms are on the lookout of tea tasters to certify the quality of tea.

Experienced tea tasters can also take up consultancy services proffering advice on the varieties of tea to be planted, new varieties and their sources, recruitment and training of personnel, compensation, benefits and incentives to labour and so on.
Pros and Cons
Pros-
1. You make big bucks for your love of tea. Because it is an upcoming trend in the hospitality sector, the demand for tea sommeliers is on a rise. You get to explore different cultures of the world along with different flavours of tea.
2. You get a good salary and opportunity to meet new people on your travel trip.
Cons-
1. To begin your good mornings with a cup of tea is great, but to pursue an offbeat career could be rather challenging. The initial struggle you're required to put in is a lot. So, you can be a successful tea taster only if you love tea beyond anything else.
2. If a tea taster doesn't follow a disciplined diet then during peak season when he/she has to taste around 200-300 cups of tea a day, he/she may face digestion issues or common problems like stains on their teeth.
Tea Taster Salary
The salary depends on the aspect that which company a student joins and what role they play. One can even be at the top of a company, at the level of Managing Director(MD). However there must be an inherent aptitude for tea tasting. Many times, young tasters join an expert tea taster to gain more experience. This helps in honing their skills and hence contributes to higher salary in coming years. Below is the approximate salary distribution as per the profile of the candidate:
Salary
| | |
| --- | --- |
| Job profile | Salary |
| Trainee | Rs. 5000/month |
| Senior professionals | Rs. 25,000/month |
| Specialized Professionals | Rs. 40,000- Rs. 50,000/month |
Read here- Career Comparison: Chef vs Food & Beverage Manager