5 Famous Chefs of the World & their Success Stories
5 Famous Chefs of the World & their Success Stories- For anyone whose minds and hearts are mostly dominated by their stomachs, a delicious and fulfilling dish could lighten up even the darkest of days in just a flick. Foods from all over the world are prepared by the famous and greatest chefs and they are a simple ecstasy. So it is impossible to forget about all those big figures who basically inspire how we prepare food, eat and even think? That's right, the chefs! Chefs are the people with such chef qualifications and skills that they drive you to pursue the career as a chef. You could also dominate the culinary world like them. So here we bring you the five famous chefs of the world who satisfy your tummies with foods, providing a terrific sense of taste for all. These are icons for all those who wish to pursue a career in culinary arts. Have a look!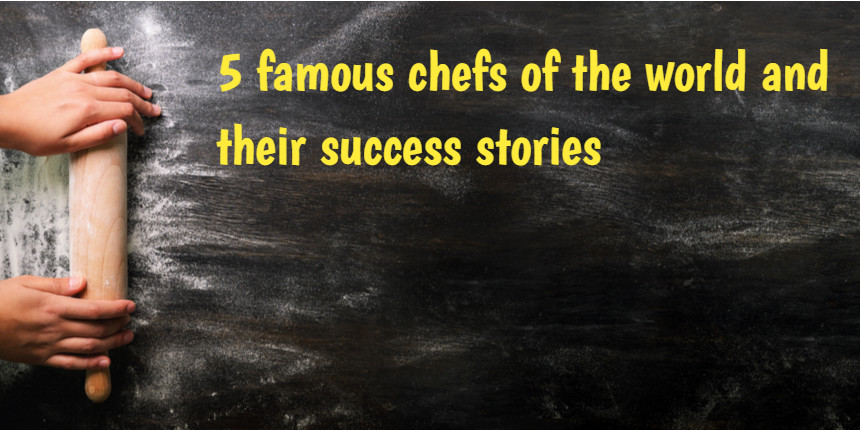 Check here- Best Culinary Arts colleges in India

Jamie Oliver
Claim to fame: First TV show – The Naked Chef and selling million copies of his book "Jamie's 30 Minute Meals"
Cooking style: Organic, Italian, British
About: Jamie Oliver is a British chef best known for his television series 'The Naked Chef' and for campaigning for healthier diets in school children. Jamie Oliver's cheeky manner, constant use of the word 'pukka', and down to earth personality have won him legions of fans around the world. He has sold millions of cookery books, opened a restaurant, starred in several TV shows and revolutionised UK school dinners.
He was born on May 27, 1975, in Clavering, United Kingdom. As a child he worked in his parents' restaurant, thus influencing his career path. He later attended Newport Free Grammar School and left at age sixteen with two GCSE qualifications going on to attend Westminster Kingsway College, formerly Westminster College. He then earned a City & Guilds NVQ in home economics. His first foray into the cheffing industry was as a pastry chef at Antonio Carluccio's Neal's Yard restaurant, where he first gained experience with preparing Italian cuisine.
Oliver's break into television came when he appeared in a documentary while working at the River Café in London. From there, he gained fame after hosting a hit cooking show, The Naked Chef. Multiple cookbook publications and restaurant openings followed, giving him a prominent platform for championing healthier eating for school children.

Gordon James Ramsay
Claim to fame: Ramsay's Kitchen Nightmares and Hell's Kitchen
Cooking style: French, British, Italian
About: Gordon Ramsay, the hot-headed chef inspires the world one dish at a time with his passion, work ethic, and self-confidence. His empire stands at a whopping $190 million, and with his restaurants knocking Asian doors, it's only a matter of time before he becomes a billion-dollar chef. His restaurants have been awarded an extra-ordinary 16 Michelin stars, 7 of which remain retained. Adding to his popularity are his numerous successful TV shows, books, and appearances on various world stage events.
In 1993, Ramsay undertook the kitchen of the newly opened Aubergine in London as the head chef, and in just two years, earned the hotel a two-star rating from Michelin. In 1998, at the age of 31, Ramsay set up his first wholly owned and namesake restaurant, Restaurant Gordon Ramsay, which quickly received the most prestigious accolade in the culinary world - three Michelin stars. Today, Restaurant Gordon Ramsay is London's longest-running restaurant to hold this award, and Ramsay is one of only four chefs in the UK to maintain three stars.
Till date, he has opened 49 restaurants out of which 23 have been shut down. Notoriously called as "The Bad Boy of British Cuisine", he is famous for his legendary temper in the kitchen. With all his successes and failures, Gordon Ramsay's story is a realization of how a fire in the belly and a chip on the shoulder can dramatically change a person's destiny.
Marco Pierre White
Claim to fame: Hell's Kitchen
Cooking style: French, British, Italian cuisine
About: Marco Pierre White was born on December 11, 1961 in Leeds, West Yorkshire, England. He is a writer, known for The Devil in the Kitchen, Hell's Kitchen (2004) and Anthony Bourdain: No Reservations (2005). In 1994, at age 32, White became both the youngest chef and the first British chef to be awarded three Michelin stars. In 1987, White opened Harvey's in Wandsworth Common, London, where he won his first Michelin star almost immediately, and his second a year later. He has trained notable chefs such as Mario Batali, Gordon Ramsay, Curtis Stone and Shannon Bennett.

Vikas Khanna
Claim to fame: Michelin star awarded for Junoon (his restaurant) and host of MasterChef India.
Cooking Style: Indian Cuisine
About: Vikas Khanna is an Indian Michelin star Chef, restaurateur, cookbook writer, filmmaker and humanitarian who was born in Amritsar. Vikas Khanna is known to develop his own recipes from a very young age. Khanna often shares that it was his grandmother who became his first guide in the world of culinary arts. A graduate from Welcomgroup Graduate School of Hotel Administration, Manipal; Khanna also pursued courses at Culinary Institute of America, Cornell University as well as New York University.
At the tender age of 17, Khanna opened his first venture - Lawrence Gardens Banquets. In 2009, he opened his restaurant "Junoon" in Manhattan for which he earned a Michelin star in 2012, 2013 and 2014. Khanna has hosted various editions of the popular show MasterChef India. He has also featured on other TV shows like – Kitchen Nightmares, Hell's Kitchen, Throwdown! With Bobby Flay, the Martha Stewart Show and MasterChef Australia. He is also known to have written around 19 cookbooks.
Khanna's cooking skills are known to impress one and all but he is also admired the world over for his good looks. In a poll conducted by the Eater Blog, he was voted to be "New York's Hottest Chef" in 2011 and 2012. The People magazine in 2011 named him among the "Sexiest Men Alive". Further, the magazine also stated that he is the "Hottest Chef of America". In 2012, Khanna was awarded to be "GQ India Man of the Year". Khanna has also prepared two meals for US President Barack Obama. The first one was a satvik meal and the other one was Himalayan cuisine.

Akis Petretzikis
Claim to fame: Winner of MasterChef Greece
Cooking style: Greek cuisine, Meditteranean cuisine, International cuisine
About: Akis is a Greek celebrity chef. He was brought up in Thessaloniki and by the age of 16 (years) he started working in his family business. At the age of 18 years, he left for Athens to become an Accountant. However, on arriving in the city he realised that his true calling in life was to become a chef. So, to explore this field he enrolled to take classes at – Le Monde (School of Culinary Arts).
At the time of graduation he had two degrees, that is, he was trained as a Chef as well as an Accountant. He then chose his profession to be a Chef and went on to work at many restaurants/hotels in Greece and further went to England to learn the art of international cooking.
Since 2015, he has been collaborating with Fresh One Productions making recipes for Jamie Oliver's Food Tube channel. He is one of the 15 official affiliates of the channel. Petretzikis is the CEO of Akis Petretzikis Ltd – a company that publishes cooking magazines and books, produces cooking shows, runs restaurants and an e-shop with various gifts and kitchen products, designed by himself.
Also read-
Why is formal training required to be a professional chef in a top hotel