Taj Hotels Collaborate with TISS to Launch Hospitality Course
Taj Hotels Collaborate with TISS hospitality course- Taj Hotels Palaces Resorts Safaris, in association with Tata Institute of Social Sciences' School of Vocational Education (TISS-SVE), has launched the 'Golden Threshold Programme' for students who wish to work in the hospitality industry. With the growing demand of skilled professionals in the hotel and hospitality industry, Taj and TISS-SVE will train the students on the grounds of industry expectations. They have taken a step forward by collaboration in order to help students increase the chances of getting a secure job and safe proof future. Over the past six years, TAJ has trained more than 4000 people in hospitality via its Taj's Skill Certification Centers. The Golden Threshold Programme is a job specific programme( GTP) that aims to make the youth more employable.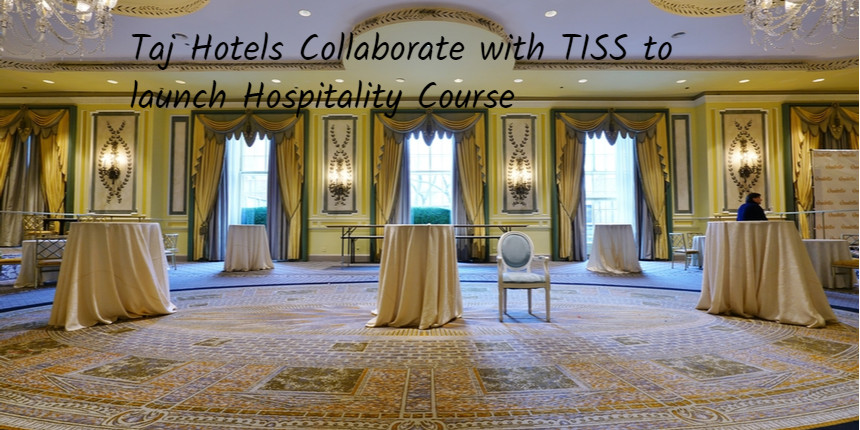 Read more- 10 Reason to choose a career in hospitality
Golden Threshold Programme- Highlights
TISS-SVE will confer a B.Voc degree on completion of the six semester programme. On completion of first year, candidates will receive a diploma and higher diploma after 2 years. Both TISS-SVE and Taj will confer the cost of tuition of the candidates and will help in defraying the expenses. Taj hotels will also provide scholarships to the students. After the fulfilment, the candidates will be offered career placements at different locations of Taj Hotels. It is required that the selected candidates have a pleasing personality, a service orientation and of course fluency in English. In addition to this the degree does not require any bond that students need to make and have a free will to pursue any other opportunities that come their way. The B.Voc degree in Hotel Management is approved by University Grants Commission (UGC) , All India Council for Technical Education (AICTE) and the Ministry of HRD, Government of India.
Taj Hotels and Tata Institute of Social Sciences(SVE)- GTP Eligibility Criteria
B.Voc in Hotel Management is a three year degree comprehensive programme that encompasses all the areas under Hotel operations. The job training in this programme will be conducted at campuses of Taj Hotels in Mumbai, Kolkata, Delhi and Bengaluru. Given below is the eligibility criteria for taking admission into Golden Threshold Programme (GTP) by Taj Hotels and TISS-SVE.
Class XII graduates or equivalent between 17 to 21 years of age are eligible to apply for the programme.

The completion of 10+2 must be from a recognized board.

The application form needs to be filled along with the aspirant's name, Class 10 results, school, hobbies and extracurricular activities(if any).

Candidates will be required to send their application to the GTP@TajHotels.com.
Taj & TISS Golden Threshold Admission Process
Interested students need to submit their application form at Taj Hotels email ID i.e. GTP@TajHotels.com. Candidates who get shortlisted will be called for an interview round.
Application process for the Golden Threshold Programme course would take place in June and classes would commence in July.
Reservation of Seats for the Programme
The seats are also reserved for the programme as per the reservation policy. Given below is the categorisation of seat reservation.
Reservation of Seats
S. No.

Category

Reservation

1.

OBC

27%

2

SC

15%

3.

ST

5%

4.

Kashmiri Migrants and Armed Forces seats also available.
B. Voc in Hotel Management( Golden Threshold Programme)- Objectives
The diploma is given on completion of the first year of the degree course. The objectives of the programme are as follows:
To develop the appropriate skills required in the hotel industry in order to meet the standards of the industry expectations.

To develop the communication skills for a better career in hospitality management.

To impart necessary skills required in Food & Beverage Production and Food & Beverage Service.

To develop the required skills in HouseKeeping and Front-Office Operations.

To provide the basic knowledge in Food Safety & Hygiene and nutrition in line with International standards.

To inculcate the required skills in Sales and Marketing and General Management of the Hotel industry.

To enable the candidates to manage any Hospitality, Tourism and other allied industries.
Read More- Career Scope in Food and Beverage Services
B.Voc Diploma ( GTP)- Course Description
Semester 1

Functional English I

Personal Grooming

Computing Skills Course - I

Foundation Course in Food & Beverage Production I & II

Foundation Course in Food & Beverage Service I & II

Food Safety & Hygiene and Elective-1- Travel & Tourism Management

Vocational Practical




Semester 2

Computing Skills course - II




Communication Skills - I

Food & Beverage Production III & IV

Food & Beverage Service III & IV

Management Principles & Practices and Elective-2- Basics of Event Management

Vocational Practical



Read more- Diploma in Food and Beverage Service
Benefits of Golden Threshold Programme
The initiative enables students who have dropped out of the formal education system after 12th standard, to pursue education in the vocational streams.

It helps organizations get higher retention factor, efficiency and workforce productivity.

It helps organizations upgrade the skill of its blue collar workforce by giving them an opportunity to enroll in a recognized vocational diploma / degree programme without having to leave their job.

Trainees / Employees enrolled as students have to undergo around 12 hours per week of theoretical training and complete practical training whence on-the-job.

The certification by TISS-SVE brings in the required rigor and promotes high standards.

Industries that employ part-times, temporary or seasonal workforce can take TISS-SVE students and provide them with internship opportunities.

As per NEEM Guidelines, the enrolled student is labelled as the "trainee" can be engaged in the on-the-job training for a duration of 3 months to 36 months.

Innovative programmes based on industry requirements are being offered by TISS (a reputed institute) at various locations across the length and breadth of the count.