Why is Formal Training Required to be a Professional Chef in a Top Hotel?
Why is formal training required to be a professional chef in a top hotel?- Indians love food, and they love to eat out and that's why there is a demand for chefs in the food services industry. But most of us wonder why formal training is required to be a professional in a top hotel. Many dream of being the top chef at a restaurant someday, the one that fits the style and food type they like to cook. How does one become successful as a chef? Aspiring chefs pursue formal training in order to fulfill all the chef qualifications and skills required to make it big in the hotel industry. Though most chefs start their career through entry level positions but it is with years of experience and the instructional advanced training they keep on taking that helps them to reach the top level position. By paying attention to intrinsics, having in-depth knowledge and understanding of the product, the right attitude, the ability to comprehend and compete with current trends are some of the top qualities of professional chefs.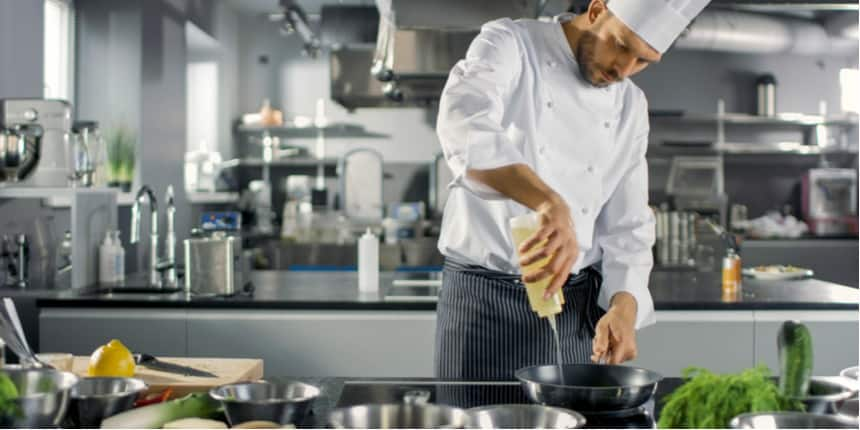 Formal Training : Professional Chef
Aspiring chefs attend culinary school to gain practice, and vital hands-on training in the kitchen. Culinary programs emphasize in-class guidelines and hands-on training in the kitchen. Students get skilled in all aspects of food preparation of all types of cuisines. They receive both formal training from top hotel management colleges, and also learn through apprenticeship with an experienced chef. Some receive a 6 month or 9 month diploma certificate program while others opt for a 2 year or 4 year bachelor's degree program. They receive a comprehensive education consisting of more than 200 techniques from fundamental basics to cooking as a profession. They get familiar with the art of plating, knife skills, high-volume cooking, and nutrition, food safety and sanitation. They oversee all of the stations in the kitchen and are responsible for designing the menu of what goes in the restaurant. For many chefs, the position is the end goal, so how do you become a chef who is fully professional?
Requirements For Becoming A Chef
Professional chefs normally start in the kitchen as line cooks, but with experience that is gained through formal training, they progress to more advanced positions such as sous chefs and executive chef. Education is not strictly required to become a chef, though to work in a top hotel, you will only be preferred if you have a proper culinary school education. You need to have a number of skills to proceed. These include leadership skills, business skills, creativity, time-management skills, computer skills, experience with kitchen tools, teamwork and a refined sense of taste and smell. You require a time commitment to become a chef. If you're aiming to go to culinary school, it will take two years to obtain an associate's degree and four years for a bachelor's degree. Some restaurants require at least a minimum of a high school diploma. It's possible to find employment without no culinary school education, but difficult to find a job in upscale settings. Investing money along with time into training will benefit both the chefs and hotel/restaurant in the long run.
Read more- Best Culinary Arts colleges in India
Advantages of Formal Training of Chef
Learning the cooking skills- Formal training helps chefs and cooks learn how to prepare, season, and cook a wide range of foods – from soups, snacks, and salads to entrees, side dishes, and desserts. With this skill, they get to work in a variety of food services establishments. With in-hand training and exposure, chefs and cooks learn to measure, mix, and cook ingredients according to recipes, using a variety of equipment, including pots, pans, cutlery, ovens, broilers, grills, slicers, grinders, and blenders. And hence learning from the scratch they get to those top aiming positions in their department. They advise head cooks and other staff ,and order food supplies.These leadership and business skills qualities help them in becoming the most wanted chefs by the employers.

Training keeps you consistent- An organised training and development program ensures that chefs have a consistent experience and background knowledge of their daily activities. The consistency is particularly relevant for them as they may have to prepare the dishes in the menu several times and each one with the same recipe and plate presentation. They also need to be aware of the expectations, procedures and standards of work in a professional kitchen. This includes safety, discrimination and administrative tasks.

Culinary Expertise- The most important skill chefs need is an ability to cook good food including the knowledge of the kitchen. This includes a variety of small intrinsics like knife and plating arrangement skills to tasting skills. Chefs need to cook precisely and proficiently. Formal training helps them in recognizing flavours and the balance of seasonings and toppings as they keep on cooking daily.

Understanding Nutritional Science- Formal training helps chefs not just cook whatever soothes to the taste according to the customer;s demand but also in recognizing the nutritional value of each ingredient. If you pursue your degree from good college then as a culinary student, you'll acquire strong knowledge and concepts on food sources, nutrients, and the ability of the human body to process them.

Analysing your weak points- You will be competing against other chefs with experience and education in your field. Not having necessary skills will only remove you from the line of getting hired in a five star hotel unless you have some outstanding talent. Students who go through training work in constant supervision of professionals. In case there are any weak links of the student in the kitchen with respect to interdependency of tasks, the supervisors help you in overcoming your weakness. Hence this is how formal training becomes one important aspect.
Read more- Career in Hospitality Management
What do employers look for?
When aspirants apply for a job as a professional chef, employers look for someone who has held positions at successful restaurants, if the entry level then one who has done various training and is a pass out from top level college. They opt for someone who has held positions of responsibility in their field as extra curricular activities or anything. Someone with references who can speak highly of one's ability to do all aspects of the job is also preferred. They want someone who participates within the community and someone who is current on trends in the industry and who seeks continuing education opportunities with global skill and cooking sets.
Key points to succeed in this career:
It's important to remember that you will likely be working nights, weekends, holidays. Most good chef positions are for dinner service, and will work as long as the restaurant needs them. You have to always present yourself with a positive attitude in such cases.

First go in a job as a preparatory cook in a successful restaurant/kitchen to see if you like the lifestyle. In case you like it and want formal training consider a culinary school.

Remember the professional chefs are needed beyond the restaurants. There is a vast scope- cruise ships, airlines and catering services, resorts, private residencies, etc.

Work for good companies and step up the ladder. Find a great chef from whom you can learn – a mentor who can help you and teach the tricks of the trade that go beyond school and the basic knowledge. Strive to be great and to learn from the best.
Read more- 10 Reason to choose career in hospitality