Housekeeping- The centre of hospitality
The profitability of a hotel depends on the sale of its spic and span rooms – the job of the housekeepers working behind the scene...
A hotel is, in many ways, a home away from home—except, quite possibly, neater, cleaner and far more organised. Housekeeping may not be the most glamorous of jobs in hospitality, but it can sure be the most rewarding. Making sure a guest has a comfortable and pleasant stay is what hospitality is all about—and housekeeping is at the centre of it.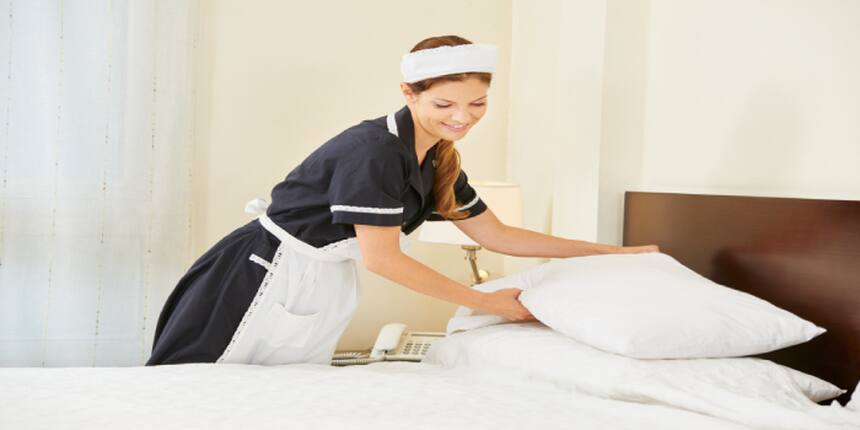 Hard work and an eye for detail
"A lot of hard work, an eye for detail, organisation skills, physical ability and stamina are critical in housekeeping roles," says Reetha Thomas, Executive Housekeeper, Radisson Blu Noida. If you're a stickler for perfection, there's nothing like being able to turn a room into a sparkling clean heaven for your guests.  
Though a bulk of the department's work happens in the shadows before a guest arrives and after a guest leaves, housekeeping staff also have to interact with them from time to time. This calls for keen interpersonal skills to service guests with a warm and welcoming attitude. "The industry needs smart, young people with good communication skills," adds Thomas. Finally, a strong sense of cleanliness, health and hygiene reflect an attitude in sync with the job profile.
Much more than rooms
Hard at work behind the scenes, the housekeeping department in a hotel is responsible for much more than a guest realises—and it has to stay that way. Beyond rooms, the housekeeping department also takes care of the cleanliness and general upkeep of various other areas in a hotel like the restaurants, lobby, halls, and more. The proper maintenance of the look and feel of a hotel falls upon housekeeping. But it's not all cleaning and no creativity for the department. Besides keeping the hotel spic and span, they also take care of the floral decorations, gardens and landscaped areas of a hotel. 
At a hotel, a room's linen is changed on a daily basis to stay fresh and spotless. Besides this, housekeeping also provides linen for restaurants, banquet halls, spas and such. Inventory management for the same also falls under their purview. Providing and maintaining uniforms for hotel staff, managing the laundry for linen, guest clothing, and staff uniforms, and answering to housekeeping calls by guests are also part of the job. Whenever the time for renovations, repairs and refurnishing comes around, housekeeping works closely with other departments of a hotel to ensure a smooth work flow.
Major contributor to a hotel's profitability
A hotel's profitability depends largely on room sales. That in turn depends on its appeal to a guest. In turn, this desirability is linked to how well a room is maintained, its cleanliness, its aesthetic appeal and upkeep. It is the housekeeping department that prepares, maintains and clean rooms, and other parts of a hotel.  Every single day, every piece of laundry in a hotel goes to the laundry for cleaning. This is an expensive affair. So, an Executive Housekeeper or Director of Housekeeping is expected to manage finances to control and reduce costs.
Not just a woman's job
Perhaps one of the most underrated departments of a hotel, housekeeping actually plays a central role in the scheme of things, and is in dire need of good talent. Unfortunately, housekeeping has been tagged as a typical female role. Though traditionally, more women have been taking up housekeeping positions, this is now changing fast. At a time when conventional 'masculine' and 'feminine' roles are fading away, young men should not shy away from a promising career in housekeeping. 
Career pathway
A hotel typically has one Executive Housekeeper at the top of the pecking order. The first rung of the housekeeping department typically comprises of Room Attendants, Public Area Attendants, Linen Room Attendants and Laundry Attendants. A new member on the team will usually be trained by a senior housekeeper while on the job. These professionals can go on to become executives and supervisors in their departments. 
The strength of a housekeeping team, and therefore the division of work varies between establishments and also depends on its size. A boutique resort with 10 suites will need a smaller team than a major hotel chain with hundreds of rooms. Housekeepers can find work at hotels, resorts and even cruise ships, which are coming up as major recruiters today.
Qualifications
Many jobs in housekeeping don't require formal hotel management or hospitality education. High school qualifications will suffice. However, the moment it comes to managerial positions like Assistant Executive Housekeeper or Executive Housekeeper, diploma or bachelor's degrees in hotel or hospitality management are a feather in the cap. Many of the leading professionals today might well have worked their way to the top, but it's a different ballgame in the modern context. New entrants with qualifications will not only stand out, but will also be ready for the job.  
Way ahead
"The demand for skilled housekeeping professionals is growing rapidly today. It can be expected to grow further as more and more hotels are coming up in India and also worldwide," says Thomas. Indeed, the hotel industry is looking at a huge growth potential.