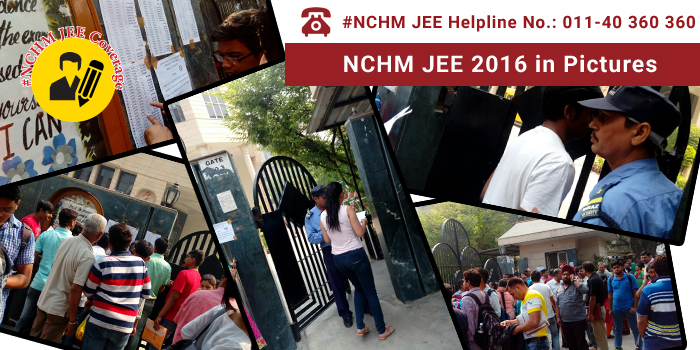 NCHM JEE 2016 started on April 30 at 10 am in 33 cities across the country, with around 20,000 candidates appearing in the exam. The entry of the candidates to the exam hall started at 9 am. However, some students were allowed to enter the examination centres even after the test had started. The national level test, which is of 3-hours duration, continued till 1 pm.
The National Council for Hotel Management and Catering Technology (NCHMCT) is conducting NCHM JEE 2016 for admission to 52 institutes of hotel management (IHMs), including 21 Central, 16 State Government and 15 private institutes, offering around 8,000 seats. Careers360 brings you the live moments from the NCHM JEE 2016 venues. Scroll below to glance through the NCHM JEE 2016 in pictures.
LATEST - Candidates can check  NCHM Counselling Procedure and NCHM JEE Result from here!
Candidates outside the gate of NCHM 2016 venue
Parents offer moral support to their wards as they stand at the entry gate
Examinees cross-checking their roll numbers and seat arrangements on the notice board
Devices not allowed inside the premises of the centre
Candidates going through the frisking process while entering the exam hall
Last entrant allowed entry at 10:10, even after the start of NCHM JEE 2016
All examinees are in as the main gate of the exam centre closes
Parents waiting outside the exam centre while their wards are taking the test
Students coming out of the exam centre after taking NCHM JEE 2016
Stay tuned to www.hospitality.careers360.com for more news and updates
Also Read:
NCHM JEE 2016 begins on April 30
Latest: [Want to Know Colleges, Specialization to Apply on the basis of your NCHM JEE Scores, Click here]
NCHM JEE College Predictor
Know your admission chances
Use Now