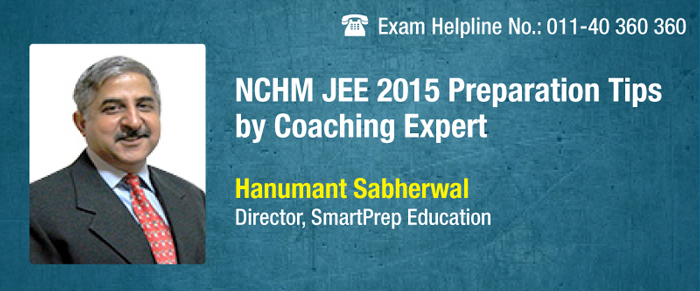 NCHM JEE is the gateway to secure admission at different IHMs across India.  Apart from 21 central Institute of Hotel Management, the NCHM JEE scores are accepted for admission at 16 state government IHMs and 14 private hotel management institutes.
Click Here to Enroll for Study Material, Expert guidance for HM Entrance Exam Preparation, Counseling and College Selection.
Thus there are numerous options for you in Hospitality sector. But, your dream to get admission into top IHMs can become a reality only with your planned preparation strategy well in advance for the exam that is conducted generally in the month of April.
Careers360 brings here, NCHM JEE 2015 preparation tips by coaching expert Hanumant Sabherwal, Director, SmartPrep Education. The expert offers tips for section wise exam preparation and time management strategy for the exam. He also talks on important topics to be focused for scoring good marks in NCHM JEE.
Premium Help-Talk to our expert counsellors to ask queries on NCHM JEE 2015 Entrance Exam on 011-40360360 (Paid Service)
Read below the excerpt of the interview –
Careers360: How should the aspirants make preparation strategy for NCHM JEE 2015 in the coming months?
Hanumant Sabherwal:I will urge aspirants to understand the importance of crafting study schedule and preparing for all five sections namely- English Language, Logical Reasoning, Numerical Ability & Scientific Aptitude, Service Aptitude, and General Knowledge and Current Affairs in accordance with syllabus.  Understand the exam pattern, time duration, marking scheme, cut-off trends of previous years.
Careers360 List out a few section-wise important topics?
Hanumant Sabherwal:For three sections of the NCHM JEE question paper, I would suggest important topics to be focused by aspirants to boost their exam preparation.
Verbal ability-Vocabulary, grammar rules, reading comprehension
Maths- Numbers, percentage, profit & loss, time speed distance, trigonometry.
General awareness- Current Affairs on business as well as hotel industry, for static GK questions on History, Sports, Awards, Economy, Books and Authors.
Careers360  Points to be taken care for formulating an overall exam preparation strategy.
Hanumant Sabherwal:I will advise the following points to aspirants-
Start preparing right away for sections like general awareness as it takes time to build one's general awareness.
Sections like quantitative aptitude and logical reasoning needs lot of practice so aspirants should keep practicing such questions on regular basis.
For quantitative aptitude revise maths related concepts up to 10th standard.
Service aptitude is one section which is important and candidates have no clue about it, so the strategy should be to read articles related to qualities needed to be a part of service industry.
For scientific aptitude candidates should revise basics of physics, chemistry, and biology.
Careers360 What should be section wise exam preparation strategy of aspirants?
Hanumant Sabherwal:
English Language- Build a strong vocabulary as there are questions on synonyms, antonyms, spellings in the English Language section. So, develop reading habit and learn at least 5 new words per day. Further, strengthen your preparation by learning synonyms, antonyms, and sentence making of the five words recently learned by aspirants.
Maths- Practice short cut techniques for calculations.
Logical reasoning- practice variety of questions and puzzles on daily basis so as to improve question solving speed. For questions on quantitative aptitude practice some short cut techniques on calculations on daily basis. Most of the questions in the exam can be solved using short cut methods.
General awareness & scientific aptitude- Work on daily basis to build current affairs and cover basics for scientific aptitude.
Careers360 Tips to ace general knowledge and current affairs section?
Hanumant Sabherwal: For current affairs a candidate can follow 2-3 national newspaper or news channel on regular basis and maintain notes on important news events. Then, revise the prepared notes every week.
 To attempt questions based on general knowledge, I suggest NCHM JEE aspirants to stay updated with high school level syllabus of geography, history and civics subjects.
Careers360  How would you advise students to prepare for the Aptitude for Hospitality Sector section which is not taught to students at school/college level?
Hanumant Sabherwal: Service aptitude is the section which covers carries no negative marking. In fact graded marks are awarded (i.e.0.25. 0.5, 0.75. 1) and the most appropriate answer gets 1 mark.
Also candidates have no clue about service sector aptitude, so the strategy should be to read articles related to qualities needed to be a part of service industry.
Careers360  How many weekly hours do aspirants need to put in for NCHM JEE 2015 preparation?
Hanumant Sabherwal: It is important that aspirants stay in touch with studies on regular practice. Do a bit for each section every day. I believe a dedicated 4-5 hours of study per week is sufficient to crack to exam.
Careers360  What should be the time management strategy for NCHM JEE 2015 exam day?
Hanumant Sabherwal: First, candidates should try to finish GK & current affairs sections because in this section either you know or you don't know so time taken is hardly 10-12 minutes. Then one should look at service aptitude as this section doesn't have negative marking but most appropriate answer can give you higher scores.  Then, candidates can go for sections as per their own strengths.
NCHM JEE Exam Pattern
Number of questions allotted for each section is given below in a box-
| | | |
| --- | --- | --- |
| S.No. | Subject | Number of Questions |
| 1. | Numerical Ability and Scientific Aptitude | 30 |
| 2. | Reasoning and Logical Deduction | 30 |
| 3. | General Language and Current Affairs | 30 |
| 4. | English Language | 60 |
| 5. | Aptitude for Service Sector | 50 |
|   | Total | 200 |
Read more
NCHM JEE 2015 Preparation Tips by Toppers
How to crack GD-PI for Hotel Management Admission
Campus Life at IHM, Hyderabad: See the sights of IHM, Hyderabad with Abhirup Bokan
Stay tuned to hospitality.careers360.com for more news and feature related to NCHM JEE 2015 Preparation Tips
NCHM JEE College Predictor
Know your admission chances
Use Now
Questions related to NCHM JEE
Related E-books and Sample Papers