Get professional training with Gram Tarang's Café Coffee Day programme, Centurion University of Technology and Management
Turning rural dreams into reality is what Gram Tarang's Café Coffee Day programme is all about. Read on to know more…
Poonam Kumari grew up drinking tea, as most Indians do. It was only when she enrolled in Gram Tarang's Café Coffee Day programme at Centurion University of Technology and Management, Bhubaneswar, that she was introduced to her first cup of coffee. She fell in love with it immediately. Like most other youngsters who sign up, she was the first girl to move out of her village to attend the three-month residential training.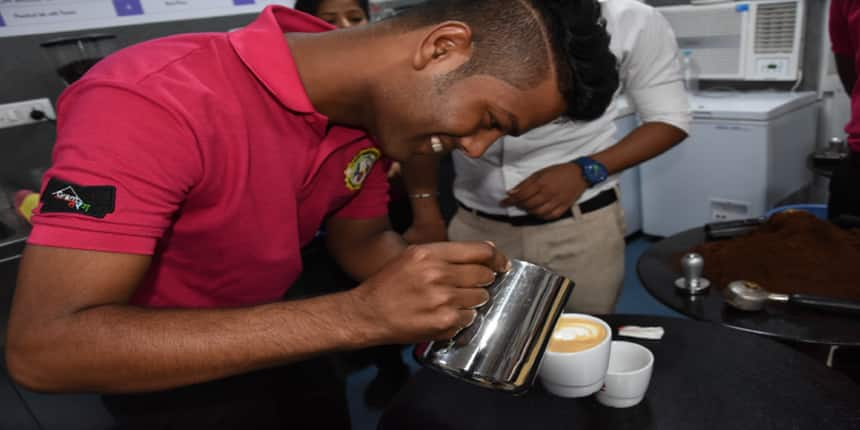 A little over a year later, with an Advanced Diploma in Hospitality Management under her belt, and a placement at a Café Coffee Day Lounge in Hyderabad, she entered the national level Women's Brewmaster Championship, 2016 and won. As India's champion, the bright youngster went to Mexico to take part in the All-Stars Female Barista Competition. Poonam is now working in Mumbai as a Trainer in CCD. For a girl who had never stepped out of her small village, Poonam dared to dream big—and succeeded. 
Mass mobilisation in rural Odisha 
"We're training underprivileged youth from rural areas of Odisha, who've completed their 10th or 12th," says Sreejaya Satpathy, Project Lead, CCD, Gram Tarang Employability Training Services Pvt. Ltd. Mobilizers from Gram Tarang visit the villages of Odisha, set up job fairs and spread the word about the fully industry-sponsored course. It has not been an easy journey since the programme launched in 2012. Convincing prospective trainees to move out of Odisha was a struggle and parents were sceptical. It took a few years to build faith and trust in these families, but now applications come rolling in. 
Around 35 candidates are selected per batch. Stories like Poonam's are creating awareness and acceptability about the need for education and employment. The programme seeks to skill rural youth to become employable, guaranteeing 100 percent placement at CCD outlets. 
Genesis of the programme 
"When Café Coffee Day had planned to open a store a day, it attracted my attention. I met the founder, V.G. Siddhartha. Their attrition was very high because people didn't have aspiration. Our model is inclusive, integrated and aspirational. We will create a pathway to create an aspiration. In typical modern education, all your learning comes to a percentage or a numerical. Numeracy doesn't give you food. We started skill training in 2006 when nobody was talking about skilling. There has to be appropriate, relevant, meaningful education. Typically, you get a certificate linked to an exam. Here, the certificate is incidental to their competency. In our smaller courses like the CCD programme, students get higher attention. These kids come from abject poverty. They should be treated with love, care and respect," explains Prof. Mukti Kant Mishra, Co-founder & President, Centurion University of Technology and Management. 
Within two months of training, students learn not only how to make different types of coffees, but get a crash course on customer service, merchandising, retail and hoAround 35 candidates are selected per batch. Stories like Poonam's are creating awareness and acceptability about the need for education and employment. The programme seeks to skill rural youth to become employable, guaranteeing 100 percent placement at CCD outlets. 
spitality management as well. From brewing to billing, trainees learn about everything that goes on in a café—in a training space that looks and functions exactly like a full-fledged CCD café. 
Earn while you learn  
After the two-month on-campus training period, students go for a month-long 'On-the-Job Training' or 'OJT'. They are placed at different CCD outlets across the country. 
Their accommodation and food is fully taken care of, besides, they also receive a stipend of Rs.6500. Not only is this an opportunity for these youngsters to earn while they learn, but also a platform for them to experience the nuances of working and living in a city. It is a scary prospect for some, but they 'do not know what fear is anymore', as young Jaswanth Nayak puts it eloquently. 
Jaswanth has just completed his training in the 50th batch of the programme, and is eagerly looking forward to his placement in Hyderabad. "After I finished my schooling, I stayed home for four years, working on the farm. When I came here, I saw that things are really different. People work with dignity to earn money. The journey has been amazing. My aim is to climb the ladder at CCD to become City Manager in the fastest way possible!" says an excited Jaswanth.  
Preparing rural youth for urban lives
The programme has ensured these students are prepared to face the challenges of working in a city. "Moving from a rural area to a metropolitan city is a big deal for them," says Satpathy. 
The programme follows four modules—communication, problem solving and decision making, time and stress management, and 'WASH' which talks about water sanitation and hygiene. At their jobs, these youngsters will meet hundreds of new faces every day. Communications truly becomes key in this context, and Gram Tarang is taking it very seriously. Trainers are guided by the US Embassy and British Council on how to teach students basic English. Gram Tarang has also teamed up with Gap Foundation as their Learning Partner for Life Skills, customising their P.A.C.E. (Personal Advancement & Career Enhancement) programme to suit the needs of CCD trainees. 
To make sure they cope well, the team at Gram Tarang maintains regular follow-ups with the students. Students are divided into smaller groups and assigned a trainer as a 'foster parent', whom they can reach out to in times of need. Every batch also has a WhatsApp group where they are free to post updates or raise concAround 35 candidates are selected per batch. Stories like Poonam's are creating awareness and acceptability about the need for education and employment. The programme seeks to skill rural youth to become employable, guaranteeing 100 percent placement at CCD outlets. 
erns. This keeps them closely knit even after they complete their training, and lets the trainers keep a close eye on how they're developing. 
Brewing confidence and courage 
"The first day of the programme, you see shy, young girls and boys. Many of them can't even make eye contact. After two months, they talk to you with confidence. When they come back from their placements, you wonder if they're the same kids—there's a big change," informs Satpathy, proudly. She has been heading the programme since its inception, and has seen hundreds of youngsters stepping out of their comfort zones and into the world with confidence. The programme also trains specially-abled students. 150 'Silent Brew Masters' from the programme are already working in the industry. "I didn't know what I wanted to do before, but since coming here, I'm really motivated. I didn't know what any of these machines were, but now I can make and serve a cup of coffee with confidence," says Hemlata Sethi, a student.
Career growth 
Students begin their career at CCD as Operational Trainees or Brew Masters. After nine months, they have to appear for an online test and review. Subject to passing, they receive a certification, and are appointed as Assistant Café Manager, with an average CTC of Rs. 1.8 lakhs. After a year of work ex, a performance review can see them through to the position of Café Manager, fetching an average CTC of Rs. 2.25 lakhs. An Area Manager can expect to make Rs. 4.25 lakhs. In a span of about eight years of work experience and positive performance reviews, a trainee can hope to become a City Manager, leading a team of around 200 at 40-50 cafés, managing a revenue of Rs. 15-18 crore per annum. A City Manager is the pinnacle of CCD's career path, with an average CTC of Rs. 8 lakhs. In eight to ten years' time, the salary growth is a whopping 800 percent. 
Scope for higher education  
"Our student Poonam Kumari, who won the Women's Brewmaster Championship, is now a BBA graduate. Now she's thinking bigger. She's got a degree and she's going to be trainer. We've created a pathway for her—an aspiration—by integrating her into the mainstream. We create dreams. To achieve that, you must have discipline. With that, you get dignity," says Dr. Mishra. 
Learning beyond coursework  
A typical day at the CCD programme starts at 9 a.m., when trainees are expected to check themselves every day for grooming—which is very important in the hospitality sector. The day goes on with five hours of theory and three hours of practical sessions. It's not all work and no play for the trainees. Recently, they watched Bollywood film 'PadMan', which talks about feminine hygiene in rural India. A discussion was held after the screening, and Satpathy was thrilled to see the ease with which students were open to talking about the issue. In small ways, Gram Tarang incorporates fun activities that also have strong learning outcomes.