IICA offering industry-focused culinary arts programmes
Here's an increasingly popular institute for vocational education in the culinary arts, right in the heart of the Indian capital.
Nestled in the bylanes of Hauz Khas Village, a walk to the International Institute of Culinary Arts (IICA) takes you through a seemingly endless row of trendy restaurants and hip bars. Perhaps there is divine justice in having a culinary arts institute in an eating hub.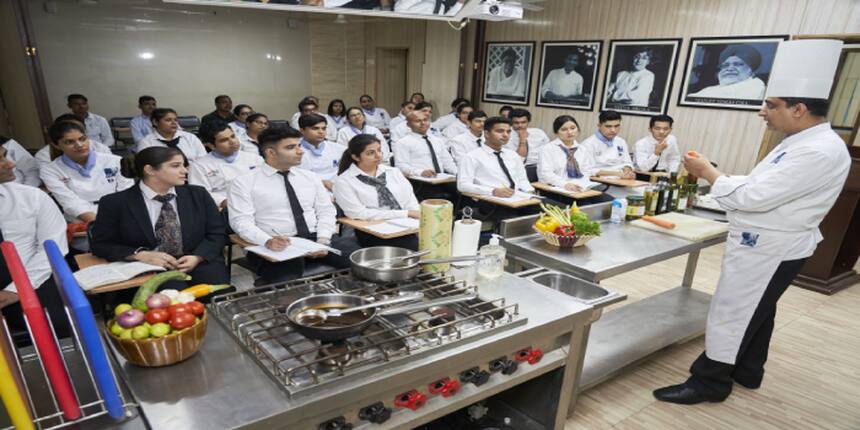 But, as Arjun Datta, Chief Operating Officer at the institute, puts it, this was purely a coincidence. "Back in the early 2000s, my father Virender S Datta, who has spent more than four decades in the hospitality industry, was responsible for the re-launch of Bistro restaurant complex in this area. That's when he came upon this place – an entire floor occupying about 8,500 square feet of a building. He had been wanting to start an institute offering the kind of specialised training that the industry required, but which was missing in most people entering it. So, he took up this place and began the institute in 2005."
Offbeat campus
Cushioned in a single floor of a building, IICA may not have a typical campus, but it makes up for what it's missing outside, with what it offers inside – 12 full-time staff members drawn from the industry, state-of-the-art food production units, a dedicated learning resource centre, library and the latest IT facilities for its students. 
The institute has traversed a different path since its beginning days, in sync with its surroundings. "Those days Hauz Khas Village was very different. Luckily for us, it has become a very popular culinary destination today," Datta added.
Course overview 
IICA currently offers three professional courses – a two-year Advance Diploma in Culinary Arts, one-year Diploma in Bakery & Patisserie and a two-year Advance Diploma in Bakery & Patisserie. While the Advance Diploma in Culinary Arts is a broad-based course that covers all aspects of cooking, the courses in Bakery & Patisserie zoom into increasingly fine details about baking and confectioneries. However, as Datta stresses, the institute emphasises on developing and polishing the basics of culinary. "To be a good chef, you need to have your basics absolutely in place. You cannot experiment unless you fully understand the science and art behind making the basic gravies and sauces."
Eligibility
The entry requirements for the courses are quite basic. "We are essentially a vocational institute guided entirely by industry demand and admit students who have the attitude and aptitude to work in the field. We only ask students to clear Class 12 and appear for a written test in English because that's a basic industry requirement. Also, there is no age limit at our institute and we admit anyone over the age of 18 years. Many of our students come from backgrounds as diverse as architecture, dentistry and film-making, driven entirely by their passion for cooking.
"We interview prospective students to get to know them a little better and understand why they wish to study culinary arts. In our interviews, among other things, we see if they have general awareness about things like world affairs. It may seem like an odd criterion for a culinary course, but we believe that it shows curiosity and the overall attitude when people make time to learn things beyond their professional life. 
"Once students are admitted, they undergo rigorous, continuous and comprehensive evaluation through assignments, presentations, reports and several months of industry placement that prepare them completely for the job. For example, for one of our modules – food and beverage management – we allocate a space to our students and ask them to execute an entire restaurant experience. They decide on everything from the décor to the dining and invite people for a meal. The guests pay them and also judge them," elucidates Datta.
Apart from the professional courses, IICA also offers a slew of ongoing hobby courses that cater to the cooking requirements of everyone – culinary aficionados, children interested in cooking, students heading out on their own and to-be-brides! 
Growing recognition
Vocational education has a dubious reputation in a country obsessed with academic degrees. However, over the years, IICA has built a considerable name in culinary arts with a long list of formidable associations with the Indian Culinary Forum, Edexcel and City & Guilds, United Kingdom, University College Birmingham and most recently World Association of Chefs Society (WACS).
"We began with five students and today we have around 140 students enrolled in our professional programmes, with new batches coming in every July and January. Admission has become a lot more competitive and our students have been placed at prominent restaurants like Chef Vikas Khanna's Junoon in Dubai. Many of them have also become entrepreneurs. Our associations have also enabled interested students to pursue higher education in hospitality at universities overseas. Today, we have students who come to us for specialisation, after pursuing regular undergraduate courses in hospitality management," shares Datta.
Preparing for life
Shreshth Khanna, who completed the Diploma in Bakery & Patisserie from IICA a few years back, shares, "My family has been in the food business for many years and when I completed Class 12, I knew I wanted to make my career in this field. I live in Amritsar and there were no good bakeries here. So, I decided that I wanted to open my own bakery and patisserie. A friend who had completed a course at IICA recommended the institute to me and I joined it. The one-year diploma programme was extremely intensive. We had theory classes, practical sessions as well as an industrial placement. I was placed in the bakery at The Imperial."
"When I returned, the teachers supported me in starting my own bakery and patisserie – Bon Gateau – and gave me all the guidance I needed. Today, my business has expanded manifold. It has now become a full-fledged café," said Khanna.