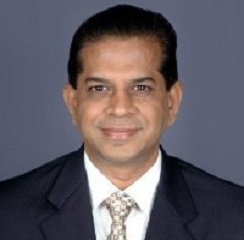 Antony Ashok Kumar, Director of SRM Institute of Hotel Management, speaks on how the hotel management sector can put its best foot forward.
Compare Colleges
College Comparison based on Courses, Placement, Rank, Fee
Compare Now
Q. There has been a lot of focus on research lately, how does SRM Institute of Hotel Management focus on research?
A. If we talk about our food, culture and our upbringing, they have been influenced a lot by the Mughals and the British. Both of them brought their own cultures with them to India which were assimilated by the natives of India.
If we take into consideration the earlier generations, they lived a healthier life, they ate healthy food. One has to understand and research how the heritage food can be restored ? There is a need to bring back ethnic food. We are trying to bring back a lot of our heritage recipes. Our colleges are also emphasizing on healthy food across all the age groups so that people do not have diseases like diabetes, heart-attack or jaundice. We need to understand the medicinal value of ethnic food so that we can save the next generations from such diseases.
Q. How do you train your faculty and how do you select them?
A. In hotel management, there is no need for a person to become a rocket scientist. When we select a faculty, we look at their interpersonal skills, their motivational habits, how they project themselves in front of the students and their past experience. Our faculty should have at least five years of work experience in some reputed hotel, as their image in front of our students is highly important. 
Q. India has a huge potential in tourism, which is not fully realized, how can we achieve it?
A. The government should give a free hand to private players. India has a huge potential which needs to be tapped. For example, Chennai has the world's second longest urban beach, if you compare it with smaller nations such as Malaysia; they are doing a tremendous job. We should see how they are developing their beaches.
We should also give importance to private players to develop tourist spots. This will give a huge boost to the tourism industry and create more employment opportunities for those who are interested in making their careers in the hotel management industry.
Q. What are some of the strengths of Indian tourism?
A. India has got a lot of heritage monuments; it has got a lot of natural places to see. All these placed needs to be properly kept not just for tourism sake, but also for preservation sake, so that our future generations can enjoy them.
Be it the heritage monuments or the natural places, both are treasures which we need to cherish and promote them.
There is definitely a need to have an efficient system in place which takes care of all the tourist hotspots which are spread across the length and breadth of our country.
The tourism ministry should give a free hand to the state tourism and the state tourism, in turn, should give a free hand to the private players so that they can help in the upkeep of the tourism hotspots in the country. We need to come up with a lot of initiatives to develop and promote the tourism industry if we want to realise our full potential. 
Q. What are some of the trends in this sector?
A. Since there is an influx of foreign students in India, there is a trend to learn to prepare food items from other countries such as Japan, Germany and some of the South-Asian countries. Since communication has become a huge part (especially languages), a lot of importance has also been given to learn at least one foreign language. So these are some of the current trends which are popular in the hotel management sector.