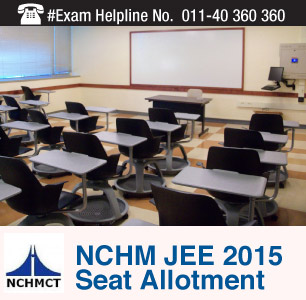 NCHM JEE 2015 Seat Allotment for the second round of counselling has begun from June 19. Candidates can lock their choices of institutes to participate in the second round of NCHM JEE 2015 Seat Allotment and Counselling. The seat allotment list of NCHM JEE 2015 provides you an overview of the seats and admissions to B.Sc. for Hospitality & Hotel Administration programme. A provisonal seat allotment letter has been issued to the candidates who are participating in NCHM JEE 2015 Counselling based on NCHM JEE 2015 Seat Allotment List by the exam authority National Council of Hotel Management and Catering Technology (NCHMCT).

LATEST - Candidates can check  NCHM Counselling Procedure and NCHM JEE Result from here!

Earlier, the first round of seat allotment was announced on June 10 for the NCHM JEE 2015 Counselling Round 1. 
NCHM JEE 2015 Seat Allotment for Counselling Round 2 begins June 19. Scroll below to find the official link and downlod your NCHM JEE 2015 Provisional Allotment Letter.

The result was declared on May 15, 2015.
The NCHM JEE 2015 Seat Allotment is being done in accordance with the merit list prepared by the NCHMCT. Admission to qualifying candidates depends on NCHM JEE 2015 All India Rank assigned to a candidate, choice of IHM exercised, and availability of seat at the preferred IHM.

NCHMCT has also issued the result of NCHM JEE 2015 Seat Allotment for the second round of counselling on June 19, 2015.

NCHMCT had issued the result of NCHM JEE 2015 Seat Allotment for the first round of counselling on June 10, 2015.
Click here to Know Which IHM College you will get based on your Expected NCHMJEE rank or call 011-40360360 
Important highlights of NCHM JEE 2015 Seat Allotment are given below-
The seat allotment process for the first round has been conducted and the provisional allotment letters can now be downloaded by the candidates by loggng into their accounts
NCHMCET can conduct as many as three rounds of online counselling for admissions a total of 7896 seats distributed among 52 participating institutes
After the closing of each counselling round, a NCHM JEE 2015 Seat Allotment result will be published by the officials and can be checked on this page
The Seat Allotment Result provides an idea of the remining vacant seats and institute-wise vacant seats at IHMs
Candidates who have been allocated the seats are required to report at their repsective allotted institute and remit the required fees and apply for hostel accommodation as per the scheduled date and time
Candidates are required physically report to the allotted institutes as per the NCHM JEE 2015 Seat Allotment List
After NCHM JEE 2015 Seat Allotment in 1st, 2nd and Spot Round of Counselling, candidate failed to report at the allotted  institute for one or other reason or did not attend any class shall also be considered for refund of 50% of fee plus Caution Money.
Total course fee at Government sponsored 35 Institutes of Hotel Management (IHMs) was 233500/- excluding hostel fee and student activity fee for the last year.
Click here to lock your choices and Download your NCHM JEE 2015 Provisional Seat Allotment Letter for Second Round of NCHM JEE 2015 Counselling

Candidates are required to carry the following listed documents for NCHM JEE 2015 Seat Allotment process-
Two passport size photograph
Original as well as attested copies of certificates of the class category, for proof of age, high school and intermediate examination passing certificate
Candidates, whose intermediate result is awaited, are required to submit an undertaking at admission center
Medical fitness certificate from MBBS doctor with his/her registration number
Single demand draft/pay order of Rs 44,250/ only drawn in favour of "NCHMCT" payable at Noida or New Delhi
NCHMCT officials have confirmed that this year, as many as 25000 candidates have registered for the most coveted hotel management entrance exam, of which 7311 candidates appeared from Delhi exam centres. NCHM JEE 2015 was conducted on April 25 for admissions to a total of 7482 seats distributed among 51 participating institutes. Last year the written exam was registered by as many as 21600 applicants and as many as 19000 candidates had appeared for the exam.
Stay tuned to hospitality.careers360.com for more news and feature related to NCHM JEE 2015
NCHM JEE College Predictor
Know your admission chances
Use Now
Questions related to NCHM JEE
Related E-books and Sample Papers