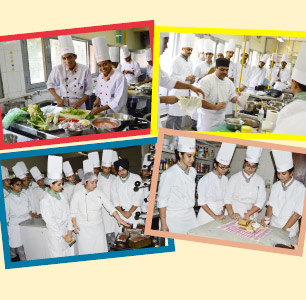 Institute of Hotel Management (IHM) Pusa is one of the top institutes of Hospitality Management in India. The institute remains the most choice for toppers of NCHM JEE, a national level entrance exam for hotel management education in India.
In this Photo feature, Careers360 explores different aspect of Life at Campus of IHM Pusa.  Take a look at these striking pictures!
The Grand and Eco-Friendly Infrastructure:
Established in 1962, the top Hotel Management Institute boasts of rich infrastructure. Few steps away from the giant main gate is a 3-storyed Academic block Building with classroom capacity of 1000 students.

Click here to Enroll For NCHM JEE KnockOut  Test Series to Crack NCHM JEE 2015 exam or call Exam Helpline at 011-40360360 to talk Expert counsellors
The staircase with trail of eye soothing plants followed by open doors of classroom leads towards the big Kitchen Halls. Equipped with rain water harvesting, Solar systems, small recycling units, the campus reflects an eco-friendly environment.
#IHM Pusa- Academic Building view from the entrance gate
Test of Training!
As goes a famous saying- Learn by Doing, IHM seems to the strict follower. The academic routine starts with cooking, followed by another cooking and then followed by cooking lunch. With so much of exposure you can never challenge IHM students to be deprived of practical sessions or hands-on equipment training. From serving to stirring, chopping to frying, baking to presenting, everything is taught and done here.  
#Prep session for cooking Lemon grass chicken skewers!
All smiles!
One of the key qualities of hospitality professionals is to maintain calm under cooking pressures.
#Chefs with Smiles working in groups to prepare an appetizing Brunch! 
A Garnish of Excellence:
Everything they do has their sweat (not literarily). Students at IHM Pusa are actually made to work with refinement especially in their kitchen work.  They are made expert in the use of Culinary for all different cuisines.   
Colourful julians (long and fine chopping) to aromatic Consomme, all is executed withought any compromise on hygeine factor .
#Raw Papaya vegetable salad with peanut dressing, in process
Interactivce Practical Class:
IHM Pusa has different fully equipped kithen labs like – Basic Training Kitchen, Quantity Food Kitchen, and Advance Training Kitchen. Specialised faculties teach techniques and recipes to the students. Each day is an opportunity to learn and make a new cuisine delicately  served with a passion to the faculty.
#The class on 'how to prepare soup'
Special Diet classes for Patients:
Theory classes in Dietetics & Food Service Management course ensure that students are also aware of nutrient composition and biochemistry of food. It covers food diet for patients- including ways to chart out diet plan for a normal healthy life.
#Theory classes are important too!
Practical Class on Indian Cuisine:
In theQuantity Food Kitchen a speciality menu to integrate the learning of ethinic Indian cuisine in students is designed everyday. The Cooking process is monitored by the 'Chef of Day', who makes sure the taste and quality is maintained throughout, as it later have to be served to the faculty.
#Chef of the Day busy preparing Pumpkin subzi
The whiff of the Bakery:
Giant Oven, ice cream makers, refrigerators, edible food colors, cakes, pastries, cookies, shakes, fresh baked breads and all the swirls, is what IHM Pusa's bakery is. Something which cannot be explained but only experienced.
#Freshly baked fruit cakes in pans
And yes the sweet Plattering!
After hard work at baking cakes, creativity for platter presentation is given its share of attention. The last stage is all about placing the baked products in interesting angles and forms along with complementary desserts served in glass tumblers and delicious dip.
#The presentation of freshly baked products
Mixing it Well:
Creaming process is an initial level of cake preparation methodology. Students learn creaming process for different flavours of cakes (however, in the frame creaming is done for chocolate flavor cake). They get hands-in experience on exact quantity of ingredients to be taken and time to be devoted for the process.  
#The more in circular motion the creaming is done, the more glossy cream we get
Piping into the Learning's:
Be it a cake or salad, everything is molded into a perfect piece of eatable art. Students are trained to present each dish, be it Sweet or Savory dish, in the most delicate and beautiful possible manner. This teaching is piped into students so as they excel in everything. 
#Outlining swirls of butterscotch flavoured cream
The Cake and the Chef:
Here is finally prepared chocolate cake. Creaming process already viewed. The baked cakes and pastries are delivered to "Bake Shop", a campus run canteen, which is located within the IHM Pusa campus. The bake shop is also a favourite hangout area of students. The canteen serves all its food items prepared by students to both students and public at a reasonable price.  
#The happy chef poses with the chocolate cake
And there are Books, Journals, and Newspapers:
The library has approximately 5000 professional books. Student's life is incomplete without good books regardless of whether it's a course book, a novel or a magazine. Library attracts students for number of reasons- from searching journal for theory assignments to issue course books to read newspaper. The library's book stand has a place for "Careers360" magazine too.
# IHM Pusa students looking for books in Library
Fully Equipped Computer Lab:
The institute has fully functional 60 desktops in the computer lab. Hospitality professionals need to have proficiency with Client management programming software's and basic Microsoft understanding.
 #Students working on their respective assignments to enhance their computer proficiency.
Fine Dining Training Restaurant:
A Restaurant with a capacity of 72 guests to have a fine dining experience is also a training lab for teaching etiquettes of serving. Here, the result of chain of practical classes and work done by students can be scaled. TR's decoration, seat arrangement, and service of food is all handled by students only.
#The Fine Dinning Experience in IHM Pusa
All images by Muhabit-ul- Haq
Stay tuned to hospitality.careers360.com for more news and feature articles on Hospitality and Tourism.
NCHM JEE College Predictor
Know your admission chances
Use Now
Questions related to NCHM JEE
Related E-books and Sample Papers