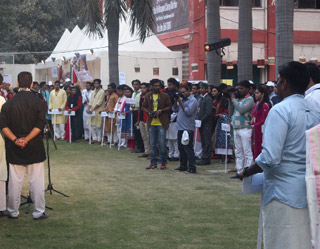 Institute of Hotel Management, Catering & Nutrition, Pusa, New Delhi, hosted Amaranth 2014, a Pan India Fest of Hospitality Education beginning from December 11, 2014.

The fest witnessed as many as 25 Government Hotel Management Institutes coming from 20 states across the country participating in this mega fest.

AMARANTH shall be a four day fest till December 14, 2014. In the coming days, candidates coming from 20 states will find themselves engaged in different activities including Eureka Quiz Competition, Tray Gardening, Quick Chef, Enigma, Graffiti, Fusion Music and Dance competition. The overall winners shall also be awarded with trophies, medals and badges.

Shri Girish Shankar, Additional Secretary, Ministry of Tourism, Government of India was the Chief Guest for the Gala Welcome Ceremony.  He administered the Oath to the participants and witnessed the unfurling of flags of various Institutes, including IHM Bangalore, IHM Bhatinda, IHM Bhopal, IHM Bhubaneswar, IHM Chandigarh, IHM Chennai, IHM Faridabad, IHM Gandhinagar, IHM Gurdaspur, IHM Gwalior, IHM Hajipur, IHM Hamirpur, IHM Hyderabad, IHM Jaipur, IHM Kolkata, IHM Kurukshetra, IHM Lucknow, HM Mumbai, IHM Panipat, IHM Rohtak, IHM Shimla, IHM Silvassa, IHM Srinagar and IHM Trivandrum.
The students of 'Hunar Se Rozgar Training Programme', an initiative of Ministry of Tourism, Government of India also presented a Cultural Show.
Hon'ble Cabinet Minister, Shri Jual Oram, Ministry of Tribal Affairs, Government of India will be inaugurating Amaranth 2014.
Soon after the address by Principal of IHM Pusa, Alok Shivapuri, two performances were given by PRANAY and troop and STOP, a NGO, respectively.
Careers360 covering this fest talked to Anil Kumar Goyal, Senior Lecturer, IHM Pusa. Sharing his insights on AMARANTH 2014, he expressed, "Hosting AMARANTH 2014 has been very wonderful. For the very first time, we are hosting 25 Hotel management Institutes, coming from 20 states. We are taking care of our guests with the best, we can."
Talking on challenges, the Senior Lecturer commented, "Hosting such a large event is itself a challenge. IHM Pusa-ites are taking care of their guests from wak-up call till the time they sleep. Funding and inviting sponsors for the fest was a tedious task yet, we were able to gather several sponsors, including Nestle, Air India, irctc, May fair, Kaleva, WeiKFiELD, Everest, Holiday Inn, among many."
Institute of Hotel Management, Catering & Nutrition, Pusa, New Delhi, one of the premier hospitality institutes of the country is under the aegis of Ministry of Tourism, Government of India offers various undergraduate and post graduate programmes in Hotel Management domain.
Stay tuned to hospitality.careers360.com for more news and feature articles on IHM Pusa