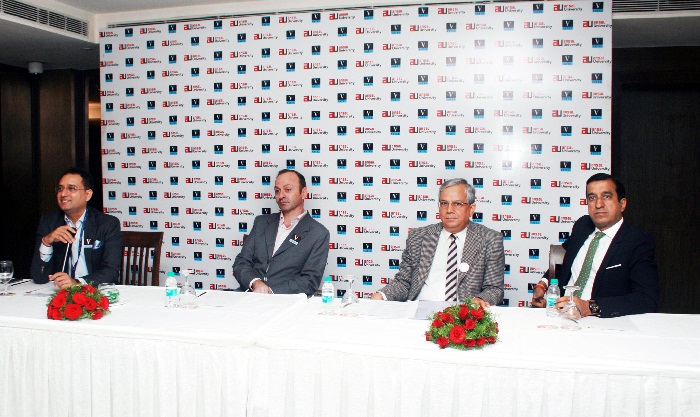 Ansal University, Gurgaon in a press meet on April 7, 2015 held at The Lalit, New Delhi announced its collaborations with Vatel, an international school of hospitality based in France. This initiative is brought in India by Ecole India to provide an international platform and expertise to students in hospitality management domain. The university also announced its admissions process open for the newly collaborated programme,B.Sc (Hotel Managemet and Catering Technology).


The guests present in the press meet were Mr. Laurent Guichoux, Academic Director, Vatel India, Prof. Raj S Dhankar, Vice Chancellor, Ansal University, Sarabjit Singh, CEO, Ecole India and Mr. Pranav Ansal, Vice Chairman,Ansal properties and Infrastructure and other Trustee's of Ansal University.


Mr. Laurent Guichoux, addressing at the function said, "France known as the cuisine capital of Europe. Hospitality is part of our culture and it is ingrained in our lives. We experience it in our day to day, right from small French cafes to Michelin star restaurants. With over 90 million visitors, France is one of the most visited countries in the world and India with 7 million will only grow. It is in this scenario that Vatel India will help meet the needs of the hospitality industry in a unique way." 


Prof. Raj S Dhankar sharing the dais, said, "In a globalized world it is critically important that we give to our students the best professional and experiential based learning so that they become industry ready. In order to do so we need to have associations and linkages with leading academic institutions of the world. We at Ansal University to help strengthen our hotel management and catering technology program have developed such a linkage with the well-known Vatel School of Hospitality, France."


Mr. Pranav Ansal, addressing on this occassion  said, "Our tie-up with Vatel is very relevant keeping in mind that Atithi Devo Bhava or 'Guest is God' is one of the major visions for India over the next few years. Recent statistics show that travel and tourism contributed 113.2 billion dollars or almost 5.35% of GDP in 2014 making India the second largest tourism market in Asia after China. However, with the launch of this course, apart from hospitality, students will also have opportunities in luxury retail, events and have many other service industries open up to them. Companies are constantly on the lookout for people with the right service training and who have the right culture and background to meet their requirements. And with our campus in the burgeoning city of Gurgaon, and our tie-up with one of the best hospitality schools in the world, it will definitely help enhance skill sets and give our students a lot of scope and opportunity."

Sarabjit Singh, who had been instrumental in bringing Vatel to India added about Vatel's USPs – "The French do everything with passion and detail. With Vatel School of Hospitality management in India, we are bringing that passion from France to India. How does Vatel deliver this passion? Through a dedicated French faculty; through their unique "Savoir faire" manual; and through their history of 30 years of hospitality training across schools all over the world. However, their USP is not 7000 students studying at Vatel schools; it's not their 27000 alumni; and it's not their Marco Polo exchange program. It is their ability to create Vatel school across the world that meet the local needs of the students in that part of the world while preparing them for the international world of hospitality." 


This undergraduate programme will be of three years duration with 100 intake capacity of students in its first batch commencing this year. The course will have expertise international faculty, students exchange programmes and internship programme with campuses across five continents.


Stay tuned in to hospitality.careers360.com for more news and featured articles on Ansal University


First Published on – April 8, 2015
Compare Colleges
College Comparison based on Courses, Placement, Rank, Fee
Compare Now