What is Travel And Tourism?
What is Travel And Tourism?- The travel and tourism industry is currently one of the top growing sectors in India. The significant growth that the travel and tourism industry has experienced in recent years has never been observed earlier. Tourism is travel for recreational, leisure or business purposes. As per various studies, the industry is expected to create over 45 million jobs in India by 2025. Students have huge career scope in the travel and tourism industry. Candidates looking to pursue their career in the industry can choose to work for travel agencies, government tourism departments, tour operations, immigration and customs services, airlines, hotels, and the list continues. Candidates can pursue a degree, diploma, or certificate course in travel and tourism at graduation or post-graduation level.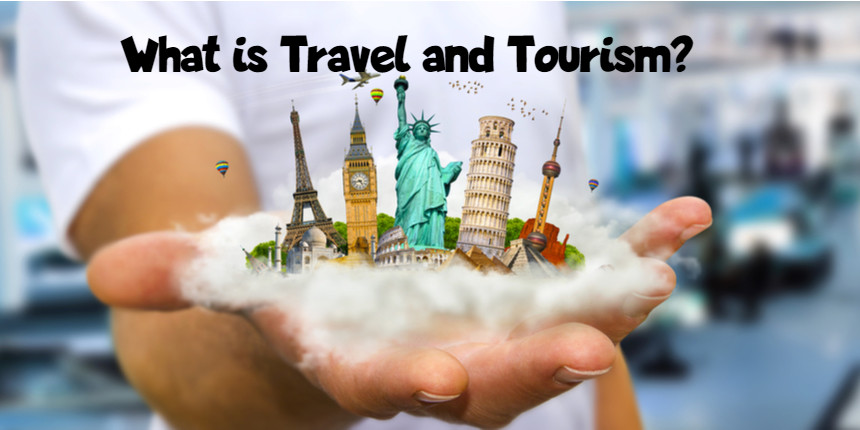 Read more-
What is Hospitality and Travel?
Eligibility Criteria: Travel & Tourism
There are many colleges and universities not only in India but also abroad that offer undergraduate or postgraduate level degrees. Candidates can also opt for diploma, certificate and online courses in various sectors of travel and tourism. Though the eligibility criteria might vary depending on the norms of the specific institutes in which a candidate is interested for applying. Here is the detailed description of eligibility criteria for pursuing various diploma and undergraduate courses:
In order to apply for diploma and graduate-level tourism courses, you must have completed 10+2 (any stream) with a minimum 50% from a recognised board of education.

Some of the government colleges may take admission on the basis of NCHM JEE test.

Admissions to the diploma courses are done on the basis of merit in class 12 board exam or on the basis of state-level entrance exams.

Candidates must note that Travel & Tourism distance learning/ online courses are offered at all – degree, diploma and certificate levels. Therefore, eligibility criteria for distance learning programmes remains the same as mentioned above for different courses.
Travel & Tourism Industry: Skills Required
Candidates looking forward to pursuing a career in the tourism industry must have a passion for travelling. The industry requires your uncountable hours. You must have a forte in staying up-to-date with the latest news and events as well as socio-economic trends of the world. Some of the traits and skills that candidates should have to build a successful career in travel and tourism industry are:
Skill Set for Travel and Tourism Industry
| | |
| --- | --- |
| Flexibility | Excellent communication skills |
| Leadership skills | Pleasant and well-groomed personality |
| Commitment | Confidence |
| Diligence | Organisation skills |
| Good administration and management skills | Patience |
| Good research and planning skills | Problem-solving skills |
| Enthusiasm | Time management skills |
| Strong networking skills | Teamwork |
| Hardworking | Strong interpersonal skills |
Top Courses to Make a Career in the Travel & Tourism Sector
The course curriculum of a travel and tourism programme depends on the course a candidate is pursuing – degree, diploma, or certificate. However, here you can get an overview of the subjects taught in some of the popular travel and tourism courses :
Bachelor's Degree Courses
| | |
| --- | --- |
| BA in Travel and Tourism Management | B.Sc. in Hospitality and Travel Management |
| B.Sc. in Travel and Tourism Management | BBA in Travel and Tourism Management |
| BA Tourism Studies | BBA in Air Travel Management |
| BA in Hospitality, Travel and Tourism Management | BBA in Hospitality and Travel Management |
| Bachelor of Tourism Studies | BA Travel and Tourism |
| Bachelor of Tourism Administration | B.Com. Travel and Tourism Management |
Diploma Courses
| | |
| --- | --- |
| Diploma in Hospitality and Travel Management | Diploma in Travel and Tourism Management |
| Diploma in Aviation Hospitality and Travel Management | Diploma in Tourism Studies |
| Diploma in Tourist Guide | Diploma in Tourism and Ticketing |
| Diploma in Airfare and Ticketing | - |
Travel & Tourism: Job Profiles
There are a number of diverse job opportunities available for travel and tourism management professionals. Government as well as private sector enterprises are known to recruit them. Self employment is another popular career path that professionals may go for!
Tourism Manager: A tourism manager promotes tourism in his/her region through different advertising strategies and campaigns. The manager also offers assistance to tourists of different cultures and traditions.

Holiday/ Travel Agent: A travel agent evaluates the requirements of tourists and helps them make the best possible travel arrangements. Many hotels and travel groups hire travel agents to sell their tour packages to clients.

Travel Executive: A travel executive is responsible for managing different aspects of a travel including transportation, flight booking, hotel accommodation, destination information, etc.

Tourist Guide: A tourist guide helps tourists visiting different tourist places and provides them information on cultural, historical and contemporary heritage of religious and historical sites, museums and other places of interest.

Travel Counselor/ Consultant: A travel counselor has the responsibility of providing complete guidance on travel to clients. A counselor ensures best travel deals for the clients.

Travel Officer/ Coordinator: A travel coordinator finds best prices on hotels, flights and rental cars; processes employee travel expenses, sets up corporate discounts with travel vendors, creates itineraries, etc.

Airlines/ Ground Staff: The ground staff plays a crucial role in areas such as commercial activities, running of airports, airline operations, etc. The job of ground staff is vast and includes responsibilities such as inspecting, storing and transporting luggage; and stocking the aircraft with food and beverage items.

Tour Operator: A tour operator is a professional who organises tours and manages the travel and stay of tourists. There are many companies which operate tours for domestic as well as international clients and thus require tour operators.

Transport Officer: A transport officer is typically appointed by a state government or local transport body to carry out activities like maintenance of the vehicle fleet, overseeing vehicle establishment programmes, certifying ground transportation budget etc.

Travel Writer: A travel writer is responsible for writing an array of stories related to travel such as historical places, vacations, adventure, hotel industry, culture, etc.
Top Recruiters in Travel and Tourism Industry
Starting salary depends on numerous factors. Prominent ones include- profile of the employer, job profile and job location. Average starting salary is between 10-15k Rupees per month. In case of government jobs, the salary will be based on Pay Band and scale. Some of the top recruiters in the field of travel and tourism are:
Recruiters: Travel & Tourism
| | |
| --- | --- |
| India Healthcare Tourism (IHCT) | Jet Airways |
| MakeMyTrip (and GoIbibo) | Balmer Lawrie Travel & Vacations |
| Yatra | ClearTrip |
| Thomas Cook (India) Ltd | Cox & Kings Ltd |
| Flying Fox | SOTC India |
| Kuoni Travel | East India Travel Co |
| Kesari Tours | Club Mahindra Holidays |
| Expedia | TravelGuru |
| Air Asia | American Express Global Business Travels |
| Travix Leisure & Travels Pvt Ltd | MakemyTrip |
Travel & Tourism Sector in India: Industry Outlook
India is rich in culture, heritage, and geographical diversity. Desert, forest, mountains, beach, old towns, modern cities – you name it, India has it. So no wonder that the tourism industry contributes the most to the Indian economy. The travel and tourism industry is growing tremendously and will continue so in the coming years. India's Travel & Tourism sector ranks 7th in the world in terms of its total contribution to the country's GDP, shows a new report by the World Travel & Tourism Council (WTTC). A job in this industry can be highly exciting and adventurous and even pays well. According to a report published by the World Travel and Tourism Council (WTTC), India could possibly add another Rs. 8, 50,000 crores by the year 2021 just through tourism.