Solving the Course-College Selection Dilemma
Solving the Course-College Selection Dilemma- Every student goes through the phase after board exams where he/she is demented which course and related college must he choose. This course-college selection dilemma is undeniable. For those wishing to make a career in hospitality and travel, also often go through this confusion. But before you choose a career in hotel and hospitality management, ask yourself ,does cooking pleasantly surprise you? If you are hoping to break into the hospitality industry - whether it's because you're passionate about high-end hotels or possess unparalleled people skills - you probably already know that there are two sides to the industry: front-line operations, which include things like food and beverage service, and business management. There are many opportunities on the corporate side too, in areas like market analysis, press relations, human resources or digital marketing. To help you figure out your next career steps, read the article here about solving the course-college selection dilemma.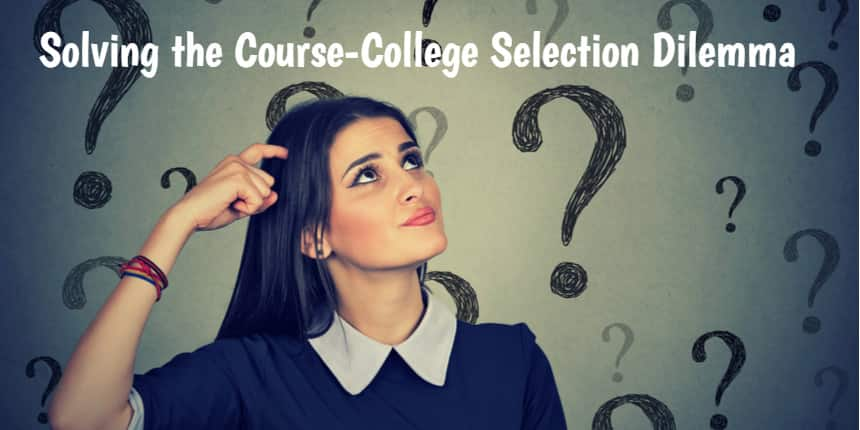 How to Choose A Course in Hospitality
Before choosing what course you want to specialize in, it is necessary for you to figure out the reason to choose a career in hospitality. Although your technical skills can get you noticed, it's your soft skills that will be relied on time after time should you want to succeed in the industry. So choosing the right course plays a major role. So how should you go about it? Let us look at the points given below.
Know what you want to specialize in
There are two sides to working in the hospitality industry – the operational side and the corporate side. With such enormous scope galore for progression, the sooner you know which niche area you want to specialize in, the better. For example, if you want to open a five star hotel chain in the future, you should prefer entrepreneurship courses for hotel management graduates.
Building your network is vital as your connections have the potential to take you far and wide. Networking can be done practically anywhere. Whether it's during class with your peers, while undertaking an internship, or attending events, such as career fairs and education tours. Networking is about building valuable contacts who can guide you in terms of what course option to opt for hotel management after 12 and from which college can help you in the long run. You should also try to connect with the alumni of some top hotel management colleges who can direct you about the quality of the courses and education provided. This way you can access the knowledge of the industry.
Academics/ Quality of Course Content
When selecting a UG course from some specific college check for the reputation of its academics. Go through the course content and ensure that it is industry friendly. Given the hands-on nature of the hospitality industry the practical hours in a hotel management program is crucial. Find out if the programme you want to specialize in, offers hands-on experience and internship opportunities.
Course selection depending on pushing your limits
Hospitality sector is one of the sectors that diminishes the territorial barriers, especially when you choose courses such as travel and tourism. As there is no nine to five hours schedule in this sector, a candidate should vigilantly choose a course as he will have to push himself beyond his limits.
Also read- New look to Hospitality Careers
College Selection in Hospitality/ Hotel Management
The college tag in India follows us for our whole life. But choosing a course over college is more important. For a student, there is no decision more important than choosing the right course to study in the right college. Most usually reputed college brands are the ones sometimes that make your degree worth. So how do you select a hotel management college? Check the points given below which can guide you in making a wise decision.
Affiliations & Accreditations
The academic qualification you take will only have value if the college is accredited nationally or internationally. The accreditation process ensures that the curriculum is on par with national standards. International partnerships,global tie-ups, affiliations add further value to the degree and college.
Networking of the college
You need to check on the college networks like what are the five star hotels in which it provides the internship or placement to students. Furthermore the notable alumni of the colleges like the top chefs also add value in college reputation.
Get an advice from the college counsellor
So you have done your research and now you know everything there is to know about the college of your choice. Now you are ready to start your life as a college student, how exciting! But hold on if you had any doubt did you speak to the education counsellor? The counsellor can advise you on the best college that fits your unique style, dreams, and goals.They can also help you figure out your preferred education pathway and compare colleges and courses for you. In short, they take on the most difficult parts of your college research, and present it to you in an easy-to-understand manner.
Do not go wherever your friends are going
Without a doubt, your friends play an instrumental role in your life. However, this does not mean that you should stick to them like glue. Your goals and aspirations may not align well with that of your friends. You can all go your own way and still remain friends. Additionally, you must remember that education can be quite expensive. You will be wasting a lot of money if you decide to call quits midway through the course just because you don't find it interesting anymore, and only joined it because you followed a friend. It is crucial to decide for yourself what works best for you and not succumb to peer pressure.
In a good college the faculty is much more than just a teacher. Faculty members have the ability to shape a student's career. The faculty should have a strong academic background coupled with relevant industry experience. This will help a student to learn both technical skills and people skills needed to succeed in their career.
Classrooms, Practical Labs
Well equipped classrooms and practical labs enhance the learning experience and ensure that a student learns to apply theoretical knowledge in a safe and hygienic environment.
Official placement figures are not always reliable. The easiest way to check out the placement statistics of a college is to get in touch with its alumni through social networking sites. It is also good to talk to current students on campus and listen to their feedback. Once the above points are considered, one has to answer the question; "Why am I doing this course?" Once you get the answer to that question, it is very easy to find out if the school is suitable for you.
Take Away
Hence you can study hospitality education from your own country or the foreign land, what matters is how much polished do you come out in your skills at the completion of your degree. Hospitality, Leisure, Recreation, and Tourism may have one of the longest names of all the subjects that you can study at a university but check for the aforementioned points. It is necessary that you have all the information with you in the end before making an informed decision. Remember that life is beautiful and waiting for you to be in your perfect field with a smile on your face.