Read success story of Maahi Trivedi, a 9 rank holder of NCHMCT JEE 2013


Success story serves the purpose of inspiring people and leading aspirants to success path. With an intent to spread the same message, Careers360 shares success story of Maahi Trivedi, a hotel management student at IHM, Mumbai as well as NCHM JEE 2013 9th rank holder.
Click here to Enroll for All India HM Counselling Pack 2015 to get All Alerts, Updates and Guidance for College Selection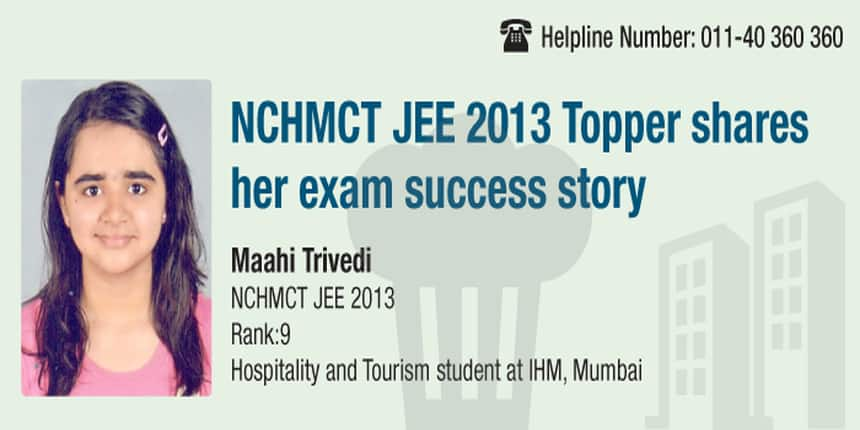 The National Council of Hotel Management and Catering Technology Joint Entrance Exam or NCHM JEE will be held on April 26, 2014 with joint coordination of National Council of Hotel Management and Catering Technology and Indira Gandhi National Open University.


For queries and doubts, call NCHM JEE 2014 Exam Helpline at 011-40360360


To guide NCHM JEE 2014 aspirants, Careers360 shares the interview conducted with Maahi Trivedi who is NCHM JEE 2013 9th rank holder and currently pursuing Bachelor of Hotel Management and Catering Technology course at IHM, Mumbai.


Maahi shares her factors responsible behind such huge success and also guides NCHM JEE 2014 aspirant on how to tread towards the success path of the national level hotel management entrance examination.


Read the full interview below.


Careers360: Which other hotel management entrance exams did you take? How was your performance in those?
Maahi Trivedi: For hotel management examination I appeared for only NCHM JEE 2014.


Careers360: List a few hotel management entrance exams which should not be missed by hotel management aspirants.
Maahi Trivedi: As I only appeared for JEE, I don't have much information regarding other exams.


Careers360: Did you aim at any particular hotel management institute? Share reasons for it?
Maahi Trivedi: Yes, I aimed for IHM Mumbai as it is one of the best government institutes for hotel management in Asia.


Careers360: What were your weak points and what were the stronger ones? How did you tackle your weakness?
Maahi Trivedi: Current Affairs and General Knowledge were my struggling points. I tackled my weak points by reading newspapers every day. I also got a fair idea of question types to expect for general knowledge section by reading ample of NCHM JEE preparation guides and books. Side by side I also used to read magazines, sample papers.


Careers360: Reasons for choosing to establish your career in hotel management sector?
Maahi Trivedi: I am a big foodie and I love cooking. I aspire to become a successful chef in future. These reasons acted as catalyst for my decision to foray into hotel management sector. So I aimed to take admission at IHM, Mumbai.


Careers360: How important is coaching for the NCHM JEE preparation?
Maahi Trivedi: In my opinion joining coaching is not a must requirement for NCHM JEE preparation. I personally did not take any sort of coaching. I prepared for NCHM JEE by self study and enhanced my preparation by revising preparation guides and books for subjects such as: Numerical Ability and Scientific Aptitude, Reasoning and Logical Deduction, General Language and Current Affairs, and English Language.


Careers360: If some aspirant can't afford to take coaching, in what way he must prepare for the NCHM JEE Exam?
Maahi Trivedi: I will advise aspirants to analyze NCHM JEE Sample Papers and get a decent understanding of what types of questions are repeated frequently. Questions covered in NCHM JEE guide/study books can also be analyzed for the same.


Careers360: What was your time management strategy during the exam day? How did you mange it among the different sections of the paper?
Maahi Trivedi: Always skip a question you don't know and come back to it when you have more time, towards the end. This way you won't miss out on a question you knew the answer but didn't have to attempt the question.


Careers360: Please share your valuable tips with the NCHM JEE aspirants.
Maahi Trivedi: NCHM JEE is not very difficult to crack. Aspirants need to be calm and must not divert from their focus by worrying a lot about how to score good marks.


Careers360: Do you believe securing admission in a top and reputed hotel management makes any difference to your career prospects? Please elaborate.
Maahi Trivedi: Securing admission in a reputed hotel management institute definitely has many advantages. If you consider IHM Mumbai itself, it has made a name for itself and many hotels may tend to give an edge to IHM students when it comes to selection for industrial training or even jobs. Besides, the kind of training and education given at branded institute has its own merit. So, in my opinion, a reputed college definitely helps to boost career prospects of a student.


Read more:
Top Hotel Management Colleges in India
How to fill NCHM JEE 2014 Online Application
NCHM JEE 2013 Topper guides on Exam Preparation Strategy
Hospitality diplomas: Train for free, get a top job
BA Culinary Art: Passion for making food
Demand for hospitality graduates on rise!
Stay tuned to hospitality.careers360.com for more news and feature articles on Hospitality and Tourism exams.
Questions related to NCHM JEE
Showing 692 out of 692 Questions