Raising the bar: How to crack a career as a mixologist
At a time when the concept of a professional freelance bartender did not even exist in India, Yangdup Lama was mixing drinks and making waves. The ace mixologist speaks to Triti Zalka about the struggles and successes of bartending.
A few years of experience 'behind the bars', made Lama realise that there was a gap in the market for training professional bartenders So, he went on to open 'Cocktails and Dreams, School of Bar & Beverage Management' in 2003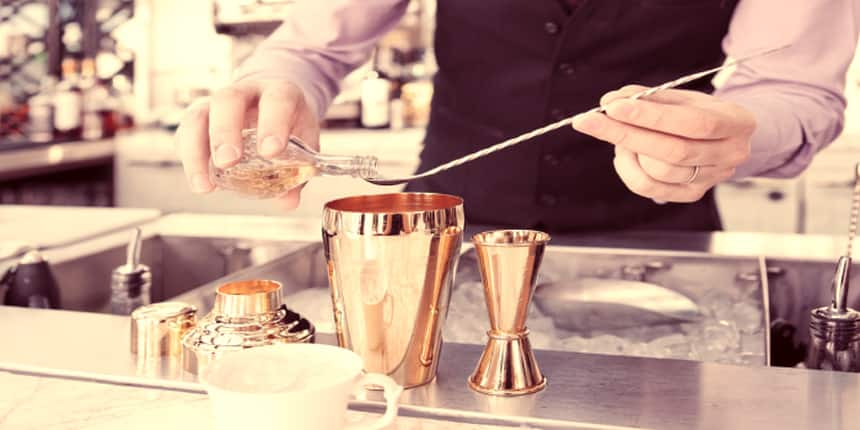 Q. What would you say to aspiring bartenders looking to get a big break? 
A. In today's date, things are different. In my time, it was about being at the right place doing the right thing. Today, there is a lot of competition. At the same time, there is also a lot of opportunity. The industry in India has really mushroomed. There is a lot of demand for a professional. People are ready to invest in a skilled professional to run a bar. Because of great connectivity, learning has also become easier. Today, if you follow good bartenders, you get to know what's happening globally. What you need to do is be able to incorporate and be smart. 
I'm not a very old man, but having spent 23 years 'behind the bars', I've seen that it used to be a slow process. Today, you spend six months at one place, and if there's a better opportunity, you move. The most important thing is your dedication and clarity. The whole scenario has evolved, but the basic still remains the same. If you are ambitious enough and get your foundation in place, you'll make it a success in a much shorter time. 
Q. Besides the technicalities of making a drink, what do you need to succeed? 
A. It's a very interesting field. Bartending is not just about pouring a drink from behind the bar. It requires a lot of different attributes. You have to be a people's person, friendly, grounded, humble, warm and welcoming. You have to be knowledgeable about your product and everything happening around you. At times, you may not have to make a good drink, but you should be able to strike a good conversation with the person sitting across the counter and extend a good experience. It's a combination of a great personality, good knowledge and creativity.  
Q. How important are qualifications? Or is on-the-job training more relevant? 
A. I wouldn't give qualification much emphasis, but I would say a basic qualification is definitely a good boost to your resume. But there have been instances of people who haven't even completed higher education doing really well as a bartender. It's so much on-the-job. You've got to be physically fit, mentally strong. Qualification matters, but it's not the most important. If you have basic educational background, it's okay. If you don't, it's still okay, provided you have the right mind-set. 
Q. Would you recommend any course? 
A. For someone who's an absolute fresher, it's good to do a six-month course. It's not just about teaching and training but about exposure. We have good tie-ups for internships. They won't be behind the bar serving drinks, but it gives them the exposure and confidence to be ready for the job. It gives the final boost. The moment they get that exposure, their knowledge to deliver great service will easily fall in place. 
Q. Is it as glamorous as it looks? 
A. It isn't glamorous in the initial stages. The first few years, it's about really working hard, and a lot of sacrifices. You have to be ready to give it everything. When everyone else is on a holiday is when you're the busiest. It does get glamorous after you've reached a certain stage. If you win a bartending competition, you get to travel, meet more bartenders, and sometimes even mingle with celebrities—that's the bar life! It's like being a celebrity chef—they don't really cook these days.   
Q. How can someone grow in this career? 
A. You start as a trainee bartender, work on the floor, then go behind the bar, and there on, there's no looking back. You can become a Head bartender, a Bar Manager, a Beverage Manager at a hotel, a bar consultant or a trainer, you could work at a liquor company or you could open your own bar. These days it's all about great concepts.  
Q. Advice for budding entrepreneurs? What does it take to stay afloat? 
A. It's always good to spend some time to gain the right experience. When I opened my first bar, it took me a good year, after spending 16 years in the industry. It's good to learn the hard way, it teaches you a lot. When you've learnt from scratch, you have a strong foundation.
Q. What are the biggest challenges? 
A. Even today, there are many bartenders who have this issue in terms of not being able to achieve their goal. One of the key things that stands between them and their ambition is communication. Though we have a huge number of bars and restaurants, only 10 percent of bar owners and promoters really understand the requirements of the business. The rest are run-of-the-mill kind of bars, where there isn't enough skill development. You might fail a few times, but that doesn't mean you always will. If you have a willingness to learn, nothing could come between you and success. Failure is about being stronger and coming out really successful when the opportunity comes your way.