New Look to the Hospitality Careers
New Look to the Hospitality Careers- With a continually changing business environment and emerging strategies in technologies, the hotel industry has given a new look to the hospitality careers as per the new-age workforce. The hotel business is a traditional business and mostly deals with the real people. This is what makes advancements essential in the new age of hospitality. Both hotel employees and guests will benefit from increased efficiency and better levels of service. It is important we ask ourselves this question – in the digital age, what does hospitality actually mean? The most important thing to remember is that the digital age means that consumers are always looking for reviews and information about holiday villas, hotels and properties. Good hospitality – and pretty much frankly good business – means you need to be as prompt as possible when responding to both positive and negative feedback from guests. Food has lately become a popular motivator for tourism and is an aspect which today is widely advertised with a motive to boast arrivals. Today, all major tier-1 cities of the country house international ethnic restaurants and outlets serve global cuisine.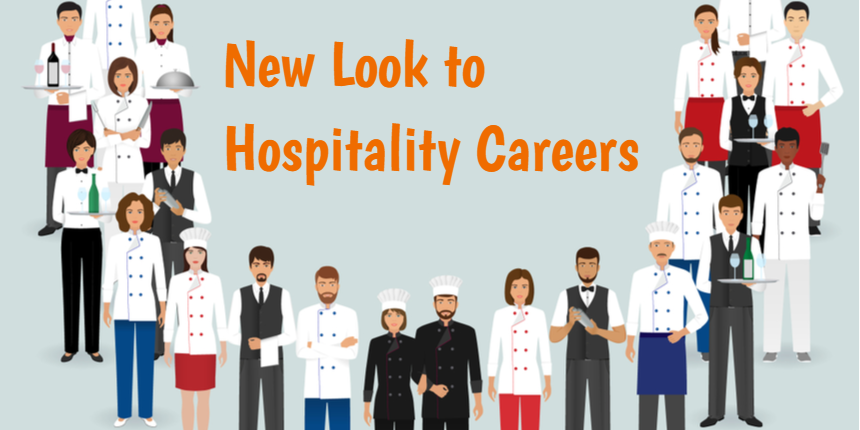 Also read
Hotel Management Course in India after class 12
Digitisation- New look to Hospitality Careers
The Indian hospitality industry is personalization enabled via technology and analytics. Born in the lap of technology, our new age Indian traveller has evolved with smart phones in one hand and ultra-fast internet in the other. This has resulted in more and more customers expecting their visits to be customized to them. Let us see how digitisation has shaped the travel and hospitality sectors in India:
Instant access to price information and feature comparisons has led to 57% of consumers believing that online channels give them better deals, while 41% find it more convenient to book facilities online.

Everything is on the digital front now, with a tremendous advancement not only in the way that we use technology to communicate with end users, but also how people are using it to travel.

Whether it's a faster check-out system, vital Wi-Fi or USB ports in rooms, our new age travellers need to be constantly connected. You don't want their phones running out of charge just as they're uploading a drool-worthy picture on Instagram.
All these factors has allowed the emergence of many new age career options in the hospitality sector namely,
Digital marketing expert

Food critic and blogging

Food Designing and photography

Social media influencer
Hospitality organizations need to go on big and build a workplace and workforce that is conducive to all generations that helps their employees excel in the roles and can care for the customer in the best possible way. They must be able to anticipate the challenges of the future.
1. Reformulating recruitment for better candidate assessment
Today at the five star hotels in India, the recruitment is done by keeping in mind some of the key aspects. The search for talent is guided by the belief that individuals hired have a tremendous passion for caring for others. Leaders with the ability and experience in training can play a pivotal role in ensuring that recruitment processes identify a candidate's natural ability and willingness to learn. The selection process should ideally begin with engaging candidates who share the company's core values. On the same hand it is necessary to honor the local culture and customs of guests. The five star hotels in India even provide their own hospitality management course,internships and programs which provide individuals with quality practical experience and relevant training opportunities. This will help them understand and appreciate what working in the industry entails.
2. Ensuring retention with evolved engagement
Several practices in the hospitality sector seem outdated to the active and new-age workforce and their well-defined expectations. Employees today expect regular and formal feedback, rapid career progression, and breadth of career experiences. Compared to previous generations, new-age employees have some top qualities of hospitality and they demand to be heard and expect a faster career trajectory. Hotels need to focus on empowering their workforce to take charge of their careers. Assessments which gauge the personality and aptitude of individuals, alongside 360 degrees feedback can help employees in discovering their talents and identifying their areas of strength and improvement.
3. Accepting and embracing the new age values and work culture
Organizations in the hospitality industry should induce a strong sentiment of engagement amongst employees by assigning challenges that urge them to utilize the maximum potential of their skill sets. Engaged and motivated employees provide better customer service, which enhances guest loyalty and in return, the overall business. Engagement means allowing colleagues to do what they do best; or in other words, providing them with enough challenges in their role, while at the same time helping them develop their skills and knowledge. Hospitality industry must also gain transparency and trust with their employees through measures that celebrate empathy, compassion, and understanding. Another significant feature for attracting and retaining the new generation of employees is helping them nurture life outside of work. This helps in increasing productivity and motivation.
What will be the drivers of change in hospitality?
Consumers are demanding more from hospitality providers, as they look for relevant, personalized experiences that fit their specific needs. So whether it's about replacing the legacy technology with a cloud-based system or whether it's adding a touch of personalization enabled via technology and analytics – all of these factors will enable the hospitality and travel sector to transition from a transactional to an experiential relationship with its customers.
What is Hospitality 2.0 ?
Hospitality is a customer-focused industry, with the hotel, villa or resort's brand reputation ultimate success depending on the quality of the experience of its guests. It is no surprise then, that digital transformation efforts within the hospitality sector are focused on technologies that improve the guest experience, from check-in to check-out and everything in between. The hospitality industry has been undergoing tremendous changes and disruptions over the last two decades. The tourism industry is also looking forward to the expansion of the E-visa scheme which is expected to double the tourist inflow to India. India's travel and tourism industry has the potential to expand by 2.5 per cent on the back of higher budgetary allocation and low cost healthcare facility, according to a joint study conducted by Assocham and Yes Bank. Also the launch of several branding and marketing initiatives by the Government of India such as 'Incredible India!' and 'Athiti Devo Bhava' has provided a focused impetus to growth of hospitality 2.0.
Also check- Hotel Management: Types of Job Profiles