NCHMCT JEE Exam Centres 2024 - The National Testing Agency (NTA) will mention the list of NCHMCT JEE 2024 exam centres in the official notification. Candidates will be able to check the NCHM JEE 2024 test centre from the admit card upon its release. Also, the NCHM JEE exam city allotment will be issued on the NTA NCHM at nchmjee.nta.nic.in. The exam centres of NCHM JEE 2024 are places where the national entrance test for hotel management (NCHMCT) will be held. Candidates should report to the allocated NCHMCT exam centres to appear for the exam. NCHMCT JEE 2024 exam will be held in 109 cities spread across India. Candidates taking this hotel management entrance exam have to follow the exam guidelines and visit the NCHMCT exam centre at least an hour before the exam.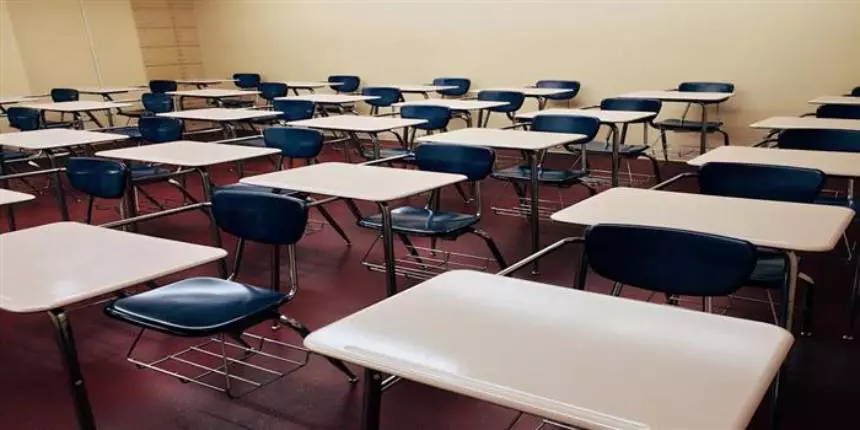 NCHM JEE Exam Centres 2024 - Know Exam City Centres List Here
NCHMCT JEE Exam Centres 2024 - Important Points
There are some important points that candidates need to keep in mind while selecting the NCHMCT JEE 2024 exam centres in the application form. These are given below.
NTA will release the NCHMCT JEE 2024 exam centre list in the official notification.

The city where NCHMCT JEE 2024 will be conducted if once selected and allotted will not be changed and any request in this regard will not be entertained by the National Testing Agency (NTA).

NTA will allocate the NCHMCT JEE 2024 exam centre in the chosen city according to candidates' preference and the venue and timings will be displayed on the admit card.

NTA also has the right to change the chosen city and/or the allocated centre for logistic and administrative reasons.

While filling out the NCHM JEE application form, candidates can select four of the test cities from the NCHMCT JEE 2024 exam centre list in the application form.
NCHM JEE Advance intimation of exam city for NCHM JEE login page for reference

Popular Online Hospitality Courses and Certifications
List of NCHMCT JEE Test Centres 2024
NCHM JEE entrance exam will be held as a computer-based test in an online mode. Earlier, the exam used to be held under the National Council of Hotel Management and Catering Technology. Candidates who qualify NCHM JEE entrance exam will be eligible for counselling and the seat allotment process. The count of NCHMCT JEE 2024 exam centres is 109 this year. Check here the list of exam centres of NCHM JEE 2024.
NCHMCT JEE 2024 Test Cities
State

City

City Code

ANDAMAN AND NICOBAR

PORT BLAIR

AN01

ANDHRA PRADESH

GUNTUR

AP07

NELLORE

AP11

TIRUPATHI

AP16

VISAKHAPATNAM

AP18

ARUNACHAL PRADESH

ITANAGAR/NAHARLAGUN

AL01

ASSAM

DIBRUGARH

AM01

GUWAHATI

AM02

BIHAR

BHAGALPUR

BR02

DARBHANGA

BR04

GAYA

BR05

MUZAFFARPUR

BR06

PATNA

BR07

CHANDIGARH/MOHALI

CHANDIGARH/MOHALI

CH01

CHHATTISGARH

BHILAI NAGAR/DURG

CG01

BILASPUR (CHHATTISGARH)

CG02

RAIPUR

CG03

DELHI

DELHI

DL01

GOA

PANAJI

GO01

GUJARAT

AHMEDABAD/GANDHINAGAR

GJ01

ANAND

GJ02

BHAVNAGAR

GJ03

BHUJ

GJ17

JAMNAGAR

GJ06

RAJKOT

GJ10

SURAT

GJ11

VADODARA

GJ12

HARYANA

FARIDABAD

HR03

GURUGRAM

HR04

HISSAR

HR05

HIMACHAL PRADESH

BILASPUR(HIMACHAL PRADESH)

HP01

HAMIRPUR(HIMACHAL PRADESH)

HP03

SHIMLA

HP06

SOLAN

HP07

JAMMU & KASHMIR

JAMMU

JK02

SRINAGAR

JK04

JHARKHAND

DHANBAD

JH02

JAMSHEDPUR

JH03

RANCHI

JH04

KARNATAKA

BENGALURU

KK04

DHARWAD/HUBBALLI(HUBLI)

KK10

MANGALURU(MANGALORE)

KK12

MYSURU(MYSORE)

KK14

KERALA

KOZHIKODE

KL12

THIRUVANANTHAPURAM

KL17

THRISSUR

KL18

LADAKH

LEH

LL01

LAKSHADWEEP

KAVARATTI

LD01

MADHYA PRADESH

BHOPAL

MP03

GWALIOR

MP06

INDORE

MP07

JABALPUR

MP08

SAGAR

MP12

MAHARASHTRA

AURANGABAD (MAHARASHTRA)

MR04

KOLHAPUR

MR14

MUMBAI/NAVI MUMBAI

MR16

NAGPUR

MR17

NASHIK

MR19

PUNE

MR22

MANIPUR

IMPHAL

MN01

MEGHALAYA

SHILLONG

MG01

MIZORAM

AIZAWL

MZ01

NAGALAND

DIMAPUR

NL01

KOHIMA

NL02

ODISHA

BALASORE (BALESWAR)

OR02

BERHAMPUR-GANJAM

OR03

BHUBANESWAR

OR04

BOLANGIR

OR20

SAMBALPUR

OR09

PUDUCHERRY

PUDUCHERRY

PO01

PUNJAB

AMRITSAR

PB01

BHATINDA

PB02

JALANDHAR

PB04

LUDHIANA

PB05

RAJASTHAN

JAIPUR

RJ06

JODHPUR

RJ07

KOTA

RJ08

UDAIPUR

RJ11

SIKKIM

GANGTOK

SM01

TAMIL NADU

CHENNAI

TN01

MADURAI

TN08

TIRUCHIRAPPALLI

TN14

TELANGANA

HYDERABAD

TL01

WARANGAL

TL07

TRIPURA

AGARTALA

TA01

UTTAR PRADESH

AGRA

UP01

ALIGARH

UP02

ALLAHABAD/PRAYAGRAJ

UP03

BALLIA

UP20

BAREILLY

UP04

BASTI

UP28

FAIZABAD

UP06

GHAZIABAD

UP07

GORAKHPUR

UP08

JHANSI

UP10

KANPUR

UP11

LUCKNOW

UP12

MEERUT

UP14

MORADABAD

UP15

NOIDA/G NOIDA

UP09

RAEBARELI

UP37

VARANASI

UP18

UTTARAKHAND

DEHRADUN

UK01

HALDWANI

UK02

ROORKEE

UK06

WEST BENGAL

DURGAPUR

WB04

KOLKATA

WB10

MALDA

WB18

SILIGURI

WB11
NCHMCT JEE 2024 Exam Centres - Important Instructions
Candidates appearing for the NCHM JEE 2024 entrance exam must be familiar with the exam day instructions mentioned on the admit card carefully. They should also know some of the important exam day guidelines like what to and what not to carry to the nchmct exam centres on the day of the exam. Check the instructions below.
What to Carry On NCHMCT JEE Exam Day 2024?
NCHMCT JEE is an online exam and candidates are advised to only carry a pen and pencil to the exam centre. Candidates should report to the exam centre two hours prior to the beginning of the exam. Apart from this, candidates are also advised to carry the documents mentioned below:
Admit card: NCHMCT JEE admit card 2024 is a very important document to be carried to the test centre.
ID proof: Candidates must carry an original photo ID proof such as Aadhaar Card/ PAN Card/ Passport/ Driving License/ Voter ID to the test centre.
Passport size Photo: Candidates should carry at least one passport-size photograph to the exam centre. It is advisable to carry the photograph used at the time of filling out the NCHMCT JEE 2024 application form.
What Not to Carry On NCHMCT JEE Exam Day 2024?
Candidates should not carry any paper other than the admit card and ID proof inside the exam hall. Also, electronic devices such as mobile phones, calculators, digital/smartwatches or tablets are not allowed inside the NCHMCT JEE examination hall. If a candidate is found using unfair means or impersonating, the candidature is liable to be cancelled.
Student Also Liked: