NCHMCT JEE 2013 Topper K. Vamshi Naidu, IHM Hyderabad student decodes his success mantra


National Council of Hotel Management Joint Entrance Exam, which is also commonly called as NCHM JEE, will be conducted by joint collaboration of National Council of Hotel Management and Catering Technology and Indira Gandhi National Open University.
Click here to Enroll for All India HM Counselling Pack 2015 to get All Alerts, Updates and Guidance for College Selection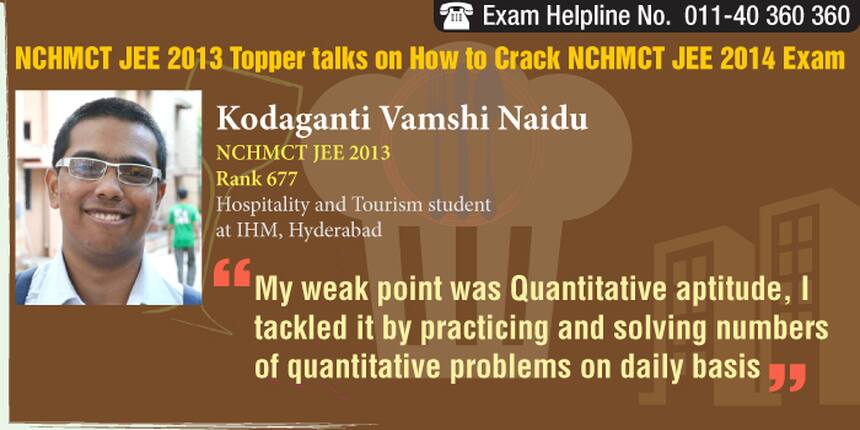 Careers360 brings the NCHM 2013 ranker guidance regarding preparation strategy of the coveted exam for Hotel Management. In today's article of the Topper Interview series, Careers360 shares success story of Kodaganti Vamshi Naidu, who secured 677th rank in NCHM JEE 2013.

For queries and doubts, call NCHM JEE 2014 Exam Helpline at 011-40360360


In this interview Kodaganti Vamshi Naidu, who is pursuing undergraduate program in Hospitality and Tourism from the renowned Institute of Hotel Management, Hyderabad, shares the strategy regarding how he managed to crack the entrance examination and how he tackled his weak points to perform well in the written test.
Read the full interview below-


Careers360: Which other hotel management entrance exams did you take? How was your performance in those?
K. Vamshi Naidu: Apart from NCHM JEE 2013, the other exams that I attempted are as follows- Systematic Training and Education Programme (STEP) by the Oberoi Group, Apeejay Institute of Hospitality, Mumbai (The Park Group of Hotels), Welcomgroup Graduate School of Hotel Administration (Manipal University) and IIHM-Kolkata.
I was rejected in the first round of STEP selection process. Except for the Step Programme, I performed well in all other mentioned exams.


Careers360: What are your views on benefits to be gained by hotel management aspirants on appearing in other hotel management entrance exams, apart from NCHM JEE?
K. Vamshi Naidu: Appearing in hotel management entrance exams, excluding NCHM JEE, has a few benefits. As, NCHM JEE selection criteria is based only on candidate's performance in written test, so a candidate is not evaluated for his/her soft skills or aptitude for hospitality and tourism sector.
Here that exposure gap in terms of candidate's soft skills and poise for spoken English is taken care of. Thus, appearing in other examination helps a candidate to gauge where he/she stands in terms of his/her soft skills.


Careers360: List a few hotel management entrance exams which should not be missed by hotel management aspirants.
K. Vamshi Naidu: Everyone who aspires to be an hotelier should not miss the below listed exams or exams conducted by the below named institute-
Institute based exams
Culinary Academy of India Hyderabad (Culinary aspirants only)

Welcomgroup Graduate School of Hotel Administration (WGSHA) – As, the institute is ranked among the top 3 colleges consecutively.

Institute of Hotel management, Aurangabad (affiliated to Taj Hotels and Resorts Limited): The institute offers a B.A. (Hons) in Hotel management and B.A (Hons.) in Culinary.

Apeejay Institute of Hospitality, Mumbai: Holds a strong reputation in terms of placements.

IIHM-Kolkata: As the institute is known for its national and international level placements. The institute has student exchange programme tie-ups with several foreign universities, which helps students to gain exposure.

STEP programme (The Oberoi Group): this course is all about practical learning from the day of the programme. A Candidate will most probably get hired by the Oberoi Group on successful completion of the course.
But the selection process is tough and competitive.
Apart from the above listed colleges/exams, there are other colleges too, so one should keep a track of other available opportunities for the same.


Careers360: Did you aim at any particular hotel management institute? Share reasons for it?
K. Vamshi Naidu: I targeted for one hotel management institutes and one specific hotel management exam.
Specific Hotel Management Exam: "STEP Programme", because it's a practical based learning programme and the programme can be pursued free of cost by qualifying candidates.
Specific Hotel Management Institute: IHM-Pusa, Delhi.


Careers360: Please share a year-advance preparation strategy adopted by you. How did it change after 6 months and 3 months prior to exam?
K. Vamshi Naidu: Honestly I had not formulated any exam-preparation strategy. But, yes, I used to solve lots of quantitative aptitude and reasoning questions. In addition to it, I revised class 10 level science books to score well in the entrance exam.
Reading newspaper also helped me in dual way as it informed me on current happenings of the world and boosted my English vocabulary.


Careers360: What were your weak points and what were the stronger ones? How did you tackle your weakness?
K. Vamshi Naidu: My week point was "Quantitative Aptitude". To tackle my weakness I gave an additional focus on quantitative aptitude section. I devoted maximum share of time to practice and solve quantitative problems on daily basis.
My strong points were General knowledge and English.


Careers360: Reasons for choosing to establish your career in hotel management sector?
K. Vamshi Naidu: I decided to establish my career in hotel management sector because it is an offbeat career. Students in Andhra Pradesh rarely choose to establish their career in hotel management sector, which is another reason for my choice of career.


Careers360: How important is coaching for the NCHM JEE preparation?
K. Vamshi Naidu: In my view coaching is not required or mandatory for NCHM JEE preparation.


Careers360: If some aspirant can't afford to take coaching, in what way he must prepare for the NCHM JEE Exam?
K. Vamshi Naidu: The best way is to go through the books available in the market and also keep oneself updated with the latest news.


Careers360: What was your time management strategy during the exam day? How did you mange it among the different sections of the paper?
K. Vamshi Naidu: Candidate should first attempt the section which is his/her strong domain. Later, he/she should move to general knowledge. Reasoning and Logical Deduction should be attempted at last.
The trick is not to waste time on any of the questions that you are not sure about. It is a sensible move to not to attempt a few confusing questions to shield our marks from negative marking.


Careers360: Please share your valuable tips with the NCHM JEE aspirants.
K. Vamshi Naidu: One of the best ways to crack the exam is to stay positive and confident. Revise all important topics and practice lots of quantitative and reasoning problems.


Careers360: Do you believe securing admission in a top and reputed hotel management makes any difference to your career prospects? Please elaborate.
K. Vamshi Naidu: Yes, I do believe securing admission in a top and reputed hotel management college will accelerate my career prospects. Hospitality and tourism sector is about practical learning. Reputed colleges not only have good infrastructure but are also capable of providing extraordinary learning methods to students.
Read more:
Top Hotel Management Colleges in India
How to fill NCHM JEE 2014 Online Application
NCHM JEE 2013 Topper guides on Exam Preparation Strategy
Hospitality diplomas: Train for free, get a top job
BA Culinary Art: Passion for making food
Demand for hospitality graduates on rise!
Stay tuned to hospitality.careers360.com for more news and feature articles on Hospitality and Tourism exams.
Questions related to NCHM JEE
Showing 692 out of 692 Questions