NCHM JEE 2022 Preparation Checklist: Dos & Don'ts- Candidates aspiring for hotel management colleges must know the do's and don'ts for NCHM JEE 2022 preparation. This NCHM JEE preparation checklist 2022 can come in handy for cracking the exam.
NTA will conduct the National Council for Hotel Management Joint Entrance Examination (NCHM JEE 2021) in computer-based mode on June 18 for admission to B.Sc. HHA. Preparing well for the exams is necessarily the key to success but also knowing what to do and what not during your preparation phase and the exam day is important as well. Hence it is requisite for the candidates to formulate an effective strategy of do's and don'ts while preparing for NCHM JEE. Listed below are the do's and don'ts for NCHM JEE 2022 that will guide you for drawing an exam strategy for NCHM JEE 2022.
Quick Link-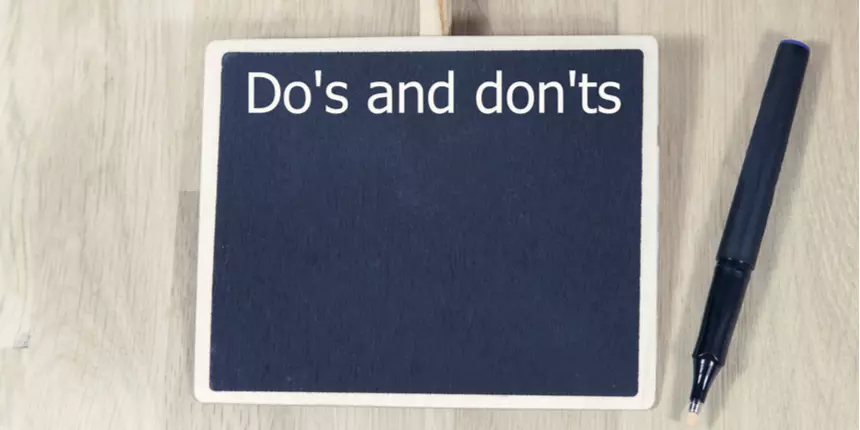 NCHM JEE 2022 Preparation Checklist: Dos & Don'ts for NCHMT
NCHM JEE Exam Overview 2022
Before detailing to you regarding NCHM JEE 2022 preparation guidelines, we have provided you a brief overview of the most sought after top hotel management entrance exam in India with its pattern and marking scheme.
NCHM JEE 2022: Key Highlights
Particulars

Details

Name of the Exam

NCHM JEE

Conducting Body

National Testing Agency (NTA)

Level of exam

National

Mode of the exam

Computer-based mode

Duration of the exam

Three hours

Total number of participating institutes

78

Medium of the exam

Bilingual (Hindi and English)

Types of questions asked

Multiple Choice Questions(MCQ's)

Total sections

Five namely,

Numerical Ability and Analytical Aptitude

Reasoning and Logical Deduction

Aptitude for Service Sector

English Language

General Knowledge & Current Affairs

Total number of questions

200
Quick Link-
Do's for NCHMCT JEE 2022
Here is a checklist of some do's you need to include in your plan before and on the NCHMCT JEE 2022 exam day.
List of do's before the exam day
The preparation strategy adopted before any exam is of utmost importance. The key preparation and the confidence that one carries are some important aspects that helps one in acing the exam. Check the list of more such do's to be adopted below:
No need to attempt anything new
You need not attempt or start any new topic, which you might have missed during your NCHM JEE 2022 preparation. Believe the fact as it's of no use rather it'll just create a fear or put stress on you.
Revise your prepared topics
Rather than attempting or start reading any new topic, it'll be more fruitful to revise your already prepared topics. The more you practice, the more you will touch the perfection.
Arrange your exam day documents and articles
Stitch in time saves nine! It'll be convenient for you to arrange your NCHM JEE 2021 documents and articles you need to carry to the NCHM JEE exam centre a day before the exam. It'll save you from panic on the eleventh hour.
Keep Cool
You have practiced as much as you could during NCHM JEE 2021 preparation days. Now it's the time to keep your cool and be calm as concentration is one of the important elements for winning. All you need to do is to revise all that you have prepared for.
Boost your confidence
The fear of exams can lower your confidence so never let your fear overpower your confidence. It's your confidence which will ultimately keep you high and boost your winning strategy. It's just an exam like others that you have been appearing for.
Solve NCHM JEE sample papers and previous years' question papers
Refer to some of the previous year question papers, mock tests and sample papers of NCHMCT JEE 2022, at-least of the previous 10 years and practice them as much as you can.
Ensure you work on abstract tests
It is crucial for you to know abstract, mathematical and aptitude for the service sector as these sections carry a good weightage in the exam paper.
Work on General knowledge
Improve your vocabulary, general knowledge and current affairs by reading newspapers, books on general knowledge like Manorama, researching the internet or watching youtube videos related to these topics.
Measures on the exam day
Candidates can go through the following measures while buckling for the NCHM JEE 2022 exam centres.
Check your documents
You might have pre-arranged your documents and articles for the exam including NCHM JEE 2022 admit card, pens, pencils, erasers and photo-identity proof (in original as well as photocopy of the same).
Report one hour before the commencement of exam
You are advised as well as notified by the NCHM JEE officials to report at your respective exam centres one hour prior to the commencement of exam. Therefore, plan your timing in a way that you reach the NCHM JEE exam centre accordingly.
Verify your seating arrangement
As you reach the NCHM JEE test centre, it is recommended to check your seating arrangement by verifying your Roll Number/ Registration Number and name as pasted on the notice board of the exam centre regarding NCHM JEE 2022 seating plan.
Don'ts For NCHM JEE 2022
There are some pointers which you need to refrain from while being in the preparation phase and most importantly on the NCHM JEE exam day. Also not following these would land you in exemption from attempting the exam paper.
Do not stress yourself- Do not strain yourself till the last minute. Leave all your books aside for a few days before the exam. Have a good time and relax.

Do not set limits while studying- Do not limit yourself to the topics , cover as many topics as you can.

Do not start preparing late for the exam- Do not underestimate the amount of practice and time required for this exam. The only way to crack NCHM JEE 2021 is by starting as early as you can.

No electronic gadgets- The candidates must not carry mobile phones, smartwatches, wallets, handbags, notes, books or any fluid/ marker inside the test center.

Do not presume the answers- The candidates must not mark the answers if they are not sure as there is 0.25 negative marking for every wrong/incorrectly marked answer.

Don't spend too much time on one question- On average, spend 1.5-2 minutes on each question, regardless of marks. Spare at least 15-20 minutes at the end to recheck your attempted questions.

Do not ignore the instructions- Do not carry the question booklet or any part thereof outside the test before completion of the test.
Thus before you appear for the D-day, you need to have this NCHM JEE 2022 preparation checklist of do's and don'ts that can prove quite beneficial for your exam.
Read More-
Top 10 Hotel Management Institutes with their Fee Structure
Career in Hospitality Management