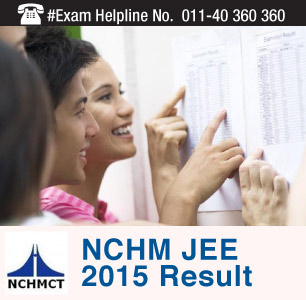 NCHM JEE 2015 Result has been announced on May 15, 2015. The result of NCHM JEE 2015 is published only in online mode. Candidates are allotted NCHM JEE 2015 All India Rank (AIR), on the basis of their performance in the most sought after hotel management entrance exam. National Council of Hotel Management and Catering Technology (NCHMCT) is not issuing any category-wise ranks including General, Scheduled Castes, Scheduled Tribes, Public with Disabilities and Kashmiri Migrants.

LATEST - Candidates can check  NCHM Counselling Procedure and NCHM JEE Result from here!

Candidates can check NCHM JEE 2015 Result from the official link provided in this page below.

As NCHM JEE 2015 Result is declared, candidates will have to attend the counseling procedure of NCHM JEE 2015 as per their AIR and candidates will not be informed through offline modes but online only.

[Click here to Know Which IHM College you will get based on your Expected NCHMJEE rank or call 011-40360360]


NCHMCT officials have confirmed that this year, as many as 25000 candidates have registered for the most coveted hotel management entrance exam, of which 7311 candidates appeared from Delhi exam centres. NCHM JEE 2015 was conducted on April 25 for admissions to a total of 7482 seats distributed among 51 participating institutes.


For end to end expert guidance of NCHM JEE and other Hotel management exams Click Here

NCHM JEE 2015 Paper Highlights – Read below for the highlights of paper-pencil mode exam held on April 25
NCHM JEE 2015 Offline Paper had a total of 200 questions carrying a total of 200 marks.

The questions of the offline paper was set bilingually, English and Hindi, except for the questions of English language section

Candidates were required to mark one option among the four provided against every question

For every correct answer, one mark shall be awarded and 0.25 marks will be deducted from the total scored marks for every incorrect response

The questions in Aptitude for Service Sector section will be awarded graded marks system. As per the system, the most appropriate answer will be awarded 1 mark, followed by 0.75 marks for the next appropriate answer, followed by the next appropriate answer to be awarded 0.50 marks, whereas the least appropriate answer will be regarded as inappropriate and will carry a negative marking of 0.25 marks
Section-wise distribution of Questions of NCHM JEE 2015 – The below pictogram will help you in knowing the section-wise distribution of questions




Highlights of NCHM JEE 2015 Result– Look below for NCHM JEE 2015 Result Highlights
An All India Level Merit List (AIR) will be prepared on basis of marks scored by candidates appearing in NCHM JEE 2015

In case, if two or more candidates secure equal marks, the merit will be determined in the following order and procedure –

Higher marks in English

Higher marks in Service Aptitude

Upper Age

Candidates will be called in for counseling procedure as per NCHM JEE 2015 Result and Merit Rank

No personal Interviews & Group Discussions (PI & GD) will be conducted after the declaration of NCHM JEE 2015 Result for admissions to the undergraduate hotel management programmes

NCHM JEE 2015 Result will be the final list for shortlisting candidates for the admissions
NCHM JEE 2015 Institutes and Seats – Candidates can have an overview of some of the participating institutes and seats from the below pictogram –




Last year NCHM JEE Counselling began on May 26 to offer admissions to 7945 seats across all 37 IHMs (21 Central and 16 State Government sponsored) and 14 other hotel management institutes.

How to check NCHM JEE 2015 Result - Candidates can follow the below provided instructions to check and download NCHM JEE 2015 Result -
Click on NCHM JEE 2015 Result official link provided below
Provide your necessary details, including NCHM JEE 2015 Roll Number and your Date of Birth
Click on 'JEE Result' button
Check your NCHM JEE 2015 Result and your NCHM JEE 2015 AIR
Click on 'Download' button to Download your NCHM JEE 2015 Rank Card
Click here to check NCHM JEE 2015 Result and AIR 


Candidates can also check their Result of NCHM JEE 2015 from the window below by entering their NCHM JEE 2015 Roll Number and Date of Birth.




Read More

NCHM JEE 2015 Cutoff
NCHM JEE 2015 Answer Key
NCHM JEE 2015 Counselling
Stay connected to hospitality.careers360.com for more news and feature articles on NCHM JEE 2015
NCHM JEE College Predictor
Know your admission chances
Use Now
Questions related to NCHM JEE
Related E-books and Sample Papers