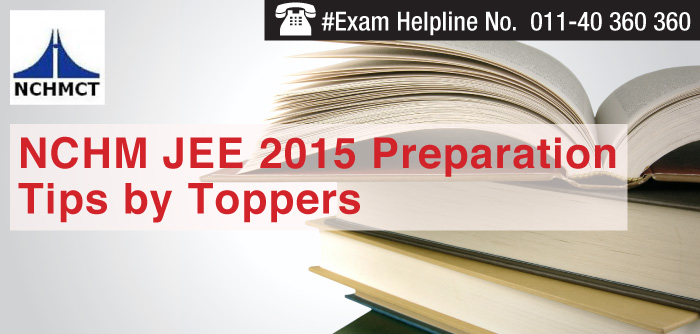 Hard work and planning right exam preparation strategy in right direction is a sure success mantra to crack any entrance examination. Careers360 brings you NCHM JEE 2015 preparations tips shared by a few toppers of national level hotel management entrance exam NCHM JEE. Based on responses received from NCHM JEE toppers, the overall exam preparation strategy can be categorized under three stages. The first stage is devising of a study schedule, second stage includes section wise exam preparation strategy, and practicing mock tests is the third stage.
Click Here to Enroll for Study Material, Expert guidance for HM Entrance Exam Preparation, Counseling and College Selection.
First stage: Devising study schedule
NCHM JEE aspirants can prepare a study schedule depending on their weak and strong subjects. A larger share of time should be allotted to subjects, which are tough for the aspirant. Study schedule needs to be crafted keeping in mind ways to strengthen the weak area and numbers of hours to be invested for a specific topic.
The study schedule can be divided into 6-month study plan and two short study schedules of three months. The study schedule should also be incorporated with a timetable for revision. The time duration of study hours varies from person to person. However on an average, 4-5 hours of study is sufficient for preparing for the exam.
Toppers speak: Abhishek Maitra, who secured All India Rank 1 in NCHM JEE 2014, shared that to gauge improvement and to be aware of his weak areas, he used to review his performance through weekly-fortnightly review plans. This analysis of mistakes through review plan also enabled him to track his progress.
Premium Help-Talk to our expert counsellors to ask queries on NCHM JEE 2015 Entrance Exam 2014 on 011-40360360 (Paid Service)
Second stage: Section wise exam preparation
The second stage of exam preparation depends on several factors including aspirants study curve in accordance with studied or yet-to-be-studied topics and NCHM JEE syllabus, gaining question solving speed, and adopting a smart time management strategy while attempting the paper. Below we have discussed in detail on the three pointers along with couple of preparation tips.
A.  Studies- syllabus sync
According to toppers, section wise NCHM JEE exam preparation is one of the important factors to score good marks and decent all India rank. Strategy for section wise exam preparation varies with sections. The five sections of the exam are Numerical Ability & Scientific Aptitude, General Knowledge & Current Affair, Reasoning & Logical Deduction, English Language and Aptitude for Service Sector. For example, preparing the first two sections is a bit complex as the syllabus is not well defined. So, to help aspirants crack the exam, we bring plethora of NCHM JEE preparation tips offered by toppers of previous years.
1.  Read Newspapers
Read at least 2-3 newspapers every day. The activity can be started a year before the exam. However, preparing 8-9 months prior to the exam is also a safe option for securing good marks in General Knowledge & Current Affair section.
Newspaper reading has dual benefits. Besides, updating the reader with latest happenings and news, it improves vocabulary and increases reading comprehension skills. The dual advantage helps aspirants to perform well in English Language section too.
2.   Watch a minimum of 10 news stories
Dedicate one hour daily in morning and evening for watching news channels.  Aspirants should watch at least ten news stories per day. Follow important news. Get aware of all the reasons/causes of the happening and its consequences/outcomes. All the dimensions of important national and international news must be followed and understood. Take help of internet and social media platforms to search the related term of important news and events in order to gain in-depth information about it. 
Toppers speak: Soumalya Banerjee, who secured All India Rank 2 in NCHM JEE 2014 shares that watching hospitality and tourism themed television programmes played an important role in enhancing his overall exam preparation, especially for the two already mentioned sections.
B.   Tips to gain question solving speed
Set a deadline to solve a number of questions. Try to solve questions within the set time frame. At initial level, number of questions to be solved within 30-35 minutes can be 15-20.  Gradually, increase the question strength to 25-30 and try to solve the questions within 30 minutes.
Question solving speed is directly related to daily practice of attempting questions. Make it a daily routine to attempt questions from different sections. On the examination day, aspirants reap the advantages of gained skill by solving the paper in time efficient manner and saving time to solve skipped questions.
Topper speak: Prantik Haldar, who secured All India Rank 4 in NCHM JEE 2014, says that he was able to attempt and solve a lot of questions from his favourite section because he was updated on most of latest news topics.
C.   Tips for section wise exam preparation
Numerical Ability-Scientific Aptitude and General Knowledge & Current Affair: Apart from the above mentioned preparation tips for the two sections, the following simple tips will be helpful to ace NCHM JEE exam preparation –
Don't limit your general knowledge preparation to topics/news/events of past 7-8 months as older important events may also be asked.
For the general knowledge and current affairs section, read Manorama Yearbook.
Read tourism related magazines.
For numerical ability and scientific aptitude, study basic concepts from NCERT Class 10 books. Revise the basic concepts for subjects - Maths, English, and Science.
If you have been out of touch with Mathematics subject, you should practice calculations and approximation techniques.
Topper speak: V.S. Ramamoorthy, who secured 10th All India Rank (AIR) in NCHMCT JEE 2013, elaborates that to expand his General Knowledge in tourism, he used to read several tourism magazines.
Reasoning & Logical Deduction
Frequently practice exercise on simple mathematical calculations.
Practice questions covered in NCHM JEE sample paper and other reference books.
For practice of reasoning and logical deduction based question, aspirants can consult books by Arihant Publishers.
Toppers speak:  Maahi Trivedi, a hotel management student at IHM, Mumbai as well as NCHM JEE 2013 9th rank holder, shares that she prepared for the section by analyzing and solving the questions given in hotel management reference books.
English Language
Read newspapers.
Read novels. Try to read minimum of 10 pages every day.
Revise English grammar focusing on Class 10 and Class 12.
Increase your vocabulary drastically and pay attention to spellings as questions do come to identify correct/incorrect spellings.
Other important topics in English include one word substitutions, finding errors and reading comprehension.
Use advanced level vocabulary books and basic grammar books.
Topper speak:  Lisa Sunny, who is pursuing B.Sc. in Hospitality & Hotel Administration, from IHM Hyderabad suggests aspirants to focus on English Language section as the section carries maximum marks.
Aptitude for Service sector
Questions are based on fine points of hospitality sector. To answer such questions, aspirants are expected to have sound knowledge of the domain. Reading travel and tourism related magazines like Go Now, Destination India, and Outlook Traveller will help aspirants to encounter such questions.
Questions are also based on big personality of hotel/business group, location/ branches of reputed hotels, and suitability of candidate's personality and attitude to fit for the sector.
Third stage: practicing mock tests
NCHM JEE toppers have disclosed that one of the factors behind their remarkable success was undertaking online mock test. Doing so, give a fair idea on time management strategy for attempting the paper. Also, test takers will be calm and patient in solving the paper as the mock test exercise takes away the exam nervousness.
Topper speak: Chaitanya Bhat, who obtained third rank in NCHM JEE 2014, shares that the mock test activity was a boon for him as he realized the importance of time management while attempting an exam. Further, the exercise helped in improving his exam preparation.
Learn and leverage from the tips offered by the NCHM JEE toppers not to just qualify the entrance exam but to secure a good All India Rank in the exam as obtaining high scores increases prospects of a candidate to secure admission at top hotel management institutes.
Stay tuned to hospitality.careers360.com for more news and feature articles on Hospitality and Tourism exams.
Latest: [Want to Know Colleges, Specialization to Apply on the basis of your NCHM JEE Scores, Click here]
NCHM JEE College Predictor
Know your admission chances
Use Now