Life at IHM Hyderabad: Learning and Enjoyment Accompanies Each Other


A journey to pursue hotel management marks the beginning of endless and enriching life experiences, hosts of opportunities to expand learning horizon. Sailing through rigours of academic journey - from working for long hours in practical classes to adjusting with new environment along with maintaining calm while dealing with the tough situations, combines to make the best of three years of a student's campus life.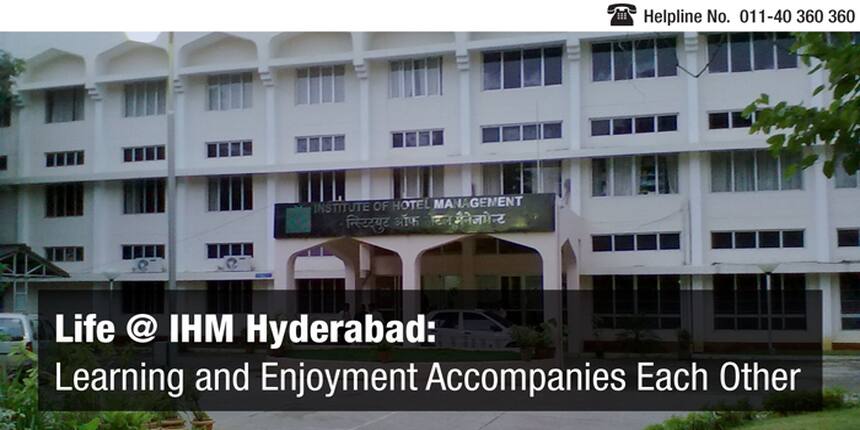 Students are welcomed by the IHM Hyderabad with an aim to hone budding hotel management students with hotel operations and management skills so that they emerge as more skilled and apt personality to excel in hospitality sector.
Regardless of busy schedule of a HM student on campus, fun element is always a part of this grilling routine life. Activities in the form of cultural fest, competitions, and events at IHM Hyderabad are source of both learning and enjoyment for students. Both academic and enjoyment is an alternate way of adding cheers to IHM Hyderabad campus life.

In focus: Overall Personality Development
Having pleasing personality, good communication skill, and strong temperament are ideal traits of hospitality professionals. To groom students for an enhanced overall personality, the focus is not limited to classroom studies only.
A second year IHM Hyderabad student Kodaganti Vamshi Naidu says that life at IHM-Hyderabad is very interesting. Hospitality education and co-curricular activities goes hand in hand. Students' participation in several competitions including vegetable carving, flower arrangement, food festivals, and college events are organized to induce all round development of students.



Course module gives attention to personality makeover of students through grooming sessions and assigning mentors to groups of students for enhancement of communication skills. Frequent classes are also conducted to help students on how to face interviews and qualities to be exhibited or covered during interview. Such classes boost confidence among students enabling them to appear for campus selection with positive attitude.
More than 40 years Old yet Well-Equipped Infrastructure
The institute being set up in the year 1972 as Food Craft Institute, and later in 1984 upgraded to the Institute of Hotel Management, IHM has a history of 40 years. The institute has a team of dedicated, experienced and well qualified teaching staff.



The more than 40 years old glorious infrastructure is well equipped with two training restaurants, two front office lab, a housekeeping lab and a Computer laboratory, a Craft Training Kitchen. A student K.V. Naidu finds the campus infrastructure and faculty very helpful in gaining relevant skills, which will enable him to face the real industry after passing out of the institute. "The infrastructure of the college is good, it suffices our requirements. The experienced faculty is always ready to help us in our development by giving training and feedback", he says.


Embedding Challenges into Strength
First step of getting prepared to serve the hospitality sector is getting bucked up for hard work and learning the virtue of being patient in crisis. Coping with challenges and converting them into strength compliment students' preparation to excel in the field and tackle any management related problems effectively.   
Maharshi Thakur, a student, shares, "hospitality field is quite demanding when it comes to physical ability. Standing for 4-5 hours in Food Production classes was the major challenge faced by me. However, with the passage of time I realized that hard work and willingness to strive for excellence helps in embedding challenges into strength. Thus, adapting with campus routine has enabled to turn my so-called Weakness into Strength." 
Talking on the same qualities, i.e., hard work and stamina, another student Shweta Harinder shared that although she had not encountered many challenges to adapt with campus routine but struggled with delivering her best in practical classes. She found the duration of 4-5 hours of food production classes in lab hectic as the activity demanded sincere efforts, which is depended on student's stamina and willingness to excel. She sums up that the campus activity prepared her to embrace with ease the long working schedule of the industry.
It is not that each student faced challenges of maintaining pace by adjusting with the practical classes, especially on food production. Chirag Aneja shares that he did not face any such challenges as it's all about adaptability.  For him everything moved in a smooth manner and so far found no difficulties to adapt with long hours of classes.


Fine Tuning Fun Activities
Five days classes a week paves way to students for sufficient free time to hang out with friends, explore the city, and indulge in outdoor activities. With a good time management strategy, if sudden assignments/projects have to be completed on urgent basis, taking out free time on weekend is not a difficult task.
K V Naidu, a student says, "Time management is quite easy for me as attending lectures attentively is enough to gain insight on the topic.  I make sure to complete assignments by Saturday, so I have a day reserved to hang out with friends.
There are many hangout zones near IHM Hyderabad, where IHMcians frequently visit to chit chat and relax. A small bakery near the campus known as "Jersey", Subway outlet, and a fast food restaurant "Joint", which is set up by college students are some of the most-visited places located nearby the campus. Shopping malls- GVK ONE Mall and Prasads IMAX are also among the hangout zone of students.
Tea stalls near the campus are also hit hangout zone among students to refresh their mood. For Short interval of free time between classes or events, students in a light mood converse about assignments or upcoming events over a cup of tea or coffee.


Strengthening the Roots: Grooming and Communication Skills
Grooming and communication skills are basic roots of hospitality industry. Thus, to be associated with the sector, it's necessary for students to strengthen the said traits. From the first day at the institute, these skills are taught to students. Combined efforts of IHM Hyderabad faculty, alumni and corporate from the hospitality industry focus to fortify the roots.



IHM Hyderabad alumni and corporate from the hospitality industry frequently visit the campus for guest lecture on personality development, mechanism of laundry services in hotels, and food presentation.
Alumni are approachable to address concerns regarding campus placement. Naidu, shares that a latest guest lecture on campus recruitment was delivered by Mr Azim Virani, a pass out of IHM Hyderabad 2008 batch and currently a Housekeeper at Royal Caribbean Cruise liners. Such lectures are helpful as it prepare us and make us fit for the industry.



Besides, grooming and communication skills, which are basic roots of hospitality industry, many other hospitality leaders including visit the campus for workshop on culinary art and ikebana- a Japanese art of flower arrangement.


Competitions and Festivities
The campus offers a fair mix of competitions and festivities to instill healthy competitive spirit and add merrymaking mood among students. Annual competitions such as flower arrangement competition, Chef Competition, Inter college events, and College annual fest allow students to showcase their talent.
Indians as well international festival- from Onam to Navrathri, from World Tourism Day, Independence Day to Christmas Party are celebrated with great fervor and enthusiasm to get rid of the Home sickness.  Celebrations are followed by lavish lunch or dinner parties, which is another fun element at IHM. Wide varieties of authentic cuisines or festival specific dishes are prepared by students.
IHM Hyderabad student Chirag Aneja shares, recently the Ganesh Chaturthi festival was celebrated. The occasion was a party time for us.  Delicious buffet was arranged by students and the event also gave insight on how to host a party.



Freshers welcome party "Nayi Phuar" is also organized every year and week-long event includes cultural performance and other activities by second-third year students.


Questions related to NCHM JEE
Showing 692 out of 692 Questions