How to prepare for UPSEE BHMCT 2020 in One Month?
How to prepare for UPSEE BHMCT 2020 in One Month?- The first step towards cracking the Uttar Pradesh State Entrance Exam (UPSEE) BHMCT 2020 is becoming familiar with the right set of preparation tips. So how to prepare for UPSEE BHMCT in one month? You must be having a complete knowledge of exam patterns and syllabus at this moment of your preparation. Now the next step is to create a study plan that works for you and is compatible with the amount of time you have for the preparation of the examination. Most often, candidates fail to crack the exam due to lack of planning and time management strategy. On an average, it requires approximately 6-8 months to prepare well for the UPSEE BHMCT exam. There are cases where some aspirants miss out on scoring well because of lack of access to the right study material. Hence, right planning especially in the last month is a call that one must take to do wonders in the exam. Check here on, 'How to prepare for UPSEE BHMCT 2020 in one month?'
Latest: UPSEE BHMCT 2020 admit card to be released anytime soon. The exam for UPSEE BHMCT 2020 will be conducted on September 20, 2020.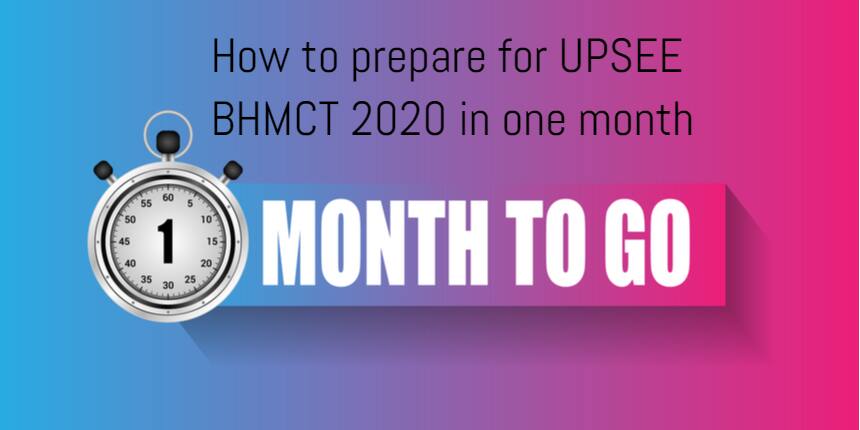 UPSEE BHMCT Study Plan with Timetable
There will be a total of 100 questions in UPSEE BHMCT 2020 exam carrying 400 marks. There will be four sections from which the questions will be asked namely- Reasoning and Logical Deduction, Numerical and scientific aptitude, English language and General Knowledge. With one month left, the unique way of revising these topics is by setting up a one month study plan with timetable. For your reference, we have created a timetable which you can opt to adopt for your study plan.
Time

Particulars/ Details

Total Number of Hours to be Spent for Exam Preparation in a Day

7 to 8 hours a day

Total Number of Topics/ subtopics to be revised in a Day

3 to 4

Morning Session

Jot down all the important new points you come across while revising.

Cram up all the formulas of numerical ability and tricks that you will be using while solving today's topics.

Attempt two mock tests in the morning session along with rectification of errors and improvement.

As you cover 2 topics in the morning, attempt the maximum no. of questions from the topic you have selected.

Break/Other Activities

Afternoon session

Start revising another two topics and its subtopics.

Now attempt the mock tests or the maximum practice questions related to those topics.

Practice from the study material and set a specific time to solve per question.

Break/Other Activities

Evening Session

Now switch to social media, the groups you have joined for your preparation.

Do the revision in short of all the topics you have studied in the whole day.

As general knowledge is also a section, keep updates of every event happening and revise the static GK notes you prepared earlier.

Keep evaluating your progress to do better and to improve your weak points.

Break/Other Activities
Preparation Tips for UPSEE BHMCT 2020 in One Month
Sometimes students who have enough knowledge still fail to clear the exam. This is because of the impractical approach. So let us get some facts right and move on to the right way on what preparation strategy is to be followed for UPSEE BHMCT 2020 in the last month.
Keep a positive frame of mind
Remember every battle is first of all won in the mind. So you need to surround yourself with people who encourage you to pursue your goals.
Focus on prepared topics first
Know the syllabus of the exam by heart and revise the topics you are uncomfortable only after gaining confidence in the topics that you are comfortable with. This is because if in this end moment you start landing on those topics which you left because of the difficulty level, they may end up shaking your confidence.
Sample Papers
In the last one month, all you are left is with polishing your knowledge gained until this time. You must solve a lot of sample papers and previous years' question papers to get the hang of the examination. Aim to finish these papers in the stipulated time of 2 hours. If you keep a track of time it will help you work on your speed and you will get to know the sections of the exam that are more time-consuming. This is a paramount aspect of your preparation.
Revision
Make notes of concepts diligently that need regular revision. Revising every topic multiple times is very critical. So, keep hovering over the same topics and notes until you are confident of yourself about the topic. Simultaneously keep a check on diverse subjects so that your mind stays alert and flexible to switch between multiple topics. Now call it a day, and memorize the entire thing you studied the whole day once.
Do not land on new topics
In the last month it is very crucial that you do not try to acquaint yourself with the new topics which you haven't come across before. Instead, strengthen the prepared ones.
Avoid using Calculator
It is highly recommended to practice questions with a timer and avoiding usage of calculators would increase your efficiency with time constraints in your mind as well.
Exam Simulation
Train your mind to fit the requirements of the exam. You must solve one or two practice papers with the time limit in the last few days leading to the UPSEE BHMCT exam. Doing so will help you identify the sections which are more time consuming and the ones that are relatively easier. You can then practice working on your improvement areas.
Time Management
When preparing your study time table, make sure to include time for some recreational activities in it. Also, try to shuffle subjects so that you don't feel bored with the same routine. Depending on the time left for the exam, you can stretch the study time from 4 hours to 8 hours in a day with short breaks in between. Also, study each subject daily.
Work Smart
The last few Days of UPSEE BHMCT are really crucial. You must revise the formulae and important concepts thoroughly. The entrance exam doesn't emphasize too much on the difficulty of the problem but rather on the questions that are straightforward, which require attention to the recollect formulae.
Stay Healthy
Regular practice and revision is a must to succeed at UPSEE BHMCT 2020 but you must also maintain a healthy lifestyle in the last month and get at least 8 hours of sleep every day. Taking care of your health and staying calm and positive will help increase your concentration.
Frequently Asked Question (FAQs) - How to prepare for UPSEE BHMCT 2020 in One Month?
Question: How many questions will appear in UPSEE BHMCT 2020?
Answer:
There will be a total of 100 questions in UPSEE BHMCT exam contributing to the overall marks of the paper as 400.
Question: How to prepare for General Knowledge section in UPSEE BHMCT 2020?
Answer:
Candidates must keep updates of every event happening and revise the static GK notes in the last one month. Subscribe to online alerts of daily news in your smartphones as it will keep you update with the latest happenings.
Question: Is it possible to clear the exam with just one month preparation?
Answer:
No, since the syllabus is vast it is not possible to clear the exam in one month. To ace well in the exam you must have had a preparation of 6-8 months. In the last one month, it is the revision that counts.
Question: How important is solving the sample papers for UPSEE BHMCT 2020?
Answer:
Sample papers are an essential part of the preparation. Just covering up syllabus wont help you suffice in the exam unless you know the pattern, difficulty level and time management. Sample paper is a tool to polish your skills of time management and accuracy. You can find the sample papers of UPSEE BHMCT 2020 at Careers360.
Questions related to UPSEE
Showing 8098 out of 8098 Questions